An essay writing AI helps you create high-quality essays in record time.
Writing is much more than putting pen to paper or pressing the keys of your keyboard. Before even setting out to write, you must have done a detailed research.
Although people write their random thoughts sometimes, it isn't always easy. With an essay writing AI, you have a tool that does all the research for you to create flawless essays.
In many people's minds, they'll be asking how that is even possible. Have you met artificial intelligence? Read on to find out more about the tool revolutionizing the way we do things and making essay writing easier.
What Is Artificial Intelligence?
A clear understanding of artificial intelligence is key to wrapping one's head around the possibility of essay writing AIs. Artificial intelligence is a field of study that aims to recreate human intelligence in machines.
AI entails the creation of programs that perceive the world like humans. Ultimately, AI aims to create intelligent machines that will do things normally reserved for humans.
In the case of essay-generating AIs, they are tools and software that can create meaningful and coherent text. Now, if you're worried that the writing may seem robotic, you're wrong.
These tools are trained with various forms of human-generated writings. Their training data means they have identified patterns in human writing and can replicate them.
What Is the Best Essay Writing AI?
If you're finally convinced about the authenticity of essay-writing AIs, it's time to find one. One good thing about artificial intelligence tools for content generation is that they are never in short supply. You have a variety of options, and finding the best becomes tricky. We've selected some top tools just for you.
INK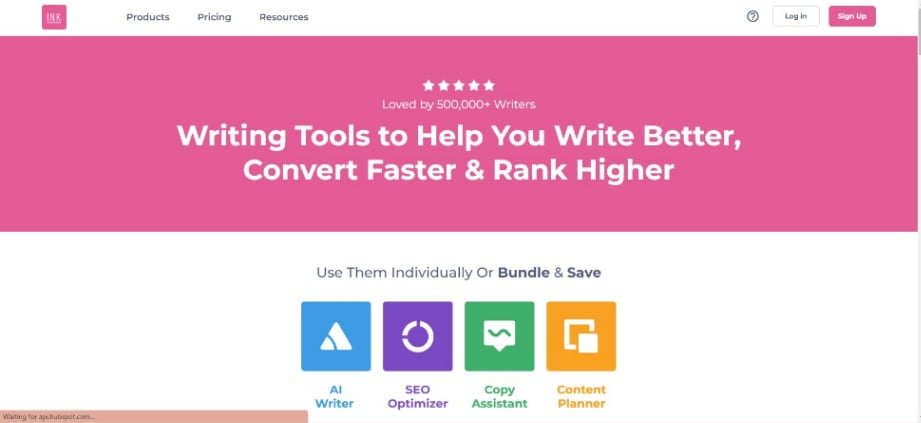 INK Essay Intro Generator is an online tool that allows you to create introductions for essays with little to no effort.
It offers a quick way to highlight your argument, the problem, and the solution you're proposing. You can also use an essay intro generator to write about a specific problem and how you intent to resolve it.
Besides an Essay Intro Generator, INK also offers an Essay Outline tool.
INK Outline tool helps with the essay structure, including the number of paragraphs, body, and conclusion.
The tool is especially handy for writings with several arguments or long-form content. An outline will also help you stay on topic. Moreover, an essay outline tool can help with ideas if you're unsure to write.
With INK Essay Outlining tool, you'll be able to identify and focus on the main points of your essay.
Jasper AI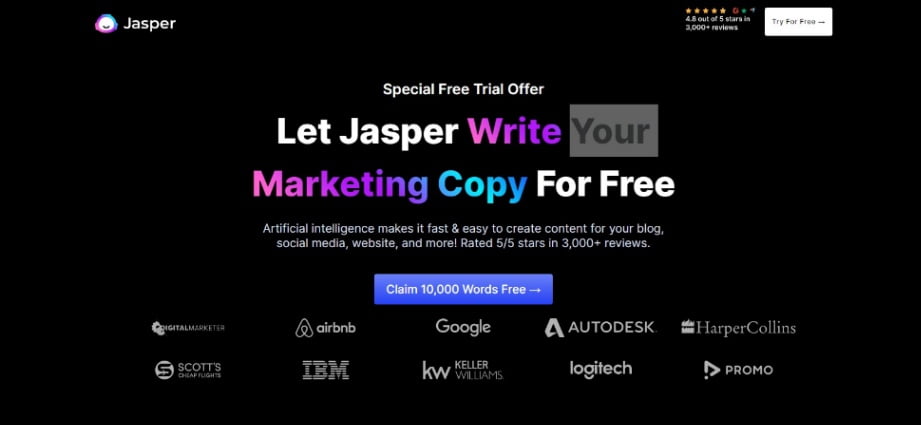 Jasper is a tool capable of creating essays, articles, and blog posts with a few prompts. This AI text-generating tool supports more than 20 languages. This feature makes it suitable for writers with multi-lingual needs. It includes templates for different types of writing tasks. The interface is quite intuitive, and you'll have no problem navigating it.
Rytr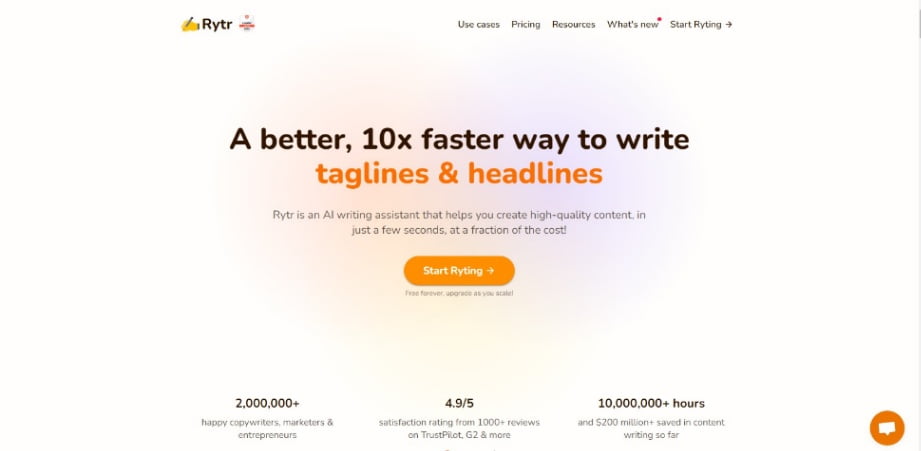 With the unusual spelling comes some unusual capabilities. Rytr helps users write ten times faster than they normally do. This AI writing tool's capability has made it a favorite among professionals, academicians, and entrepreneurs. Rytr also offers a readability report to let you know if your writing would be easy to read.
Shortly AI
With Shortly AI, writer's block becomes a thing of the past. It is the ideal tool to help you turn your thoughts into fully-formed essays and articles. It uses OpenAI's GPT-3 technology to help users create essays in record time.
For those who don't know, GPT-3 is one of the world's biggest neural network-powered language models. Most AI writing tools use this language model. Shortly AI's distraction-free writing interface is a big plus. You can now stay focused and write faster even if you decide to go manual.
Essay AI Lab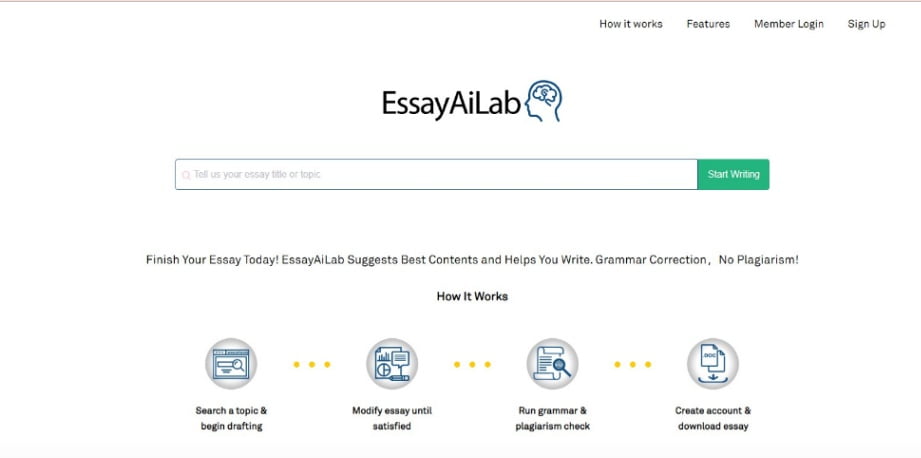 Essay AI Lab has an answer to all the writing needs of students and academicians. This tool can handle the writing process from research to citation.
Using this tool gives you access to:
Unlimited search database
Auto writing suggestions
Grammar checker
Plagiarism checker
Conclusion
The days of spending hours behind your desk trying to write essays are over. With essay-generating AI tools, you spend less time on research and writing. The generated essays are written according to your instructions. You can make minor changes to keep the essay fresh and engaging.
Frequently asked questions
Is there an AI that can write essays?
AI tools are available today for writing persuasive essays for university level.
What is EssayBot?
The highly acclaimed essay writing service EssayBot gives assistance to students and authors. Since the program has been produced using the most advanced tools and technologies, it is extremely automated and individualized.
How do AI writing tools work?
Natural language processing is used by AI writing programs to create or improve written content based on instructions that you give them. Use this technology to create content landing pages, blog posts, articles and even email marketing campaigns.
What are AI writing tools?
AI writing tools use artificial intelligence to help you write better. Everything from grammar and spelling to style and tone, they can help you. Even though AI writing tools are still in their infancy, they have already become very effective at helping you with grammar and spelling.
Is Jarvis easy to use?
Input from Jarvis is quite intuitive. You'll be able to access templates and AI writing options anytime you log in to your dashboard.
Can AI write a story?
The AI can write stories. Machine-learning algorithms absorb billions of data points from the internet such as story structure, story logic, and story writing. AI can generate scenes, short stories, fanfiction, screenplays, and novels from instructions and guidance.
Is Jarvis AI free?
Pricing for Jarvis (Jasper AI). You can write long blog posts, reports, emails, and stories with this plan. These pricing plans limit how many words of content or copy you can write per month. Therefore, if you are to create more content, you must spend more.
Can AI replace content writers?
Despite its unlikely ability to completely replace content writers, AI is a useful tool that can be used to assist content writers and speed up their creation. Those passionate writers who embrace their tools rather than fear them have nothing to worry about in the future.
How does AI help writing?
A writing assistant automates one or more phases in the process of creating content for marketing purposes. Writing assistants can aid marketers with ideation, structure, and even tone and style, so marketers have more time to focus on their unique skills and brainstorm new ideas.
Can Jarvis write articles?
The AI's own Jarvis (under the AI"s words) The result is an informative article, but without original content. Jarvis can write in over 25 languages and create content that ranks well in search engine optimization (SEO). Back to me now. Jarvis can write articles based on specific tone.
What is the best AI writing assistant?
The Best AI Writing Assistant for Large Marketing Teams.
Grammarly Business: The AI Proofreading Assistant.
SAPLICINGS: The AI Writing Assistant for Sales Representatives.
LanguageTune: The AI Writing Assistant for Content Rephrasing.
What is Jarvis AI used for?
Basically, he's a robot named Jasper, under the support of the team at Jasper.ai (formerly Jarvis.ais), which uses Artificial Intelligence (AI) to magically produce words directly.
Is Hyper write free?
HyperWrite is free, but you can create up to 1,000 sentences per month with the tool, starting at $9.95. In addition to the premium version that offers more paragraph generations and sentence generations, it costs $9.99 per month.
Which AI tool is best for content writing?
Power Users will take advantage of Jasper.
QuillBot: An excellent proofreader, plagiarism checker, and writing citation tool.
Scalenut: The Best All-In-One for SEO and AI Commands.
Beginners should use Rytron.
The Best Grammar Assistant.
The Best Copywriter: CopyAI.
SEO Writer: The Best Surfer.
Is there a free AI writer?
Rytr Key Features Make It The Best Free AI Writing Tool Generates Blog Ideas and Outlines – This free AI article writer helps you come up with catchy blog, article, and essay topics. Templates and Use Cases – Streamline the writing process.