A paraphrasing AI tool can help you improve the overall flow of your essay with less stress.
Writers and students dread the thought of spending hours paraphrasing their articles and essays. AI-powered paraphrasing tools are the perfect solution to this problem. This article explores the concept of paraphrasing and the best AI tools to use for paraphrasing.
The Basics of Paraphrasing
Paraphrasing is a term that describes the process of rewriting, rephrasing, or rewording content. The rationale behind paraphrasing varies. Let's discuss some of them.
Content Simplification
One of the most common reasons for paraphrasing is to make your writing simpler. In this case, you'll be aiming at breaking down long sentences into simpler digestible units. Also, you'll aim to find simpler alternatives to difficult and vague words and expressions.
Style Reasons
When a publisher has strict style rules, you may need to paraphrase your text to match the style. This usually requires a clear understanding of the publisher's style guide. Generally, some style guidelines dwell on the tone of your writing. You might be required to make your language use conversational or formal.
Plagiarism
You're not the first to write, and sometimes your writing may look similar to something already written. This problem isn't necessarily your fault. However, you'll have to rewrite the content to make it plagiarism-free.
Best Paraphrasing AI Tools
Irrespective of the method used, manual paraphrasing takes a lot of time. Replacing words with their synonyms requires using a thesaurus repeatedly. Changing active voice constructions to passive and vice versa also takes time. A paraphrasing AI tool can perform these tasks mentioned above in less time. You only need to enter a few prompts and click the rephrase button. These are our recommended tools:
INK AI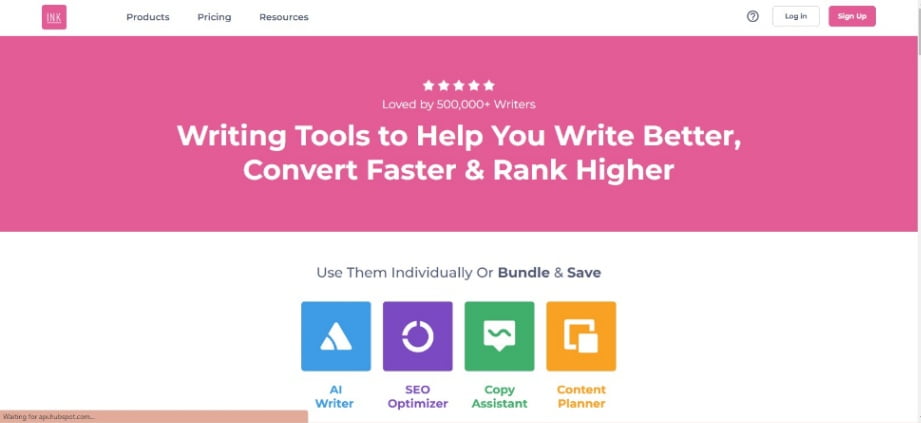 INK AI is a tool that makes writing enjoyable. It is primarily a co-writing tool. Users can take advantage of the tool's rewriting feature to rejig their work and make it more original. You can use INK's rewrite feature to change your sentence structure. There are three rewrite modes on INK:
If you want to alter the length of your sentences, INK has it covered too. The "simplify" and "expand" buttons shorten and elongate your sentences. You can use the Chrome extension online or download the INK Editor on your computer.
QuillBot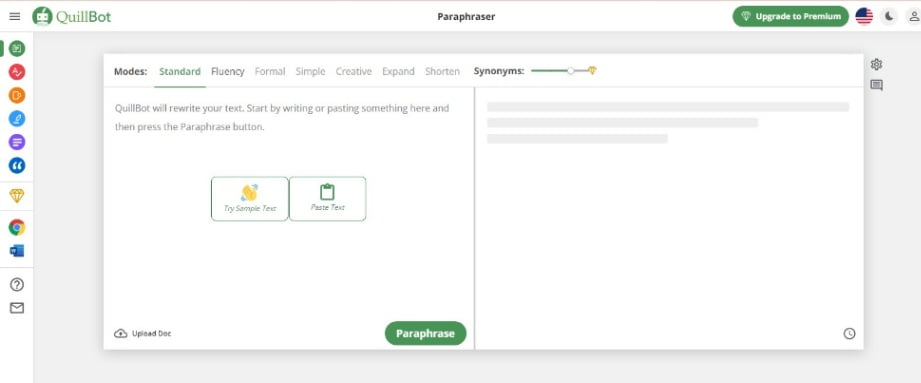 If you desire quality, QuillBot is one of the first tools you should consider. It offers seven rewriting modes in all. Users can access two of these modes (standard and fluency) for free.
You can unlock the other five modes when you upgrade to the premium plan. The multiple rewriting modes available means you can generate paraphrased content to meet any requirement. QuillBot as other features like: 
Citation generator
Grammar checker
Co-writer
Plagiarism checker
Summarizer
Citation generator
Paraphraser.io

Paraphraser.io is another quality paraphrasing tool every professional should know about. Its interface is similar to QuillBot's. It offers human-level paraphrasing that delivers unique and sensible output.
There are four paraphrasing modes on this tool – Fluency, Standard, Creative, and Smarter. You can use the first two on the free plan. The other two are available on the paid plan. Paraphraser.io is available in multiple languages, including French and German.
Paraphrasingtool.ai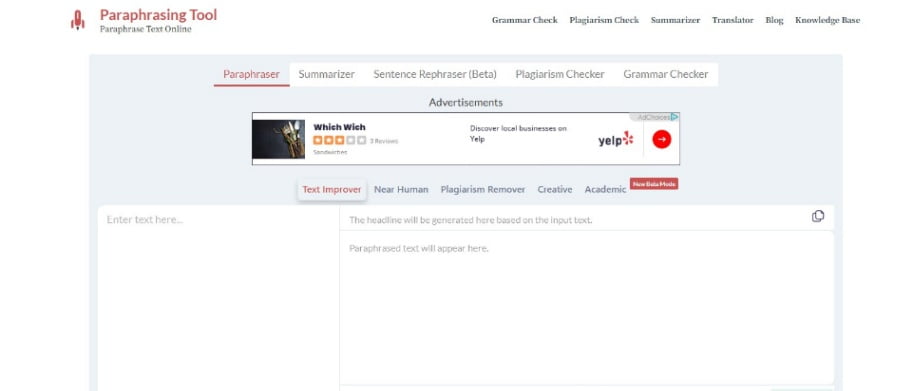 With Paraphrasingtool.ai, you can create better-written content, including articles and blog posts. This web-based free paraphrasing tool offers five state-of-the-art paraphrasing modes.
Text improver mode for improving the quality of your content.
Near human mode for enhancing content readability
Plagiarism remover mode for making the content unique
Creative mode for presenting ideas creatively.
Conclusion
A lot goes into creating great essays, and no one relishes the thought of rephrasing each paragraph. AI-powered paraphrasing tools can considerably make things easier.
These tools do more than just replacing words with their synonyms. In the long run, these tools will help you get more done in less time and ensure you improve your writing every time.
Frequently asked questions
Is QuillBot paraphrasing tool good?
QuillBot's Paraphraser is fast, free, and easy to use, making it the best paraphrasing tool on the market. The feature includes the ability to compare outputs from seven modes, access to a built-in thesaurus to customize your paraphrases, and the option to require a new output.
What is the best paraphrasing Tool 2022?
Spinbot Pricing: $10/month
WordAI
DupliChecker Pricing: $20/month
Clever Spinner. Pricing: $9.90/month.
SmallSEOTools provides paraphrasing tools. Pricing: FREE.
Spin Rewriter. Pricing: $47/month.
Content Professor. Pricing: $19.95/month.
Chimp Rewriter. Pricing: $15/month.
Can I write a book with copy AI?
If you struggle with chapter titles or have to rewrite certain paragraphs of your novel, AI-assisted writing is the best way to replace an editor with a personal editor. A tool such as Copy.ai can be used by writers to generate: Book titles.
Do writers use QuillBot?
Other tools are available instead of the full-on proofread, but maybe aimed at a different writer audience. However, there is certainly a segment of the writer population who will find Quillbot useful.
What is better than QuillBot?
Paraphraserio
Grammarly
Jasper AI
Spinbot
Article Rewriter Tool
Paraphrasing Tool
Project Topics
Rewriter Tools
What app can rewrite a sentence?
Rewriting my text using myRW. The MyRW web app is a free, unique text rewriting tool. The tool allows you to rewrite paragraphs, sentences, and other written material.
What is AI copywriting?
In software, an AI copywriter generates copy automatically based on a given set of data. A blog post can generate a variety of copy, from long-form text to social media captions.
What AI does QuillBot use?
QuillBot uses sophisticated AI paraphrasing technology to automatically reconstruct the user's content to improve clarity.
What are the benefits of paraphrasing?
Paraphrasing can prevent the overuse of direct quotations and can be more concise than just saying. Your paraphrasing can help you think about and understand the text you want to paraphrase. Rephrasing another person's idea forces you to think about what the person is really saying.
How do you paraphrase like a pro?
Read carefully the sources.
Know what you want to say.
Keep the original meaning the same while adding examples and insights.
Be consistent
Show your style and personality as a writer.
Cite sources with quotation marks.
Does copy Ai paraphrase?
Sentence Rewriter is a paraphrasing tool by Copy.ai. You submit the original copy to us, and we paraphrase it into new, unique copy that matches the tone you've selected.
Can turnitin detect QuillBot?
The tool won't detect QuillBot. The reason is that Turnitin's algorithms don't detect paraphrasing very well. Similar grammatical patterns, phrases, and sentence structures are found in their research. A QuillBot paraphrases content, making it appear unique and difficult for Turnitin to detect matching text.
What is paraphrasing How does it improve one's reading skills?
Paraphrasing allows readers to move away from the word for word translation of both written and oral texts which many students rely on, which enables them to move toward a more holistic approach to reading and comprehending text.
How can paraphrasing tools improve writing skills?
Improve Your Paragraphs & Passages. Having to target one element at a time requires improving writing skills.
The Sentences You Send Are Better.
The Tone of Content.
Remove redundancy from your content.
Make sure that your content is 100% original.
What is the best paraphrasing tool?
It has been ranked among the best paraphrasing tools out there. Ref-n-write's legacy phrase templates feature allows users to rephrase sentences individually, while the new paraphrasing tool allows users the ability to transcribe paragraphs in one click.