Supermarkets are one of the businesses that seem unaffected by changing times and technology. Many argue that the continued relevance of supermarkets is due to their ability to reinvent themselves. While this fact may be debatable, it is undeniable that quality marketing is important to all supermarkets. Creating a slogan for supermarket is important because it gives the public an idea of what the company is all about. 
This slogan helps you publicize current products and events and engage with current and potential customers. Supermarket slogans are the brand essence and first lines of communication from a company.
They help give an initial message to customers about the company's history and corporate purpose. Supermarket slogans are also used for advertisement. This is because they are the first thing consumers think of when they think about supermarkets.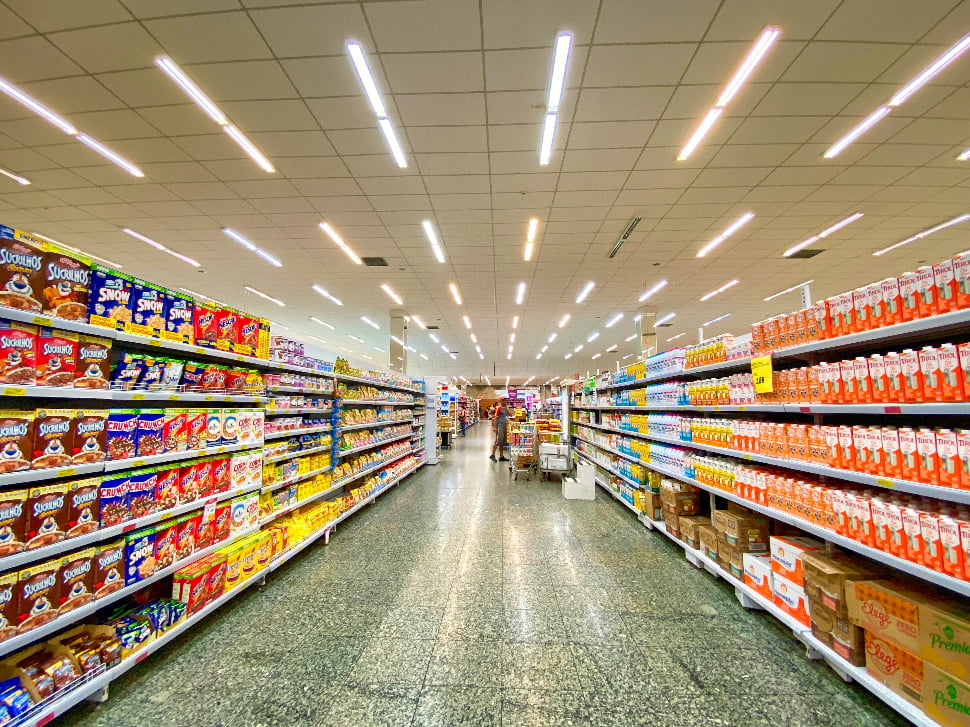 What Are Supermarket Slogans & Taglines?
Slogans are brief and catchy phrases that businesses use to promote their products and services. Slogans are a form of advertising and may have to do with the product or service itself.
Taglines are a more abstract and general statement. They are often used as a summary of a company's identity. In terms of their positioning in the sales funnel, taglines go after the sale to communicate a company's value proposition.
How to Write a Slogan for Supermarket
A successful supermarket needs a creative slogan or tagline to prosper. Supermarket slogans or taglines must be catchy, memorable, and impactful to attract more shoppers. This way, the slogan or tagline can build on a special selling point of the store, such as trends for its merchandise.
Highlight an Important Benefit
When writing a supermarket slogan, the first thing to do is promote an important benefit of the supermarket business. The best slogans often contain a core benefit of shopping at your supermarket. It should be something no one else offers in the market.
Keep It Concise
The hallmark of great slogans is their conciseness. They are always straight to the point. Their conciseness is why you need to be creative while at it. Creativity can breathe life into a few words for maximum effect.
Differentiate Your Store
You want people to easily identify your store when they hear your slogan. The best way to do this is by avoiding similar slogans. Nobody likes a copycat! You'll want to make sure your slogan can stand on its own. You should also ensure that it's unique in its message to the growing target demographic. So ensure your slogan is not only easy to understand but also memorable and captures the essence of what your supermarket provides for consumers.
Make It Trendy
You should take advantage of new trends while writing a slogan for supermarket. Start by studying the market to find trends and incorporate them into your slogan creation process.
Examples of Supermarket Slogans
"Valuable Savings."
"Making grocery shopping easy."
"Simply better shopping."
"The right store with the right price."
"Natural, hygienic, and fresh."
"Good food; great price."
"Home of fresh groceries."
"Smart shopping; smart living."
"A new deal for every visit."
"Feeding your family the best."
"High quality at low prices."
"The grocery store for everyone."
"Explore, find, and buy."
"Fill every day with groceries."
"Come shop with us."
"Retail at its best."
"Buy more; save more."
"Grocery shopping made easy."
"Quality foods in one place."
"Only good prices."
Conclusion
Pragmatic advertising is the key to a successful supermarket brand. It is important to find the perfect slogan ideas for a large retail store, as well as understand what will work for the competition.
Developing a clever and concise slogan for a supermarket is a challenge. But it is one worth taking because it will allow you to grab the attention of customers, members and clients. This can be a win-win for your business and, ultimately, the end user.
Crafting a successful slogan is a test of skill. It takes creativity, detailed knowledge of the target audience, and a consistent balance of emotional appeal and technicality. The goal is to make your target audience feel that they are getting good value while they are spending money in your store. 
Frequently asked questions
What is Sainsburys slogan?
As of late spring, the retailer will retire its motto and launch its new strategy, focusing on 'Helping Everyone Eat Better' and sharing more information with its colleagues and customers.
What is the slogan for Walmart?
"Save money" slogan from Walmart. Live Better." Meaning. Walmart's slogan is more than just simple advertising. It is the four-word branding that represents its global mission and its history dating back decades.
What's an example of a slogan?
In the midst of "America Runs on Dunkin' Donuts" to "The Happiest Place on Earth," Nike's "Just Do It" swoosh, or McDonald's slogan, timeless, catch.
What is the best slogan?
MasterCard: "There are some things you can't buy with money.".
What is the difference between a slogan and a motto?
The Happiest Place on Earth: Disneyland.
Nike: Don't fret
De Beers: "A diamond is forever.".
What is a tagline?
Samsung: "Do what you can't.".
The original for Old Spice.
What are some good business slogans?
Think differently – Apple.
You know Hallmark when it comes to sending the best.
A Diamond Never Comes To Mind – De Beers.
I would walk a mile for a Camel – Camel.
Nike.com: Don't Do It.
The quality of Levi's never goes out of style.
Food – KFC. Fingerless.
How do you introduce a slogan?
Introductions that are concise and confident will create a better first impression.
We begin by giving you a brief description of yourself.
I am Pete Kistler.
Let me introduce yourself and briefly describe what opportunity you are looking for.
What are the top 5 slogans?
Nike – Do It.
M&Ms – Not a single drop in your hand.
It's The Breakfast of Champions.
Wendy's – Where is the Beef?
Apple – Don't let others dictate what you do.
The Coca-Cola Company – Open Happiness.
De Beers – A Diamond Is Forever.
Because you're worth it at L'Oréal.
How do you brand a slogan?
Go to the USPTO website.
TESS database (Trademark Electronic Search System). Make sure the slogan is already registered in the same category.
Please submit a trademark application. The filing fee should be paid.
How do you write a slogan in a creative way?
Start your logo with. Your slogan matches your logo.
Keep it simple
Use small words
Think about your business word list.
Make it roll off your tongue.
Use adjectives or phrases to describe the situation.
Test your slogans
Why is it important to have an effective slogan?
Creating an effective advertising slogan helps businesses cut through the noise and attract attention from consumers. Having a paragraph-long explanation of your product might provide potential customers with plenty of information, but punchy slogans create a memorable image in their minds.
Can a slogan be two sentences?
Throughout the speech, a slanger cannot go over one sentence and five dollar words such as "olfactory" should never be used. I think there are rules that are broken; if a five dollar word rolls up a few sentences of meaning inside one word, go for it. However, the one-sentence rule should always be followed.
What is Tesco's slogan?
The motto "every little helps" does more than just aid your shopping. Additionally, we are committed to helping people, our colleagues, communities, and the planet.
Why is a slogan important?
Slogans improve campaigns for specific products in order to ensure high sales for the company. The slogan can help build a relationship between a brand and the public, when it tells the public what the company stands for and what services they offer. An emotion can capture what a product or service can make consumers feel.
What is save a lot tagline?
This is all encapsulated in a bright, clever, and over-the-top musical celebration that wraps up a comprehensive new marketing and branding campaign called "Like A Lot A Lot.".
What are the supermarket slogans?
Customer first
everything available here
Your needs are important.
You get everything under one roof.
Just don't worry, we have it.
It's all in this shop!
We offer the best quality products you can find.
You are done here.