You're starting a technology business and wondering: Is creating a slogan worth it? Chances are you know it is. But want to understand the opportunities a slogan could bring and possibly get inspiration to create the perfect one. You're in the right place. The power of a slogan is undeniable – it can draw enormous attention to your business. So, what's an effective slogan for technology business?
Coming up with the perfect slogan can be overwhelming–many people fall short of their ability to create slogans, so you're not alone. But not to worry, you'll get the inspiration you need to craft a perfect slogan from this article.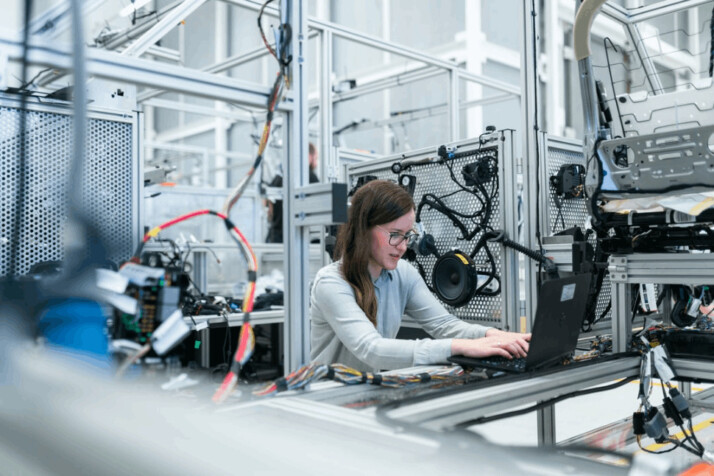 Why Do You Need a Slogan?
A slogan is a phrase, word, or sentence that succinctly captures your business's philosophy, identity, or plan. Slogans help people understand what a company stands for and what they are striving to achieve.
It clarifies your vision to potential clients and can promote your brand's identity. An effective slogan is simple, memorable, and clearly articulates the company's offerings.
Many benefits accrue from having a slogan: It can attract new clients, raise your brand's profile, and develop your presence on social media. The motto is an excellent advertising tool when placed alongside your logo and other aspects of your brand.
A good slogan will connect with your audience and leave a positive impression in their minds.
Tips for Choosing the Best Slogan for Technology
While it is essential to choose a slogan for your business, it is also important to put some factors into consideration. The following tips will guide you in picking the most appropriate slogan.
1. Consider Your Target Audience.
One of the things to consider when choosing a slogan is your target audience. If you're marketing a product aimed at teens, a slogan that is too advanced might not be appreciated. Likely, someone more knowledgeable will not appreciate a slogan that is too simplistic.
Identify your target audience and know the best way to convey your message to them.
2. It Should Reflect Your Services/product
Slogans are a cost-effective way to market your services and products, so use them properly. You want your audience to recognize what you offer once they see your slogan. Make sure your slogan directly reflects your products or services.
3. Keep It Brief.
A short slogan with a strong message will capture attention. It need not be long-winded, but it does need to be straightforward and clear in one or two short sentences. A short slogan is memorable and will attract potential clients with ease.
4. Keep It Simple.
Your slogan should be simple. It should not be too broad or overpowering. You want your audience to understand your message, so avoid using complex vocabulary. People will move on quickly if they cannot comprehend your message.
5. Make It Exciting and Engaging.
Your slogan should be fun, interesting, and compelling enough to make people want to know more about your services. If your motto is catchy enough, your target audience will be drawn to your brand. They'll patronize you and even refer you to others, which can increase your brand awareness significantly!
30 Unique Technology Slogans
You have a limited time to get your potential customer's attention, so make it count. Decide on an eye-catching slogan that portrays your technology business as groundbreaking and innovative.
Here are some impressive slogans that'll inspire you to come up with yours.
Full of Tech Senses.
Serving technology better.
The Best Tech, Best Future.
Building the Future with Tech.
Innovative minds.
Building better networks
Infinite opportunities for all.
Simplified technology.
Ensuring Futures.
Inspiring Tech Needs for Business
The Perfect Tech Experience
Technology made with Trust
The Future of Network
Better vision for better connection.
More Tech, more possibilities.
The future of connections.
Powering future
Making challenges possible.
An intellectual imagination
The technology for the next generation.
The power of technology
Accelerating Tech with confidence
The future is technology.
Inventing and making it happen.
Enabling the age of technology.
A moment full of technology.
Perfection is the key to success.
Think Different.
A Perfect Experience of Tech.
Adapting the future.
To Wrap Up
Your slogan should reflect your products, services, and how you want your company to be viewed by the world.
A unique slogan for technology will help your business stand out from the crowd. The perfect motto is simple, memorable, and straightforward. Use this article's tips and ideas to create an excellent slogan for your brand.
Explore All
Motto Generator Articles