When you are throwing the wedding of your dreams, you're bound to have a few visions and thoughts in the back of your mind. The more you can manage your expectations, the happier you will get married. If you're looking for the right words to convey your emotions on your special day, a wedding catch phrase can be the perfect solution.
To express love, impart wisdom, or sprinkle laughter into your wedding vows and speech, a perfect wedding quote will hit the right note. We have a collection of heartfelt, humorous, and motivational wedding quotes and slogans that will elevate any speech and enhance the ambiance.
What is a Wedding Catch Phrase?
Weddings are a joyous occasion filled with the happiness of couples, family, and friends. Catch-phrases are a way for the guests to personalize their own individual experiences and celebrate the immense scope of this special event. For example, the catchphrase "It's a late wedding, but so worth it" can be used on various occasions in life.
A wedding catchphrase is usually used to express the feeling of a celebrant about the wedding. It is to capture the audience's attention or make a speech memorable.
What is the importance of a wedding slogan?
It is important to consider what your wedding slogan will convey. The slogan can be as short as a couple of words or stretch to five or six lines. Be creative.
Consider your feelings and personality when you are crafting the slogan. Find words that express how you want to feel on your wedding day. The process of creating a wedding slogan can be spontaneous and drawn from your personal life.
You can also look into the marriage traditions and use those as your inspiration.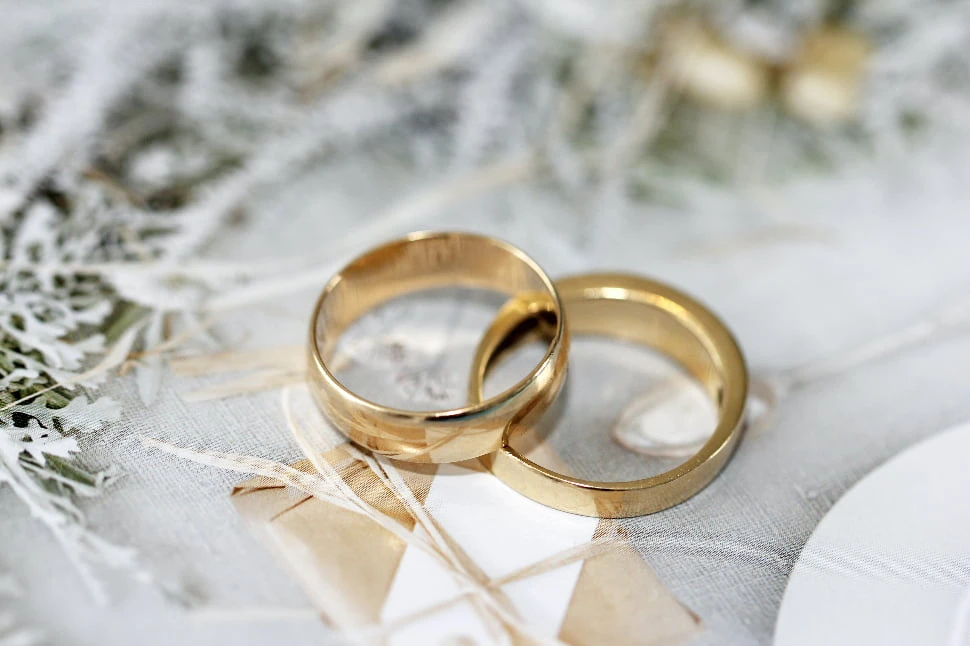 Examples of Beautiful Wedding Catch Phrases
From wedding vows and heartwarming toast to wedding invitations, you can use a wedding catch phrase to enliven the mood. Whether you're looking for wedding phrases filled with inspiration, humor, or wisdom, the following are some of the best wedding quotes to explore.
Inspiring Wedding Quote
Let's not forget the inspiration we get from love. Use one of the lovely quotations below to share with your loved ones how your relationship with your partner inspires you. These inspiring wedding quotes can provide a special touch to your speech. It can also serve as a slogan for custom wedding invitations and decor signs.
A hundred hearts would not be enough to hold all my love for you.
Once in a while, right in the middle of an ordinary life, love gives us a fairy tale.
I would rather share one lifetime with you than face all the ages of this world alone.
Being someone's first love is great, but being their last love is perfect.
Funny Wedding Quotes
Not all couples want a weepy toast or a sentimental wedding speech. If the newlyweds love humor, a funny wedding toast would fit their personality better. Following are some funny wedding quotes to add to the wedding speeches or date cards.
Only married people understand you can be miserable and happy at the same time.
I love you more than coffee, but please don't make me prove it.
A good marriage is like a casserole: only those who experience it really know what goes in it.
Love is a lot like a backache; it doesn't appear on X-rays, but you know it's there.
Wise Wedding Quotes
You can toast your child's marriage with one of these wise wedding quotes, whether it's the father or another parent. They properly convey your joy, pride, and emotion while participating in this significant day.
Love is life. And if you miss love, you miss life.
Grief can take care of itself, but to fully experience joy, you need someone to share it with.
Love doesn't make the world go round. Love is what makes the ride worthwhile.
In dreams and in love, there are no impossibilities.
Conclusion
Weddings are joyful occasions, and we want our guests to feel that as they celebrate with us. One of the best ways to ensure your guests enjoy themselves is to have a clever wedding catch phrase.
It sets the tone for the event and brings a sense of fun to the occasion. This article provides a collection of wedding slogans and quotes for you to choose one that best fits your sentiment.
Frequently asked questions
What is Burger King's slogan?
Burger King's new tagline targets Millennial consumers. Burger King's new slogan, "Be Your Way," aims to reach Millennials.
Which is the best slogan?
The Diamond is Forever (De Beers).
What Nike Is – Just Do It.
M&Ms melt in your mouth, not in your hands.
Wendy's – Where's the beef?
Apple – Think Different
Coca-Cola – Open Happiness
– Wheaties – Champions Breakfast.
We're Worth It – Because you're worth it.
What is Apple's slogan?
The slogan "Think Different" is one of the most recognizable slogans of the 21st century. In 1997, the idea was first introduced on TV. The TV debut of 'Think Different' is still available on Apple products.
What is America slogan?
President Dwight D. Eisenhower signed a 1956 law creating the United States of America's motto. Eisenhower says "We trust God in Him". U.S. television originally featured this phrase. coins in 1864.
What is Google's slogan?
Few things are as lofty as Google's most famous motto: "Don't be evil.".
What are 5 popular slogans?
"A diamond is forever," De Beers says.
Money cannot buy certain things, according to MasterCard.
The Samsung brand: "Do what you cannot.".
Disneyland: "The happiest place on Earth.".
Nike: "Don't stop"
Spice: The Original
What is the best slogan for life?
No matter where you go, you always live happily.
Life is short if you begin living it happily and tension-free.
Invest in life, but don't waste it!
Everyone has to pay later if you are real in your real world.
What is the famous slogan?
| Slogan | Given by |
| --- | --- |
| Vande Mataram | Bankim Chandra Chattopadhyay |
| Quit India | Mahatma Gandhi |
| Freedom is my birthright and I shall have it | Balgangadhar Tilak |
| Give me blood and I shall give you freedom | Subhas Chandra Bose |
What is a creative slogan?
3. Brand slogans: Your brand's slogans are designed to stand out against the competition. The slogan should be unique and specific to your brand, but still easily understood so that your audience gets the message immediately.
How do I choose a slogan?
Let your logo begin. Your slogan and your logo will work together.
Keep it simple
Use small words
Think about your business and make a word list.
Let it roll off your tongue.
Use powerful words or phrases.
Test your slogans
What is the famous tagline?
| Company slogan | Brand or product name |
| --- | --- |
| "Betcha can't eat just one" | Lay's |
| "America Runs on Dunkin'" | Dunkin' Donuts |
| "I'm Lovin' It" | McDonald's |
| "Maybe she's born with it. Maybe it's Maybelline" | Maybelline |
What are some cool slogans?
You really can do it (nike).
For everything else, there is Visa (MasterCard).
(De Beers)
– Save money. Live better. (Walmart).
– Eat fresh (Subway)
Finger licking good (KFC).
(Red Bull) – Red Bull gives you wings.
– Have a break. Have a KitKat. (KitKat).