A standup meeting, known as a daily scrum, is a brief team meeting intended to keep the team members informed and on track. The agenda for daily standup meetings should be clear and concise to ensure their effectiveness.
This meeting provides a forum for team members to update one another on their progress and discuss any potential roadblocks. This article covers everything you need to know about your daily standup meeting agenda and how to make it as effective as possible.
What Is the Agenda for Daily Standup Meetings?
The agenda for daily standup meetings is to discuss what each individual has accomplished since the last meeting. And this daily meeting usually lasts no more than fifteen minutes.
Each member talks about their plan to work on before the next meeting and any blockers that are preventing them from completing their tasks. This allows everyone in the team to be kept up-to-date on progress and potential roadblocks so that they can better coordinate their efforts.
Difference Between a Daily Scrum and a Daily Standup
Technically speaking, a daily scrum meeting is just for the development team. It is led by the scrum master and strictly adheres to the scrum methodology, including a time limit of 15 minutes. Additionally, it lists all the tasks of the day.
On the other hand, daily standups are more casual and include stakeholders like product owners.
A senior engineering manager or a team leader conducts the meeting, but the development team may also be involved. Compared to the daily scrum meeting, a standup identifies more roadblocks and allocates more resources.
Benefits of a Daily Standup Meeting
A Daily Standup meeting is a short meeting that occurs at the same time each day to keep track of progress and identify blockers. The following are some benefits of having a daily standup meeting:
The team can quickly and easily share updates with one another, reducing the need for lengthy email chains or chat messages.
Having everyone in the same room makes it easier to identify potential roadblocks and solve problems as they arise.
It creates a sense of accountability among team members. If you're not able to attend a standup, you have to find a way to catch up on what you missed later that day.
Standups help keep everyone aligned and on track toward reaching common goals.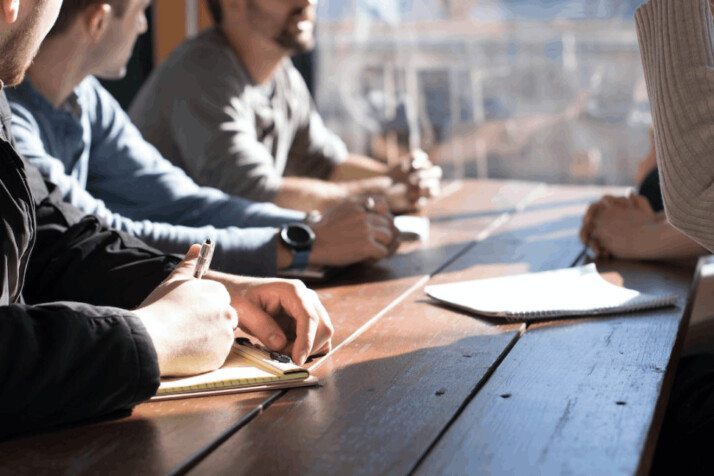 Best Practices for a Good Standup Meeting
Below are some of the best practices for an effective standup meeting:
Everyone should be on time and prepared. This means reading the agenda ahead of time and coming ready to go with any questions or comments.
The meeting should be kept brief, ideally no longer than 10-15 minutes max.
Stick to the agenda! If additional items come up during the meeting, save them for a separate discussion later on if needed.
Go around in clockwise order, so everyone has an opportunity to speak without interruption (this also helps keep meetings shorter).
Keep it positive! No one wants to listen to complaints or negativity first thing in the morning (or anytime, really).
What to Avoid in Your Daily Standup Meeting?
Below are some key points to keep in mind during a daily standup:
Do not spend more than 5-10 minutes on your update – brevity is key during a standup meeting.
Keep your updates relevant to the team's objectives.
Avoid going over or rehashing discussions from previous meetings.
Do not use the standup as an opportunity to raise personal issues or problems unrelated to work.
Try and keep distractions, such as phone calls, emails, etc., to a minimum.
Daily Standup Meeting Sample Answers
The agenda for the Daily Standup Meeting should be simple: each participant answers three questions:
What did you accomplish yesterday?
What are you working on today?
Are there any blockers preventing you from achieving your goal(s)?
Below is a sample of how these questions might be answered.
Sample Answers:
Q1: Yesterday, I finished designing wireframes for the new website homepage and created an interactive prototype in InVision. I'll be starting work on the user flows tomorrow.
Q2: Today, I'm continuing work on the user flows for the website redesign project. My goal is to have them completed by the end of the day. I will also start drafting some copy options for the home page.
Q3: Yesterday, I identified an issue with how we were tracking sign-ups and reported it to the engineering department. Today, my task is liaising with engineers about getting that fix implemented as soon as possible.
The Bottom Line
It is essential in every organization to have a solid foundation of knowledge and actions to strive towards. And a standup meeting gives a quick snapshot of what has happened and what will happen while giving and receiving feedback on the go.
With this guide in hand, you can start building an effective daily standup meeting that will benefit your organization in the long term.
Explore All
Write A Meeting Agenda Articles