The AI Assistant Trained on 130+ Marketing Skills
For 3 years, we've worked with top marketing gurus to teach our AI to write the best copy in the industry. And then we put all of those skills in a single assistant who can automatically pick the right skill for you.
Free Trial. No Credit Card Required.
accounts created
in the last 7 days
Free Trial. No Credit Card Required.
"It thinks of everything so I can just focus on writing. I also appreciate the focus mode setting and usually write with dark mode on. Both help me concentrate and write faster."
— Pat M (Small Business)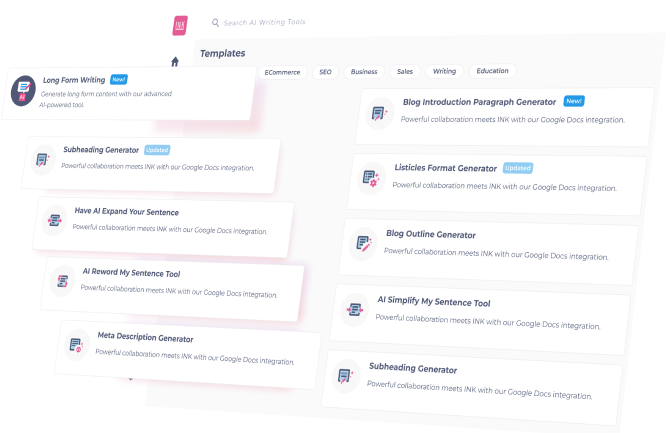 INK AI Assistant
Get more engagement with INK's 130+ AI Writing templates! With our performance AI, you can create content that is tailored to your audience and designed to grab their attention.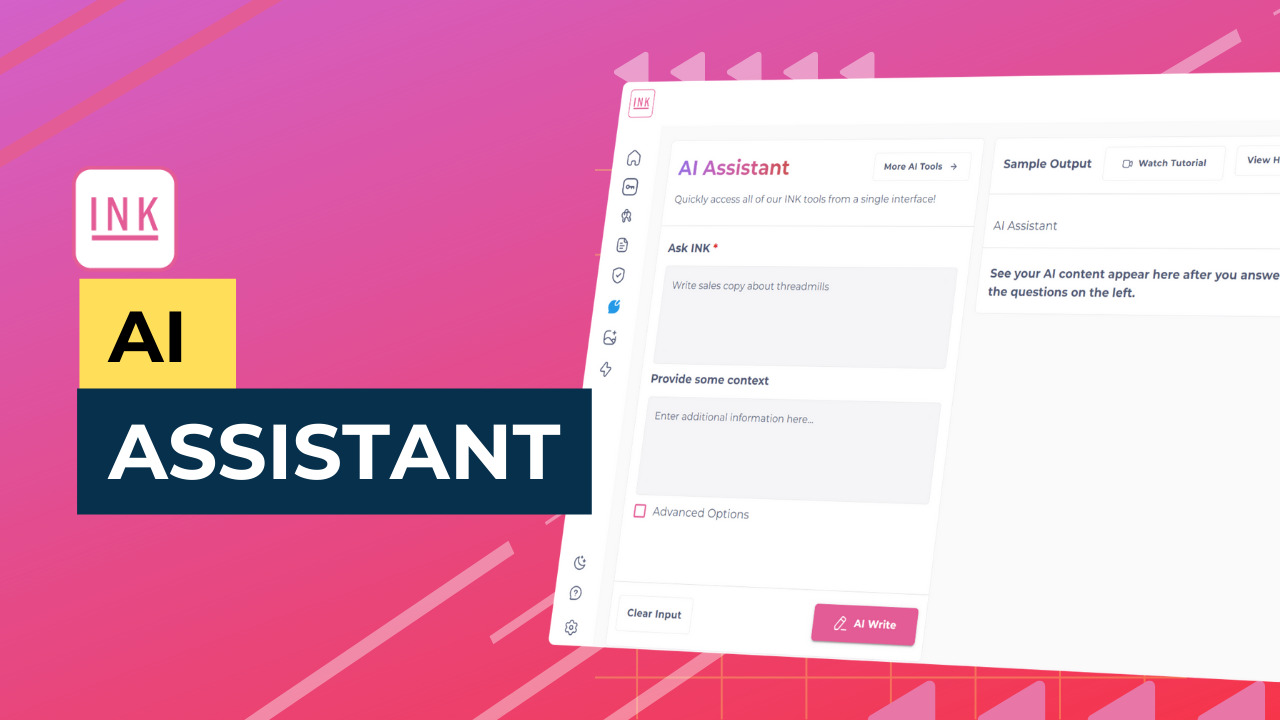 Free Trial. No Credit Card Required.
accounts created
in the last 7 days
Create text and visuals 10X faster & easier, with patented SEO + user engagement optimization that increases your reach 450%.
The only solution in the market that combines real time audience research to power better conversion copywriting.
Don't let AI take minutes to ruin a brand that took you millions to build. Only INK delivers on the promise of safe AI for marketing.
How It Works
Ask INK What You Want To Create
Tell INK what you want to write.
Apply Pixie Dust
Our AI first figures out what you want to create, and applies just the right specialized model to your problem.

Then, we go research your topic online and figure out what makes such content perform great.

Finally, we use that research to augment our AI writing model to create the best copy possible.
See The Results
See the AI output and copy & paste it into your project!
Powered by NLO
The Leading Content Performance AI
Natural Language Optimization technology ensures your content is incredibly performant.
You'll Fall in Love with INK
Stories of marketers, writers, and entrepreneurs using INK.
Unbeatable Brand Protection from AI, Team Performance, and Content Marketing ROI
Without INK
Risk AI penalties against your brand
Risk plagiarism on your site
Risk reputational damage
Content team ROI is sub-optimal
Fall behind competitors in SEO
With INK
Content Shield For AI Protection
Content Shield For Plagiarism
Increase Relevance And Quality
10X More Content With Same Team
Dominate Your Niche Organically

Elaina Herber
Founding Partner & President
at Ascend Hospitality Group
Fast and flawless
"We are CRUSHING local keywords compared to our competitors. We set the goal of being the top result for "best bbq in seattle" and INK helped us take it! We noticed the last set of blog posts made it in the top 5 on Google. Just saving so much time and not being stressed out about how well we're doing digitally."

Unbeatable Semantic E-EAT SEO Technology, Increased Output, AI Shield Protection
Without INK
LSI / TF-IDF "entity stuffing"
Using AI gets site punished
Difficult to hire SEO writers
Time intensive content briefs
Challenges with quality control
Buy & combine 4+ products
With INK
The only true Semantic SEO AI
Use AI safely with Content Shield
Writers Follow Easy To-do's
INK Real-Time Intent Research
5X More Likely Page 1 w/ INK Score
Fully Integrated All-In-One Suite

Graham D. C.
Head of Growth
How we grew our traffic 140% in one quarter
"Our SEO had room for improvement. I looked at several options. We needed some guidance to find the right growth opportunities for our brand. INK was the most cost-effective and easy to use option. We didn't need to spend our budget on a consultant — and got fantastic results.."

Unbeatable Value, Productivity, User Engagement, Content Virality, and Monetization
Without INK
Multiple subscriptions
Time consuming writers' block
Penalties for using AI content
Risk of plagiarism
Low engagement
With INK
All-in-one Content Solution
Create Quality Content 10X Faster
Content Shield Protection
Protected against Plagiaris
Content Gets Record Engagement

Excellent SEO resource
"I've used many different tools, and INK provides the most features and best value. It's a superior tool that helps to improve SEO copy quickly. I highly recommend it."

Unbeatable Content Marketing Lead Generation, Cost Reduction, Conversion Boost, and Authority Building
Without INK
Crushed under the cost of paid ads
Low content velocity
Struggle to become an authority
Struggle to find sales
Struggle to engage site visitors
With INK
Free SEO Leads Are The Best ROAS
10X More Content With Same Team
Become a Search Topic Authority
INK Sales Frameworks boost CR %
Record CTR % Click-Through-Rates
Reduce Bounce Rates

Gee Ranasinha
CEO at kexino
The best content SEO tool by far
"Coming up with interesting, pertinent, easy-to-read content on a regular basis is vital for most businesses. The last thing you want is for the content to fail to rank on search engines. That's where INK comes in."

Unbeatable Creativity, Productivity, Value-added SEO Score, and Proof of Human Writing
Without INK
Can't prove you wrote it
Can't prove it's SEO optimized
Spend hours on a single assignment
Need a ton of SEO experience
Need to research audience
With INK
INK Proves Human Writing
INK Scores Content for SEO
Write More Quality Articles a Day
No SEO Knowledge Required
All Research Done For You

Simran D.
Web Content Writer
The Best SEO + Readability Editor
"I was using 3 different software earlier for my writing requirements for 3 different tasks — one for grammar, one for SEO, one for readability. With INK, I get everything in one place. INK have really helped me in amping up my writing."

Content reach, Satisfying customer, Attract new customers, increase revenue
Without INK
Cobble together 6+ tools
Expensive expert content
Missed SERP ranking results
Clients are concerned about AI
With INK
A single platform that does it all
Increase expert writer output 5X
450% higher SERP ranking
Protected against Plagiarism
Advanced Content Shield Protection

Andraž Reich Pogladič
SEO Marketing Manager
Everything your team needs to write optimized content in the most efficient way
"INK gives me all the features that I need for fast and high-quality content optimization. I don't publish anything before I do optimization with INK. Besides general grammar corrections, I mostly use their keyword suggestions and sentence rewrite feature. It doesn't only give me related keyword suggestions but unrelated ones as well. It's an All-in-One SEO tool."

Why INK?
For more than 5 years we've been developing and advancing the state of the art in content performance technology while earning the trust of many leading marketers. We hope to earn yours by giving you content results, protection, a great user experience, honest pricing, a fantastic community, unlimited usage and everything you could wish for in a single subscription.
Join our Community
Access our private Facebook community, where growing your business is easy and you can bounce ideas around with seasoned marketing experts.
Access our private Facebook community, where growing your business is easy and you can bounce ideas around with seasoned marketing experts.
Our customer support team is here to answer questions via email and looks forward to chat with you during business hours. Our helpdesk contains over 100 FAQ articles.

Free Trial. No Credit Card Required.
accounts created
in the last 7 days