As a college student, essay assignments are the norm. But a research proposal may sound strange– especially if you are a newbie. If that's the case, an APA research proposal example comes in handy.
In this article, we'll examine the features of a research proposal. And provide all the information you need to write your first.
What Is A Research Proposal?
A research proposal is a document that outlines the main idea of a research project. The proposal explains why the study needs to be done and how it will benefit society or improve knowledge in the field.
It delineates the methodology of the research you've conducted or are about to execute.
What's The Goal Of A Research Proposal?
A research proposal helps the writer explore a topic in greater detail. It provides an opportunity to identify and analyze relevant evidence, conclude, and offer potential solutions or recommendations.
A research proposal also allows you to demonstrate knowledge of a specific field and create a well-rounded argument considering diverse perspectives.
Sometimes, the purpose of a proposal is to secure funds to support your research.
A research proposal presents a unique insight into a particular subject matter. And make a compelling case for its importance in advancing knowledge.
You should be able to prove that your work will:
Fill a knowledge gap on this topic or add to the existing knowledge on the subject
Emphasize existing information on the issue
It should also prove that you are capable of contributing meaningfully to the field of study. The best way to prove this is by stating your credentials and academic qualifications. Your study proposal also affirms the academic merit of your ideas.
How Long Should A Proposal Be?
Frankly, the page count of a research proposal isn't as important as the content it should entail. A master's or bachelor's research proposal may be a few pages long. But for a Ph.D. dissertation, it may be more as the research is often meatier.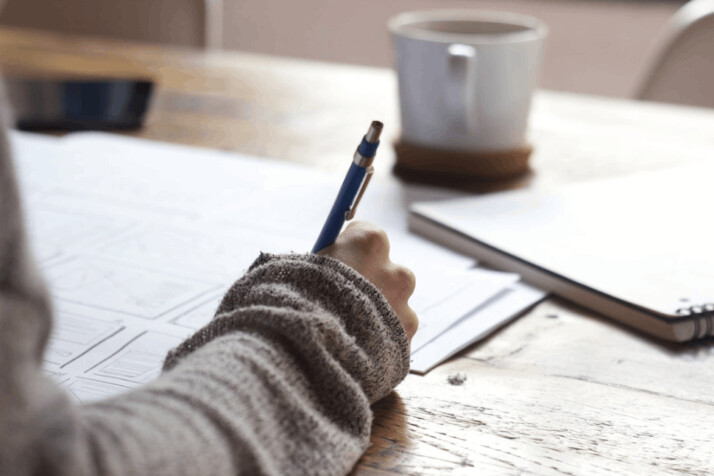 The purpose of a research proposal is to outline any content or element of your research. Don't leave out details because you are targeting a word or page count.
The Structure Of A Research Proposal
An APA Research Proposal structure isn't set in stone. But some elements are critical. They are as follows:
Research Paper Title
The research title should embody your paper's content. While you can still change your title during the project, you must ensure your title explains the whole study in a few words.
Abstract
In just about 100 words, your abstract should state the question you intend to answer.
Background Significance
This is where you'll give a background introduction to your topic. It covers issues like why you decided to work on the research, existing debates, etc.
You should also include the relevance of the question you aim to answer and its importance.
Finally, you must state the tool you plan to use while conducting your research.
Literature Review
The literature review lists the sources you plan to rely on for your research and why you are working with those sources.
Research Methods, Design And Schedule
This aspect of your research proposal covers the following topics.
Identify if you are doing corrective, experimental, or descriptive research.
State the kind of research you want to do. Is it quantitative or qualitative research?
What tools will you use to curate data? Observation? Or will you conduct a survey?
List all the data collection options available and why they are necessary.
In addition, this aspect of the research proposal should also indicate:
Research budget
Any form of potential obstacles and how you will resolve them.
The timeline of your research
Conclusions
Like the name suggests, this section wraps up the research proposal. It summarizes research proposals and restates your purpose.
Bibliography
Finally, list your sources or the works that contributed to your research. In this case, you need to follow the APA format. You can even annotate your bibliography, indicating how each source will contribute to your study.
APA Research Proposal Format
Now, we'll briefly analyze what the APA format should look like.
1-inch margins
12-point font Times New Roman
An APA running head (limited to 50 characters)
Double-spaced
References page (following APA guidelines)
In-text citations (formatted accordingly to APA guidelines)
A title page containing your research title (12 words maximum), your name, and your institution name
Abstract (150-200 words)
What To Avoid In APA Research Paper
Some factors can mar your research proposals. APA research papers should be written carefully, avoiding the following mistakes:
1. Using overly technical language that can make it difficult for the reader to understand.
2. Omitting any necessary facts or data may weaken the paper's credibility and validity.
3. Failing to cite sources accurately could result in plagiarism.
4. Making assumptions without providing evidence to back them up.
5. Overlooking potential ethical issues related to a topic.
6. Ignoring grammar and spelling mistakes.
7. Not organizing ideas logically or presenting them in an unclear manner.
8. Relying too heavily on one source of information when multiple perspectives are needed.
9. Being overly opinionated instead of using objective analysis and reasoning.
APA Research Proposal Example
Emotional Well-Being And Mental Health Research Proposal
Introduction
I propose undertaking a research project into the effects of emotional well-being on mental health. This study investigates how emotional well-being affects one's ability to cope with and manage mental health. This proposal will analyze current literature, examine personal experiences, and explore various theories. It seeks to gain an understanding of how emotional well-being influences mental health.
Research Methodology
In terms of methodology, I plan to conduct both qualitative and quantitative research. Using these mediums, I will form conclusions regarding the correlation between emotional well-being and mental health.
A survey will be administered online, followed by semi-structured interviews with participants who indicate that they are struggling with their mental health. Furthermore, I will conduct interviews with healthcare professionals.
Personal stories and observations from my experience working with individuals with mental illness will also be incorporated into the data collection process. Additionally, information from relevant academic studies on this topic will be used to inform the interpretation of the results.
The proposed research has theoretical and practical implications for understanding the complex relationship between emotion and mental health.
Theoretically, it could lead to a greater understanding of the mechanisms underlying this relationship. It could also provide insight into the psychological underpinnings of mental illnesses like anxiety or depression.
Moreover, the findings could suggest new strategies for helping those with poor mental health. It will provide them with improved access to support systems and resources. Finally, further exploration of this issue could result in policies geared towards improving emotional well-being implemented at governmental levels.
I anticipate that this study will take approximately 6 months to complete, depending on the availability of interview subjects.
Conclusion
If allowed to conduct this research, I am confident I can produce valid and reliable results. One that will contribute to our collective knowledge about the role of emotion in mental health.
Note: This is a skeletal APA research proposal example. This should only serve as a guide. You need to be as detailed as possible while writing yours.
Conclusions
An APA research proposal example is a document that outlines the basic idea of a researcher's project.
When writing a research proposal using the APA style, it's essential to follow the formatting rules the American Psychological Association laid out. This includes providing references in the correct format, such as author name, date, and page number.
Worried about drafting an excellent research proposal? Take INK on a spin. Our proposal generator takes instructions and delivers a brilliant research proposal.
Explore All
Proposal Generator Articles