Writing professional and effective construction proposals can be a daunting task. After all, it's not just about conveying the technical details of your project.
You must also demonstrate your expertise and convince potential clients that you are the right person for the job. If you need help with how to write a construction proposal that gets results, we're here to help!
In this article, we'll explore everything you need to include in your proposal and some steps you can follow to get started. A well-written construction proposal is key to winning over more construction projects for your business. You need to make it count.
What Is a Construction Proposal For?
A construction proposal is a document that outlines the proposed plan, materials, and services required for a specific project.Contractors typically submit it to property owners or developers who need building construction.
Getting a construction project isn't always easy. You'll be up against other professionals bidding for the same opportunity. This is why your proposal should explain why you are the best choice for the job.
A good construction proposal must clearly show what the finished product will look like. But it should also set realistic expectations for cost and timeline.
You want your proposal to be comprehensive and cover everything your potential client needs to know. Read below for a list of what you should include in your proposal.
What to Include in a Construction Proposal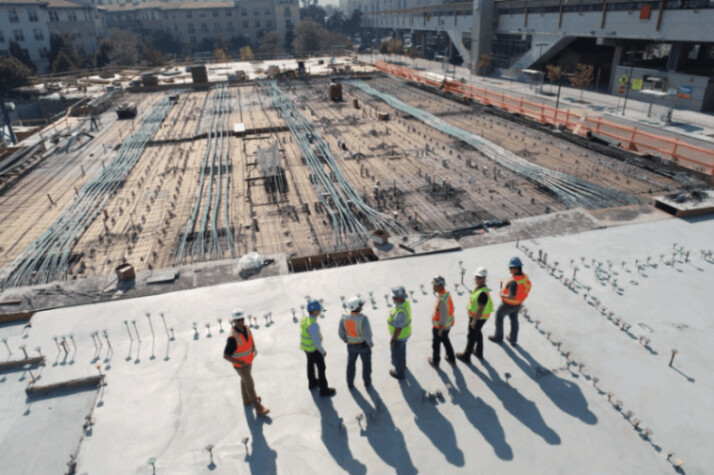 Taking the time to create a detailed proposal can make all the difference in winning over projects. All this detail helps ensure everyone knows what they agree to before moving forward.
Your proposal template should include the following:
Scope of the work
Client's information
Cost estimate
Payment schedule
Project schedule
Clauses that cover unforeseeable conditions
Your warranty
Detailed Scope of Work
The more detailed this section, the better. Try to list all the services and tasks you can provide for the project. This will help potential clients assess if you'll be a good fit for the job.
It should include all steps, materials, services, and other related tasks needed to get the job done. You could specialize in carpentry but get a subcontractor for tiling and landscaping. If so, mention who your sub-contractors are and the estimated cost associated with their service.
Client's Information
This section should include basic information about the client, including their name, contact details, address, and other relevant personal data.
It should also incorporate all pertinent specifications they have requested regarding the project. This helps ensure that everything goes according to plan and meets their expectations.
Cost Estimate
Here you will provide an estimate of the project's total cost based on the scope of work described above. This includes both labor and material costs, as well as any fees associated with permits or licenses.
Make sure to consider taxes or additional costs that may be applicable when calculating this figure. Don't leave anything out.
Payment Schedule
A payment schedule should be clearly outlined to ensure understanding between both parties. Depending on the size and nature of the project, it might make sense to break up payments into installments rather than one lump sum.
Project Schedule
The proposed timeline for the completion of the project should also be included in the proposal. This gives the client a better idea of when they can expect results. It also keeps the team motivated to stay on track with deadlines.
Clauses That Cover Unforeseeable Conditions
Certain clauses should be included to protect all parties against unexpected problems like hidden structural defects or delays. These clauses help mitigate liability by providing clear guidance on who is responsible for dealing with these issues if they occur.
Your Warranty
No quality job is complete without providing some form of warranty coverage. Ensure your construction proposal includes a warranty clause specifying what kind of protection you offer after construction is finished.
This warranty assures clients that you stand behind your craft and are willing to make repairs should anything go wrong after the completion.
How to Write a Construction Proposal
Do Your Research.
Before beginning the construction proposal, it is essential to research and gathers all relevant information about the project. This includes:
Reviewing local laws and regulations that may affect the project
Researching materials needed for the job
Understanding how much time will be required for the completion
Assessing potential risks involved with the project, and so on
Create an Outline.
Once you have done your research, it's time to create an outline of the construction proposal. Make sure to include all the necessary information. You can refer to our previous list of what to include in your proposal.
Start With Your Draft.
After creating your outline, begin drafting your proposal. Use clear and concise language that reflects your expertise while also providing emotion and examples where applicable.
Review and Revise.
When you have completed your first draft, take some time to review and revise it. Read everything carefully, correcting grammar and spelling errors, refining sentences if necessary, and ensuring all facts included are correct. Additionally, double-check all financial figures to ensure accuracy.
Finalize and Submit Your Proposal.
Once all components have been completed and organized in one document, review it carefully. If everything looks good, submit the proposal to the prospective client for consideration!
Final Words
A construction proposal outlines the project scope, budget, timeline, and other essential elements to ensure all parties involved have an agreement.
Think of it as a blueprint for the proposed construction, setting out the specific objectives that need to be achieved. By learning how to write a construction proposal effectively, you will have no trouble putting together winning proposals for any project!
Explore All
Proposal Generator Articles