The secret to closing a sale could be as simple as writing an excellent remodeling proposal template. That's hardly a surprise.

A proposal is a detailed bid to show your clients what to expect from remodeling. Besides this, it ensures no miscommunication occurs between you and the client throughout the renovation.

This article details how to craft a proposal that lands you a job. Without further ado, deep dive.
What Is Remodeling?
Remodeling is the process of making changes to an existing structure or space. It can involve anything from minor improvements and repairs, like painting a wall, to major renovations, like adding a room.

A remodeling project typically starts with a plan outlining what work needs to be done, its timeframe, and its cost. That's where the proposal comes to play.

It's a clear and untainted communication of the remodeling plan to clients.
What Is A Remodeling Proposal?
A remodeling proposal depicts the whole process of a renovation. It includes all information that helps a client accurately understand what to expect.

Most importantly, it influences the decision of the contractor to hire. If the image you are painting seems appealing enough, a client will hire you.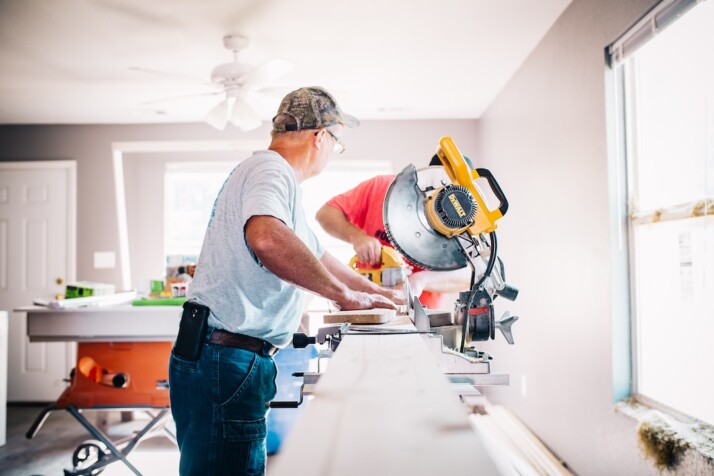 You and the client will have an overview of how much the remodel will cost, the details of the process, and other information.

Chances are it will be your proposal against other remodelers. The question is, how do you make yours represent your business impressively?

First off, avoid throwing random remodeling proposals at your clients. Generic bids will blend in with the crowd– probably go unnoticed.

Even when using a remodeling proposal template, you need to personalize yours. Make it understandable, client-focused, and crystal-clear.
Sample Remodeling Proposal Template
I'm an experienced remodeling specialist. And I can tell you that turning your house into a true home with all the bells and whistles starts with the kitchen.

Every successful kitchen renovation starts with some solid planning. From determining what needs to be done to figuring out where all the parts will go.

I'm here to help guide you through this process so that you end up with a kitchen that surpasses even your highest expectations.

First off, let's talk about materials. Granite countertops are all the rage nowadays for their durability and luxurious appearance. But if budget is an issue, other options, such as laminate or ceramic tile, offer both affordability and great aesthetic appeal. Custom-built cabinets can provide optimal storage solutions and a more personalized look for cabinetry.

And don't forget the flooring! Ceramic tiles give a timeless elegance, while wood laminates create a warm and cozy ambiance.

But getting the right look isn't enough – functionality is vital too. Think about how you use your space. Are you constantly moving around? Do you entertain guests often? How many people need to move around freely?

The answers to these questions should determine layout considerations like where best to put seating, appliances, and workspace areas.

There may also be features you'd like included, like built-in shelving, additional lighting, or maybe even a breakfast nook!

Finally, consider cost-saving measures like energy-efficient appliances, proper insulation, and energy-efficient windows. All these can reduce utility bills while allowing you to enjoy your remodel's benefits.

With my expertise and guidance, we can work together to ensure that every last detail of your project is handled. Expect nothing short of perfection!
How To Design Your Remodeling Proposal Template
While you can work with a proposal generator like INK, you still need to work with a unique style representing your business. The template above can guide you in getting started with your proposal.

Below, we'll provide tips to help you create a more specific remodeling proposal that you can run with.
Create A Document Structure
If you want your document to get your client's attention, it needs to be orderly. No one would hire a contractor that seems completely unorganized.

Break your information into clear sections to make it easily scannable. And it helps to use a different font for your contact to make it obvious.

One of the best structures to rely on is:
Branding and detailed company information
Clients data (email address, phone number, or address)
The information about the remodeling project (scope, timeframe, schedule, terms, etc.)
Legal information (permits, insurance, warranties, etc.)
Full costs
Focus On The Essentials
Don't get distracted and ramble about technicalities that are difficult to understand. Focus on the basic of the project. Your proposal should be a few pages long. That means you shouldn't waste your client's time by burdening them with unnecessary details.
Visuals Are Like Candies (Assuming Your Clients Are Kids)
How does a child react to candies? Similarly, we are more likely to respond to visually pleasing websites or proposals.

Bump up your chances of getting the job with popping visuals. You can chip images of previous projects (of course, with your client's permission). Your company logo can also improve the proposal's professionalism.
Wrapping Up
An incredible remodeling proposal template can set you up for a successful construction bid. It can be the difference between closing a deal and getting turned down.

That's why you need to carefully draft something that raises a pretty solid argument in favor of your company.

But it all starts with the right proposal generator like INK.
Explore All
Proposal Generator Articles