Are you struggling to write the perfect wedding catering proposal? Don't worry — writing a great proposal is easier than you think!
This article outlines practical tips for crafting professional proposals so that you can impress your clients. It also provides an excellent wedding catering proposal template that will help you get started in no time!
What Is a Wedding Catering Proposal?
A wedding catering proposal is a document that outlines the services, menu options, and estimated cost of providing food for a wedding event.
It's typically submitted by an experienced caterer to potential clients to demonstrate their expertise. It explains how they can fulfill the particular needs of the couple hosting the wedding.
The proposal should include details such as the type of cuisine offered and the available serving styles. It can also detail the number of staff members required for service and any other special amenities that will be provided.
Tips to Write a Great Wedding Catering Proposal
Here are some tips to help you write a great wedding catering proposal:
1. Research the Client's Business
Get to know your client's business, event type, and catering expectations for their special occasion. Doing adequate research helps you to provide a detailed and professional proposal that speaks directly to their needs.
2. Offer Comprehensive Services
To stand out from other catering companies in your area, showcase all your services in terms of food preparation, delivery, setup, and cleanup. This will help clients gain confidence that you can handle all aspects of their wedding catering needs.
3. Focus on Quality Ingredients
When writing about the foods you offer, highlight the quality ingredients and unique flavors that set you apart from competitors. Include visuals such as pictures or videos when possible to give your clients a clear idea of what they can expect from your service.
4. Provide Reasonable Prices
It is essential to be competitive by providing reasonable prices while not sacrificing the quality of food and service you offer. Make sure to include pricing information within your proposal to ensure both parties are on the same page regarding costs.
5. Demonstrate Professionalism
You want your client to feel comfortable knowing they have hired a reliable, knowledgeable catering company. Use professional language throughout your proposal. Also, focus on customer service experience to demonstrate why your company is the best option for their wedding catering needs.
6. Showcase Your Experience
Emphasize your expertise in the industry by sharing any awards or certifications you have received for your work in catering services. Providing examples of past events that you have successfully catered to can also help convince potential clients of your capabilities.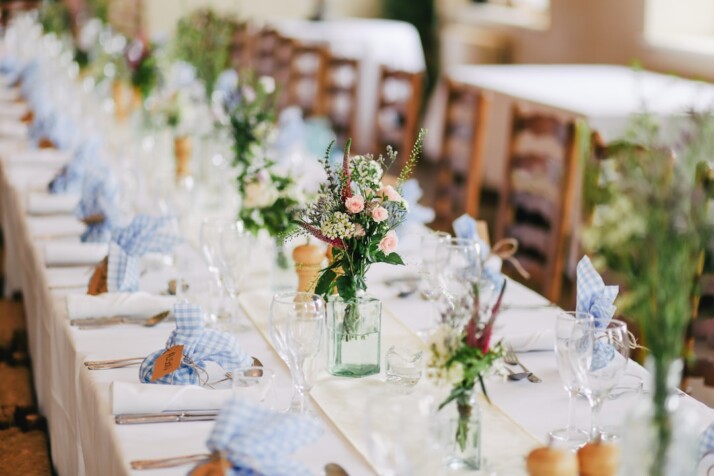 An Effective Wedding Catering Proposal Template
Here's a great wedding catering proposal template to help you get started on your own:
Wedding Catering Proposal Template
Dear [Client's Name]
I am pleased to present this wedding catering service proposal from Dreamy Cuisine Catering. We are a highly experienced and reputable catering business serving the community for the past 10 years.
We provide personalized catering services tailored to meet the specific needs of each client. As wedding caterers, we understand how important it is to make your special day unforgettable. With our delicious menu selections, reliable staff, and top-notch customer service, you can rest assured you'll have a magical experience on your big day.
For your upcoming wedding event, here is an overall description:
Event type – Wedding
Venue – Southampton, PA
Possible Dates – 8th August 2023
Number of Guests – 100. guests.
Our proposed menu includes classic favorites and unique dishes that are sure to please even the pickiest palate. We also offer a full bar selection, including wine, beer, spirits, specialty cocktails, and more. From appetizers to desserts, each dish is expertly prepared with fresh ingredients and presented elegantly.
Our pricing plan is highly competitive, starting at $[Pricing] per person, inclusive of beverages. Additional fees may apply based on dietary restrictions, venue location, and other factors.
Regarding the terms and policies of our business, we require all payments to be made upfront before services are rendered. Additionally, all bookings should be made two weeks before the event date so that we have enough time to prepare.
We hope this proposal meets your expectations and look forward to working with you soon!
Thank you for considering Dreamy Cuisine Catering for your wedding event.
Sincerely,
[Your Name]
Conclusion
Writing a successful wedding catering proposal is essential to any caterer's job. It helps to organize and detail the menu, services, and prices required for the event in an accurate and efficient manner.
So, follow our tips and the wedding catering proposal template to ensure you get the best outcome for both parties involved.
Explore All
Proposal Generator Articles