Proposing marriage to the love of your life is surely one of the most significant moments of your life. And you want to make it perfect.
The perfect proposal entails more than just a beautiful ring and location. It involves choosing the perfect words to express your love and affection for your partner.
Crafting the perfect wedding proposal speech can be daunting, but worry not! The wedding proposal speech examples in this guide will come in handy!
In this article, we've compiled ten wedding proposal speech examples that will inspire you to express your love in a unique way.
What is a Wedding Proposal Speech?
A wedding proposal speech is a heartfelt and personal speech given by one partner to their significant other during a marriage proposal. It typically includes details about the couple's relationship, expressions of love and commitment. And may also include presenting a ring or other symbol of their commitment.
It marks the beginning of a new chapter in the couple's lives together. Every couple desires to have a wedding proposal speech worth remembering, hence the time dedicated to it by many.
10 Heartfelt Wedding Proposal Speech Examples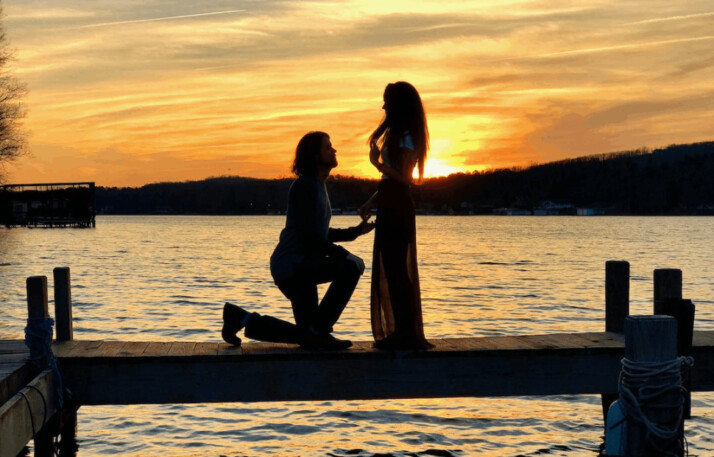 1. Our Journey So Far: How We Met
Every love story starts with a first meeting. Start your proposal speech by taking your partner down memory lane. Share the story of how you met and felt when you first saw them. Be descriptive and add details that will bring back memories and emotions.
"From the moment I saw you, I knew that you were someone special. Our paths crossed in the most unexpected way, but I'm so grateful for that chance encounter. I remember how we talked for hours that first night, and how it felt like we had known each other for years. Since then, we've shared so many amazing moments together, and I can't imagine my life without you. I want to spend the rest of my days making memories with you and building a life that's full of love and happiness. Will you marry me?"
2. Everything I Love About You
Your partner is unique, and there are many reasons why you love them. Take this moment to share what you love about your partner, from their smile to their sense of humor. Highlight their special qualities and why you cannot imagine life without them.
"There are so many things I love about you that I don't even know where to begin. I love your kind heart and the way you always put others before yourself. Your intelligence and your unwavering passion for your interests. I love your sense of humor and how you always know how to make me laugh. I love the way you look at me, and how you make me feel like I'm the most important person in the world. Most of all, I love the person you are and the way you make my heart feel. You are my everything, and I can't wait to spend the rest of my life showing you how much I love you. Will you marry me?"
Every relationship has its shared moments, both good and bad. Take this opportunity to talk about some of your memories from the first date to the present day. Be descriptive and add emotions, and remember to highlight how these shared moments have made your love stronger.
"From the moment we met, we knew that we were meant to be together. We've shared so many incredible moments together, from our first date to our most recent adventure. I'll never forget the time we went on that road trip and got lost in the middle of nowhere. Or the way we danced together at our favorite concert. Every moment we spend together is a treasure to me, and I can't wait to make even more memories with you. You are my partner in every sense of the word. And I'm so grateful for all the adventures we've had and all the ones to come. Will you marry me?"
4. The Moment I Knew You Are the One
There is always a moment when you realize that your partner is the one. Share that moment with your partner and explain what made you feel that way. This will show your partner that your love is genuine.
"I remember the exact moment I knew you were the one for me. It was when we were sitting on the beach watching the sunset. And I looked over at you and felt this overwhelming sense of love and contentment. In that moment, I knew that I never wanted to be without you. You make me feel like the luckiest person in the world, and I can't imagine my life without you in it. I want to spend every day making you feel just as loved and cherished as you make me feel. Will you marry me?"
5. We Are Destined to Be Together
Some people believe that destiny plays a role in our lives and that we are meant to meet certain people. If you believe this, include it in your proposal speech. Explain how your relationship has been destiny and brought you to this moment.
"I believe that we are meant to be together. From the moment we met, there was a spark between us that I'd never felt with anyone else. We complement each other in every way, and we make each other better. I know we'll face challenges and obstacles along the way, but we're strong enough to overcome them together. We have a love meant to last a lifetime. And I can't wait to spend the rest of my days showing you how much you mean to me. Will you marry me?"
6. Serendipity or chance encounter
Like destiny, serendipity is a belief that happy accidents lead to significant discoveries. Share some happy accidents that led you to your partner, from chance meetings to spontaneous decisions that brought you closer.
"It's funny how life works sometimes. We may have met by chance, but I truly believe that it was meant to be. I'm so grateful for every moment we've spent together, and for the way you've enriched my life in so many ways. You are my serendipity, and I can't wait to spend the rest of my life with you. Will you marry me?"
7. How My Life Has Changed
When you meet the right person, your life changes. Explain how your life has changed since you met your partner, from small changes to significant transformations. Share how your partner has made you a better person and how you cannot imagine life without them.
"My dearest [name], I stand here today with a heart full of love and gratitude for the joy you have brought into my life. From the moment I met you, my life changed in ways I never imagined possible. You have shown me what true love means and have been my rock through the highs and lows. I cannot imagine my life without you in it. Today, I ask you to spend the rest of your life with me, so we can grow together. Will you marry me?"
8. Experience-Based
If you and your partner enjoy experiencing new things together, make that the focus of your proposal speech. Share some of your adventures and explain how you want to experience more with them. This will show your partner you are looking forward to a future filled with love and adventure.
"My beloved [partner's name], you are the light that has brightened up my life in ways I never knew were possible. Together we have shared so many amazing experiences, from our adventures traveling the world to the quiet moments spent curled up on the couch. Each day spent with you has been a gift. And so, I want to spend forever with you, so we can make more memories and share in the experience of life as partners. Will you marry me?"
9. Our Funny Moments
Laughter is an essential part of any relationship. Include some of the funny moments you have shared with your partner and add humor to your proposal speech. This will lighten the mood and make your partner feel comfortable and relaxed.
"My love, you make me laugh like nobody else can. I cannot imagine going through life without your hilarious sense of humor and your infectious laugh. From our silly inside jokes to the times we've shared embarrassing moments, every moment with you has been a joy. And so, I stand before you today with a proposal that I hope will make you laugh and say yes. Will you do me the honor of being my partner for life, sharing in all the laughter and joy that comes with it?"
10. Quotes From Famous Movies
If you and your partner are movie buffs, including quotes from your favorite films can be a great addition to your proposal speech. Choose a quote that represents your love and relationship and add a personal touch by explaining why it is meaningful to you.
As they say in one of my favorite movies, 'You had me at hello.' I knew I had found my soulmate from the moment I met you. You are my best friend, confidante, and partner in everything. I cannot imagine spending my life without you by my side. And so, in the words of another famous movie, 'I'm just a girl, standing in front of a boy, asking him to love her.' Will you do me the honor of being my partner for life and making our love story a real-life fairy tale?"
Final Words
Your wedding proposal speech should come from the heart, be sincere, and be unique to your relationship. Use the wedding proposal speech examplesabove as inspiration to create a proposal speech that will melt your partner's heart. Remember to be confident, be yourself, and enjoy this moment that marks the beginning of your journey together.
Whether you share your experiences, funny moments, or favorite movie quotes, what matters most is the love and commitment you express.
Remember, it's not just about the proposal itself but the lifelong journey of love, partnership, and growth that comes after it. So, take a deep breath, speak from your heart, and trust that your love will shine through.
Explore All
Proposal Generator Articles