Adventure is the most exciting time in a person's life. It's a time when people are closer to nature and can see the world with a different pair of eyes.
People are motivated to experience new things that they would've never imagined. People are also able to grow closer to people that they might not have known too.
To take an adventure is to know something new, to discover something not known before, a discovery that changes the shape of your life.
What an adventure is, depends on the person who takes it. There is always a specific experience tied to an adventure, and the description of that experience makes it an adventure.
So, if you are looking for the best captions to summarize your adventures, you are in the right place! We have the best collection of adventure captions and quotes to keep your feed buzzing.
Let's check them out!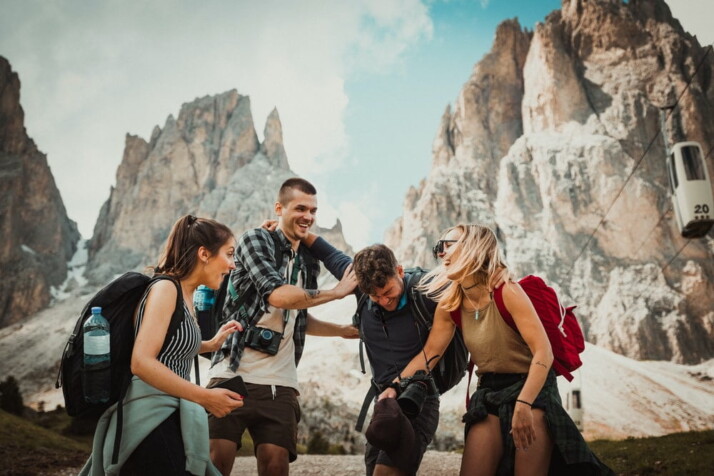 Travel as a Form of Adventure
If you're trying to find the adventurous in a budget trip, take a road trip worldwide. If you're trying to find the adventurous in a location you can depend on, take a hike up a mountain in the Alps.
Travel is part of adventure, and a travel adventure is a life-changing event. Adventure, thrill, fun, and excitement are just a few of the feelings that come with traveling.
Exploring places, people, new cultures, and eating a delicious meal together are just a few desirable things gained from travelling to an exotic place.
It's time to explore adventure captions for Instagram. We have cheeky, family, ancient, short, cheesy captions to make your photos glow. Let's have a look!
Cheeky Adventure Captions for Instagram
Travel captions should convey the notion that there is a new exciting place in the world to discover. They should inspire a sense of excitement, curiosity and exploration. Here's what we got for you!
All I need is a 3-month vacation four times a year. That's really not asking for much.
I decided to skip ahead to the part of my life where I travel the world.
I follow my heart … and it usually leads me to the airport.
Maybe you can't buy happiness, but you can buy plane tickets.
I'm a travel addict on the road to recovery. Just kidding, I'm headed to the airport.
Tans and jetlag fade, but memories last forever.
Family Travel Quotes for Instagram Captions
Travelling with family is always a joy, and Instagram can help capture that silly, loving feeling in captions. Here are some of our favorite quotes for family travels.
"Each day of our lives we make deposits in the memory banks of our children." – Charles R. Swindoll
"In life, it's not where you go – it's who you travel with." – Charles Schulz
"My ideal travel companions are my family." – Pharrell Williams
"Two of the greatest gifts we can give our children are roots and wings." Hodding Carter
"We do not remember the days; we remember moments." – Cesare Pavese
"You will never look back in your life and think, I spent too much time with my kids." – Kimberly Mcleod
Ancient Wise Sayings on Travels for Instagram
Travels have existed for as long as humans. Travel is a tough and unpredictable experience with few instructions, and what you learn will shape your life. Try spicing up your travel feed with these timeless nuggets below.
Build traditions of family vacations and trips and outings. These memories will never be forgotten by your children.
In the end, kids won't remember that fancy toy you bought them, they will remember the time you spent with them.
It is never too early to begin exploring the world.
It's not what we have in life, but who we have in our life that matters.
Memories made together lasts a lifetime.
No road is long with good company.
Funny Adventure Captions for Instagram
Funny adventures can be written as captions. A witty caption can be used by either a traveler or someone who just enjoys adventure. You can use funny captions for everything from a trip to the closest Starbucks or to a majestic mountain. Here are some that would make you giggle!
"I need a vitamin SEA."
"Have a fun(tache)tic day!."
"I hate traveling, no traveler ever said"
"I'm in love with places I've never been to."
"I need a vacation so long, I forget all my passwords!"
Carefree Adventure Captures for Instagram
The world is your oyster, try to catch some! Publishing your photos with some carefree cheery captions to give your followers a little humor will be much fun on Instagram. Here are some carefree captions guaranteed to make your day.
Me: "I want to travel more", the bank account: Like, to the park?"
"If you are upset just think about a T-Rex trying to drink a Martini."
"Men to the left because a woman is always right"."
"If you think adventure is dangerous try routine, it's lethal." – Paulo Coelho
It's bad manners to let vacation wait!
"If you don't belong, don't be too long."
Couple Adventures Quotes for Instagram Caption
Let these captions and quotes transport your followers to a journey of adventure, exploration, and wonder all at once.
"Where you are is where I want to be"- Anonymous
"A journey is best measured in friends, rather than miles" – Tim Cahill
"Couples that travel together stay together" – Anonymous
"In life, it's not where you go, it's who you travel with" – Charles Schulz
"Never go on trips with anyone you do not love" – Ernest Hemingway
"The best things in life are the people we love, the places we've been and the memories we've made along the way" – Anonymous
To Wrap Up
Captions seem to be the most satisfying when they come off quick and easy. The easiest way to achieve this is with a few witty captions, a cheeky caption, or some captions from history. If you ever feel stuck, simply use INK's image caption generator to make some creative unique captions.
Explore All
Image Caption Generator Articles