This one is for the selfie lovers out there. Snapped a cute selfie, but you don't know what to caption it? Don't worry because you're in the right place. We've listed some of the best funny selfie captions just for you!
Selfies will never grow old. They will always be a popular and fun way to take photos and express yourself. And with the right captions for your selfies, you can make your posts even more entertaining.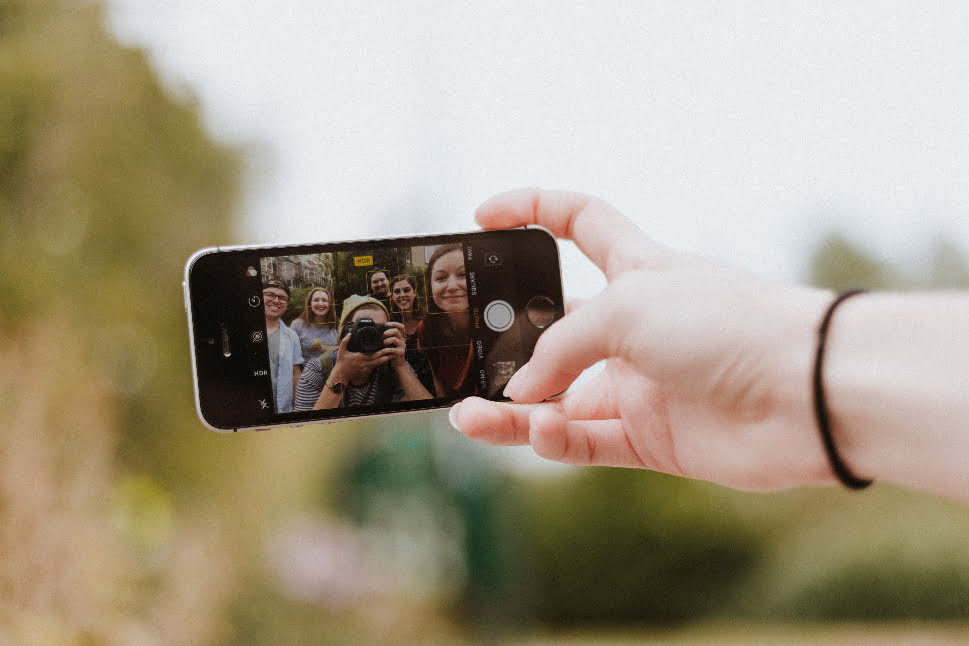 What are selfies?
Almost everybody at this point knows what a selfie is. But it's always great to refresh ourselves with what this term exactly means. Dictionaries define selfies as "a photograph one has taken of oneself." These are typically taken with a smartphone or webcam and uploaded to a social media website.
This media phenomenon first became popular around 2010 to 2011. It was even one of the top 10 buzzwords of 2012, according to Time Magazine!
Fast-forward to now, and it's still a popular trend. You even probably have a few selfies lying around in your phone gallery. They are a great way to share moments with your family, friends, and loved ones.
Why You Need a Caption
No social media post is complete without a caption. Captions are important because they give your posts personality and make them more interesting to look at.
They also make a difference in terms of building a following. People want to like your posts because they are witty and stylish, not just because they're pretty.
50 Best Funny Selfie Captions
A selfie every day keeps the boredom away.
Do you want to see my guns?
I'm a model. My agency's Instagram.
I'm gorgeous both inside and out.
Sexy, and I know it!
Life is better when you smile
Running on caffeine
Please don't bother me. I'm taking a selfie
If you live for other people's acceptance, you'll die from their rejection.
Looks aren't everything, but I have them just in case!
50% Savage. 50% Nice.
Meet crazy me
I didn't choose the celebrity life. It chose me.
Coffee and Confidence.
I'm a selfie queen.
Who says guys can't take selfies?
People grow up, but I glow up
Being happy is a style that will never fade.
Pretty in pink.
I was born to stand out.
I am my own biggest crush.
Be your own best friend.
I have no selfie control.
Felt cute, won't delete it ever
Sending my selfie to NASA because I'm a star.
Selfie with the crazy squad
Reality called, so I hung up.
I had fun once. It wasn't very nice.
I think you are lacking vitamin ME!
Fresher than you.
My dog made me do it, I swear!
This selfie is so good. I can't believe it's me.
Crazy hair, don't care.
On this day, a Queen was born.
Ice cream is cheaper than therapy.
Why fall in love if I can fall asleep?
Smile big, laugh often.
Be the EXTRA in extraordinary.
Hating me doesn't make you pretty.
What do you think of the view?
Yes, I woke up like this.
#Squadgoals
Why so serious?
Keep calm and take some selfies.
Mischief managed.
Sassy since birth!
Maybe I was born with it. Or it's just a filter.
Weekend, please don't leave me.
I do marathons, too, on Netflix.
Sorry, did I make you stare?
To Wrap Up
Captions can be a fun and entertaining addition to your post. Caption your pics in the funniest and most creative way to get more likes and engagements. These 35 best funny selfie captions are sure to help you out. What are you waiting for? It's time to post that selfie!
Frequently asked questions
You want to smile big and laugh often.
Try to smile – sunshine is good for your teeth.
Make someone else smile today.
Smile when everything else fails.
It is important to never underestimate the power of your smile.
Silence and smiles are powerful tools.
Keep your calm and keep smiling.
There is no stopping smiles!
Don't sacrifice yourself, your family, and love.
I can't dull your sparkle.
Don't give the same mistake again.
If you throw an apple hard enough, it will keep anyone away.
Each and every one of us is unique, and that means perfection in itself.
Your life is the most important party you will ever have.
This is the magical picture of your life.
There are only Coffee and Mascara to fill me up.
Makeup gives me confidence.
Success is based on the self-image of every successful woman.
Self-conscious without filtering
It's sometimes the princess who kills the dragon and saves the prince.
Here are some Instagram selfie shots. An example of a hairstyle is "I Tried". I'm not short, I'd rather be super concentrated. There is a day when someone will look at you like you're the best in the world. Make your life filled with adventures, not things.
Gucci bags underneath are under my eyes.
Maybe she was born with it. Maybe she got it.
There are more issues than Vogue.
Felt cute
Did I actually happen to post a picture if I didn't?
99 problems were reported, but I didn't find any bad angles.
Sometimes I amaze myself.
PSAC: I didn't wake up like this.
"You do you"
"Sunday funday"
"Let it be"
"Morning gram"
It's a pleasant day at the beach.
You can see the world through me.
"I'll do me"
"Oh hey there"
We expect the best to arrive.
50% savage, 50% sweetheart
Escape the ordinary
Beautiful, cute and classy.
Coffee helps you through life.
The future will be bright.
The days we live in are here.
Tell a good story.
What are 5 popular slogans?
Samsung: "Do what you can't do.".
"There are some things money cannot buy," MasterCard says.
Spice: "The original"
Nike: "Do it"
What what is a tagline?
Disneyland: "The happiest place on earth.".
What makes a slogan different?
In De Beers' words, "A diamond is forever.".
There is nothing wrong with me; I am just a beautiful man.
In a book, we dream of her.
Spark will ignite
She believed
Grace always conquers!
There is a girl in the world with love in her eyes and flowers in her hair.
Afterward, I give away smiles.
You can't be worse than yourself.".
It is yet another year that I have the best of myself.".
"Sunday Funday"
"Be less of them, and more of you.".
It may be that she was born with it.".
Life is better when you are laughing.".
"Summer is her favorite season and she walks like rain.".
Don't let anyone treat you like you are ordinary.".
How do I have fun quotes?
"People rarely succeed unless they have fun doing what they are doing." -Dale Carnegie.
Having fun and re-enter your curiosity will energize you.
A person must never cease striving to enjoy life.
Even when you're growing up, you should never stop having fun.".
"Enjoy life
What are some sassy bios?
I like my coffee the way I like myself: Dark, bitter and too hot for you.
Girls who don't ask much, deserve it all.
Your mind would go stifled trying to understand mine.
Girls rule without a doubt.
Boys can do better, but girls can.
Although she is tiny, she is fierce.
I cannot please more than one person each day.
What I want is something I do.
If you listen closely, you will find me not caring.
Usually classy, never trashy, and a little bit sassy.
I asked for pizza only, so I didn't want to change your opinion.
Simple tasks are kept away by a few small moments a day.
What are some cool quotes?
I'd rather be dead than cool.
That's fine with me.
Let your soul stand in front of a million universes.
Still and cool in your own mind and spirit.
I'm a mirror
Keep a cool head and a low profile.
There is nothing cooler and more attractive than a big comeback, and that will be me.