Is there another hue that is as cool yet as profound as blue? Therefore, taking a selfie (or ten) becomes a given when wearing blue. Because of this, we made a list of the top blue captions for Instagram you can use. So, without any further delay, let's get started!
Why Should You Wear a Blue Dress?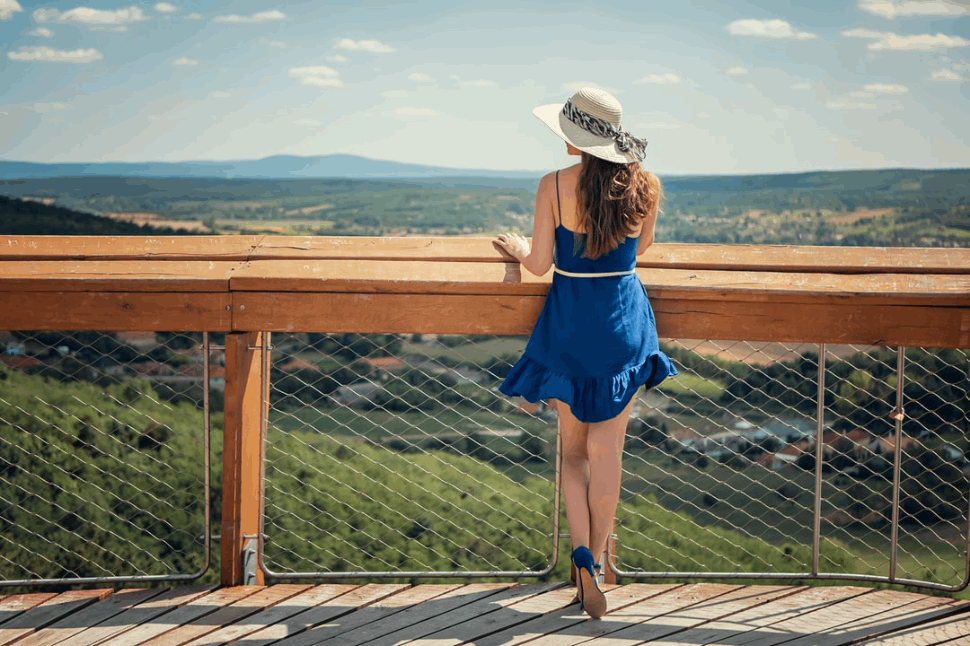 There are many lovely shades of blue, including turquoise, navy, sapphire, and baby blue. There are a lot of moods that blue can fit into! Even though blue is typically associated with boys, any girl can wear it. It is timeless, flattering on all body types, and there is no wrong way to wear it!
For that reason, we had to create quotes for the blue dress on Instagram that everyone adores. There is a blue dress for every occasion, including aqua sundresses, sky-blue halter minis, powder blue gowns, and midnight blue cocktail dresses.
Are you posing while wearing a blue dress and prepared to flaunt it to the world? So strike a serene and assured pose for that sexy selfie, just like the color blue! From Instagram captions for blue outfits to quotes about feeling blue.
You're prepared to slay the Instagram community with your stunning blue dress and sassy expression! Who needs profundity and poetry when you can be funny? Here are a few Instagram caption ideas for your picture wearing the blue dress.
The Best Blue Captions for Instagram!
Blues are there to lift you up, not get you down!
This blue dress is my dream come true!
I have irrational tendencies like the waves of a blue sea and serene disposition like a clear blue sky.
Whatever else, we'll always have our blue skies!
Love is beautiful, like the bright blue skies!
Calm as the blue sea.
Water is a shade of blue. There is no life without water. Blue is life.
The color of passion is red. The color of serenity and simplicity is blue. Which one is your favorite?
I am a simple man — put me in front of the blue ocean in a dark knight and I'll be content.
There are many colors out there, but I just can't explain the special feeling I have for blue!
I adore the color blue. Consequently, I am.
When they create a more attractive color, I'll stop wearing blue.
Blue-clad ladies have optimistic minds!
When I wear blue, I feel brand-new. You're bound to love me too!
I'm prepared to leave for the night in my midnight blue dress!
Another picture of the calm blue skies.
Blue is my favorite color to wear. What's yours, girls?
I need more blue in my life.
Blue is the most beautiful color there is!
What color represents the truth? Blue.
I am feeling blue, but in a good way! I love wearing the color blue!
If the color of love is red, blue is the color of life.
Look at the blue skies and ocean — best photo I've ever taken.
Watching time flow by while looking at the blue waves of the sea.
More Blue Instagram Captions You Can Use!
Think green? Well, you can also think blue!
Close your eyes and think about the blue skies, without any clouds.
I know hearts are supposed to be red, but mine is blue. That's how much I love the color!
I've never seen such a beautiful blue flower, anybody know what this is?
The color of love should be blue, don't you agree?
Final Thoughts
We hope you liked our article on blue captions for Instagram posts. As mentioned, you can freely use any of these captions and quotes as if they were your own!
If you liked the article, why not consider sharing it with your friends and colleagues?
Frequently asked questions
That is perfect in itself, and I am an original.
Give second chances, but not for the same mistake.
If you throw an apple a day, anyone will keep coming back.
You're going to have the best party of your life.
I cannot dull it! .
Don't sacrifice three things: family, love, and yourself.
Various types of captions, also called cutlines, are used to explain and elaborate on published photos.
There are colors of blue for every girl.
No one knew that wearing blue would improve your mood!
Keep a clean, working environment, and wearing blue!
It's not for everyone.
Stay calm and wear blue. It always works.
Dream big
Wear denim when you are in doubt.
I am always blue.
Simple and classy, cute and stylish.
The day is busy, so coffee helps.
We are yet to experience the best.
We have a bright future ahead.
Today, we live in a time of change.
50% savage, 50% sweetheart
Tell a good story.
Escape the ordinary
Ensure you make the most of the first sentence.
Let me ask you a question or call to action.
Add value
You can write like a human (not a robot).
Make your Instagram captions unique on a separate platform.
Use storytelling
Make fun of emojis with them.
Consider caption length
"I am a bird.".
"Miss me yet?"
"Sweeter than honey"
"It was my goal to stand out.".
Make them stop and stare.
"Know your worth"
"I am back on my feet.".
I am bad to the bone.
You are beautiful if you are confident.
Not a failure, but a lesson.
Successful women are themselves behind every successful woman.
This beautiful me isn't a beauty queen.
Know your worth
Love is the greatest middle finger of all times.
Let's face it, we're all smiling.
You aren't beautiful like me.
Build a door if you want the chance to knock.
Who will believe you cannot believe in yourself if you don't believe?
I may not even be there yet, but I am closer than yesterday.
Life is about the little things that matter.
The idea always seems impossible until it's completed.
However, a picture can speak thousands of words, but a caption is needed to describe the context. Captions explain photos. They tell stories and provide information about what they are watching.
They will not be around you more.
"Sunday Funday"
Maybe she was born with it.
Never let anyone treat you like you are ordinary.".
The best of me is yet to come.".
"Be yourself, no one is better.".
She walks like rain and acts like summer.
The better part of life is laughing.".
What are 5 positive quotes?
They will try, and there is nothing impossible.
Every day has twists and turns in it.
If you keep your face from falling behind, shadows will pass behind you.".
"Nothing is impossible
It is imperative that you grab it and never let go when you have a dream.
Time flees the bad news.
What are some cute short quotes?
Hakuna Matata…
I'm not weird!
This makes me smile since I'm not sure what's going on. – .
Smiles are happiness just beneath your nose. – .
Don't worry, its a good day. – .
There is only one happiness in this life: love and be loved. – .
Smile!
Don't underestimate the power of a great outfit.
Dressed to chill
Chic happens
Still, I am not in love with this fit.
Colorful is all better.
If I like my outfit, I'm nicer.
I wear black on Wednesdays.
There is no limit to how many shoes you can own.
What are some cool quotes?
I'm a mirror
Let your soul stand up to a million universes.
I'd rather be dead than cool.
That is okay with me.
Keep a cool head and keep a low profile.
Keep your mind and spirit cool in your own.
I will be the one who does what I can to make a big comeback.
How do you compliment a girl on her clothes?
I'm so confident, happy, and glowing.
It's something I'm going to take with me when you don't remember.".
The outfit looks like something Rihanna would wear.".
What's the point of having a little black dress when you have that?"".
My heart has never been filled with people so eager to own my home.".