You've just taken a cute photo of your daughter and want to share them on Instagram. But you can't find the right words to express your feelings. We've got you! We've compiled the best caption for daughter photo that'll leave your followers gushing over the picture you post.
But that's not all; they'll engage your post, liking and sharing, and ultimately follow your page for more content. Let's see some great captions you could use to fire up the photo of your cute little angel.
Sweet Caption for Daughter Photo
Here are some of the best captions you could use when sharing beautiful photos of your daughter on Instagram.
"Sometimes the smallest things take the most room in your heart." —Winnie the Pooh
"A day spent with you is my favorite day. So today is my new favorite day." —Winnie the Pooh
"Having children is like living in a frat house. Nobody sleeps, everything is broken, and there's a lot of throwing up." —Ray Romano
"Nobody puts Baby in a corner." —Johnny Castle, Dirty Dancing
"A mother's arms are more comforting than anyone else's." —Princess Diana
"Just when you think you know love, someone little comes along to remind you just how big it really is." —Unknown
"People who say they sleep like a baby usually don't have one." —Leo J. Burke.
Lyrical Captions for Daughter Photo
"I hope you never lose your sense of wonder." —Lee Ann Womack, "I Hope You Dance."
"My wish for you is that this life becomes all that you want it to. Your dreams stay big, and your worries stay small." —Rascal Flatts, "My Wish."
"May your song always be sung. May you stay forever young"—Bob Dylan, "Forever Young."
"Ain't no words to describe the way that I'm feeling when I look at you." —Alicia Keys, "Speechless."
"There is something 'bout the way you love me that finally feels like home." —Adele, "Sweetest Devotion."
"I'd like to show you a million things; I'd like to make the world for you a better place"—Sleater-Kinney, "Lions and Tigers."
"How long do you wanna be loved? Is forever enough?" —The Chicks, "Lullaby."
"Lovin' you is easy 'cause you're beautiful."—Minnie Riperton, "Lovin' You."
Sentimental Sayings for Daughter Photo
My greatest gift ever is my child.
I wonder if you'll understand how much you mean to me.
You make me complete, and I'm grateful for you.
Your first breath took ours away.
We made a wish, and you came true.
Happiness is the laughter of children.
Babies change everything.
Be still my heart!
My daughter is my happily ever after.
Thank you for choosing me.
You are my definition of perfection.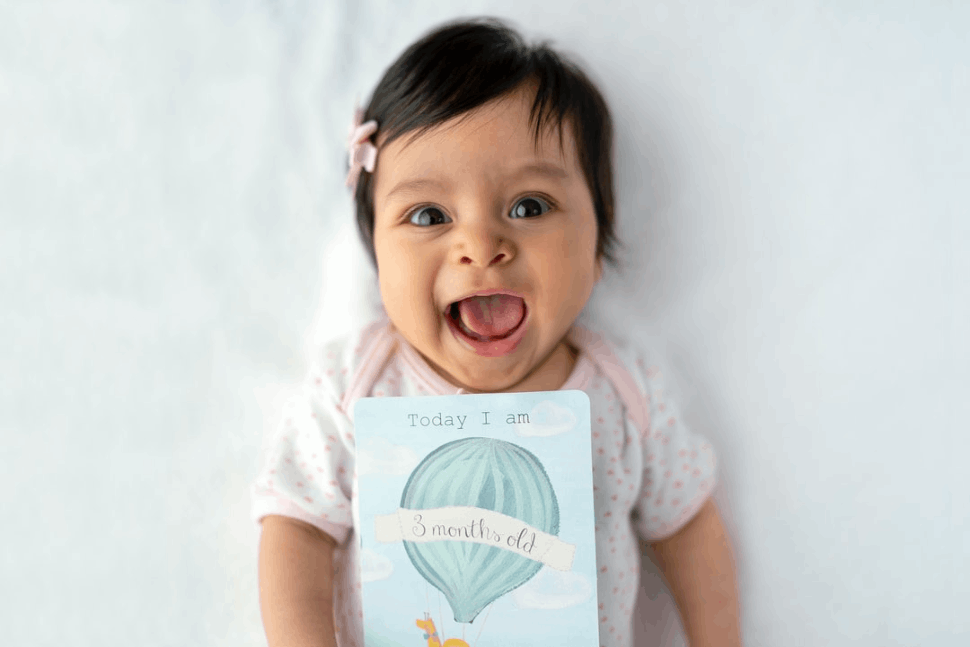 To Wrap Up
A heartwarming picture shared on social media with a poor caption can be overlooked entirely. An insightful caption with a beautiful photo of your daughter can warm hearts and drive traffic and engagement to your page. You can use any of the caption for daughter photo in this article if you're struggling to craft the perfect one.
Frequently asked questions
How do you compliment a cute child?
For advanced baby compliment-givers, use multiple words from each category! Also good: It shows how the baby's features look like his parents'. His eyes are full of your smile.
"Stress less and enjoy life.".
It is important to remember that happiness is a way of travelling rather than a destination.
This sign should be yours, if you were looking for it.
"Have you been awake since last night doesn't mean you should stop dreaming.".
Be yourself, there is no one better.".
Be aware of what is happening in every moment.
What should I write on my baby picture?
You hold my heart, and I will hold your hand.
The littlest things in life are truely the best.
First, we had you and now we have everything.
Dream big, our star.
I never imagined you wanted.
I take up your entire heart, yet I'm so small.
How can I express my love to my daughter quotes?
I never knew that I could love any woman as much as I loved my daughter.
Daughter, you are bigger than a flower and stronger than fawn.
Many people think that little girls are sweet, but they don't realize they are great at fighting.
You're more than my daughter; you're my dearest friend in turn.
I am just a beautiful me. No, I am not a beauty queen.
The book we have makes our eyes dream about her.
Spark will ignite
She believed
Grace always conquers!
There are girls out there with love in their eyes and flowers in their hair.
As I collect smiles, I give them away.
What do you mean by daughter?
A female offspring, especially one from human parents. An adopted child was a female. A human descendant of c.
How do you describe a beautiful baby girl?
Adorable, cute, sweet, innocent, angelic, charming, beautiful and observant.
Be more of you and less of them.
Don't let anyone treat you like you're ordinary.".
"Sunday Funday"
Life is better when you're laughing.
"I have yet to have the best of me.".
Your self-worth is paramount.
It looks like she may have it in her body.".
She walks like rain and acts like summer.
How do I write a status for my daughter?
"I love you from the bottom of my heart.".
You stand with me.
"I think you make me look beautiful.".
I am proud of you in so many ways.
"I would like you to know what I treasure.".
Let me tell you about the day you were born.".
"Don't settle for second best.".
How can I praise my daughter?
Her Intelligence. Tell her she has a fat brain capable of learning anything.
Her Hard Work. Try-fail.
She has a humorous sense. I find laughter to be the best medicine and can be really helpful.
Her Toughness
Her Kindness
Her Leadership
Her Originality
You won't get anywhere between life and work. Just strengthen yourself.
Make today so awesome that yesterday will become jealous.
Just leveled up
Take the best of you.
I'm a global superstar.
It's because of every mistake I've ever made that I'm built.
It's a better version of me.
Let's all say that happy days have come back!
What should I Caption my daughters picture?
Children's laughter makes them happy.
Babies change everything
I have never had a gift more valuable than my child.
I am grateful to you for bringing me complete.
Your first breath stopped us.
The wish we made finally came true.
You may not understand how much you mean to me.
These people need me, and I do.
This is not the day I need to tell you how much I love you.
The wish is for the day, but the pride and love coming with it are always.
I didn't give you the gift of life.".
I am grateful for them every day I am out.
What should I Caption my mother and daughter pictures?
Good Mother-Daughter Instagram Captions. Mothers' treasures are found in their daughters. The best friend of a daughter is a mother. A mother and daughter are married.
"I see the moon and star in your wide smile, sweetheart.".
I was thought of as the cutest child in my family by my mother.
I am happy because of my darling daughter.
The princess is making me king/queen today.
"The miracle of my life is this little girl.".