Flowers are always a beautiful sight to see. They can easily brighten our days and make us smile with their vibrant and colorful forms. So if ever you come across a beautiful flower field or bouquets at the market, grab the opportunity to take a photo. You should also be ready with a caption for flowers photo in your back pocket.
This article will give you a long list of options to choose from. We'll also talk about how a good caption can impact your posts. Let us help you find the perfect captions that are just as beautiful as the flowers you've captured in your photos.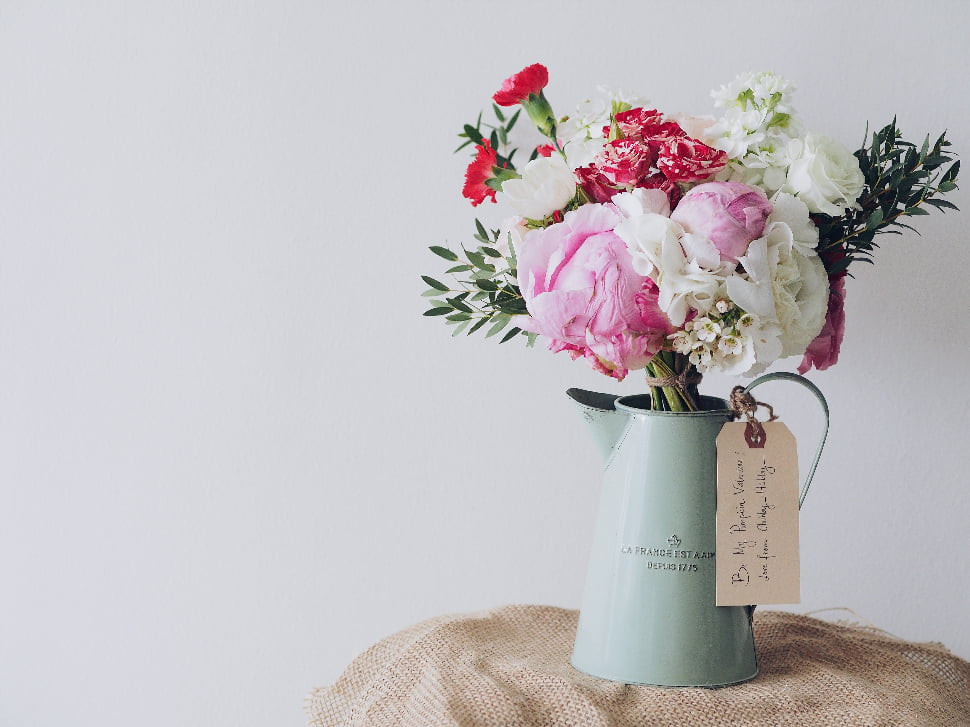 Why Your Instagram Posts Need a Caption
Captions may just be short phrases or sentences, but they play a crucial role in Instagram posts. They can start a conversation, enhance the overall impact of the photo, and be an effective way for marketing. A captivating caption can also help you drive more engagement and gain the upper hand over your competitors.
Cute Caption for Flowers Photo
In a vast field full of roses, be a wildflower.
A kind word is like a flower.
My soul speaks to flowers.
Relax and smell all the flowers.
Flowers are happiness.
Live wild flower child.
The garden is my happy place.
April showers bring May flowers.
Life is better with flowers.
Always look for the flowers.
Life is better with flowers and coffee
Always say yes to flowers.
If you were a flower in a huge garden, I'd still pick you.
Life is short so buy the prettiest flowers
I'd rather be in my flower garden
Beauty blooms like a soul in every flower.
The best therapy is smelling flowers.
Roses are red. Violets are blue.
The earth is blessed to have so many beautiful flowers.
Flowers and women are the most divine creations.
My favorite colors are flowers.
Blooming flowers are a symbol of hope.
Let your joy blossom like flowers in the spring.
Flower Puns
If you want to add some humor to your captions, a pun is the best way to go. Here are a few ideas on flower puns, which you might want to try.
We'll be planted right here.
You grow, girl.
Help! I've pollen, and I can't get up.
Thistle, the best day ever!
Whoops-y daisy.
Oh snapdragon, I love this look.
This love is blooming.
Dandelion, I'm looking fine.
Bloom with kindness.
Bloom baby, bloom!
I love you tulip much.
Here comes the sunflower.
Seed you later
Bee kind
You rose to the occasion
You're my best bud.
How Long Should an Instagram Caption Be?
When it comes to captions, you need to remember that the more concise it is, the better. Instagram limits the length of the captions to 2,200 characters. But you don't have to use this all up. Ideal caption lengths for Instagram should be around 130 to 150 characters only.
To Wrap Up
What could be better than a lovely flower picture to brighten up your Instagram feed? So the next time you see beautiful and colorful flowers from Mother Nature, make sure to take a photo. 
And if you want to add some spice to your post and keep followers engaged, add a caption for flowers photo along with it. This will be sure to bring a smile to your followers' faces!
Frequently asked questions
What should I comment on flowers?
The beauty of a flower cannot blossom without sunshine, and man cannot live without love." –.
I could walk forever in my garden if I had a single flower for every time I think about you.".
Love is the honey of life, a flower.
Love is the flower you must let grow. -.
What can I say instead of beautiful flowers?
Ready-to-open
Radiant light emitting great love, joy, happiness, or health.
Ready-to-bloom
An exquisite, lavishly elegant, exotic look.
Beautiful and spectacularly beautiful.
Ready-to-burst
Why do flowers make us happy?
Dopamine, serotonin, and oxytocin can boost your mood by activated your happy brain chemicals. Historically, flowers stimulated dopamine in our hunter-gatherer ancestors because they signaled the arrival of abundance after a hungry winter.
What can you say about flowers?
. "Love is like a wildflower; it may be found in the most unlikely places."-.
Love is a flower that must grow.
Sunlight cannot blossom a flower, and love cannot thrive a man.
Life is the honey of love, for which it is the flower.
Do not sacrifice family, love, or yourself.
If you throw an apple hard enough, it will keep anyone away.
Make another mistake but not for the same mistake.
The originality of me is perfect by itself.
You can't dull my sparkle.
Life is the biggest party you'll ever have.
My life is really complicated.
Deficiency level: No filter.
As I drink coffee, I then do the things.
I speak sarcasm fluently.
Just me
I take a selfie every day to keep going to the doctor.
But first, selfie
Beast mode
Here's the metal's parallel.
If you look at the world the right way, you'll see that it is all a garden." -Frances Hodgson Burnett.
"Close yourself to the wildflowers you're growing in to the places others thought you never would.".
"I lilac you"
Live a full life.
What do you say when posting flowers?
These flowers are a collection of thoughts from far away.
When you look at these flowers, you realize someone far away is thinking of you.
She is blazing you across the miles with a kiss.
I'll send you a floral hug!
My heart felt broken.
I wish you were here.
It is impossible for a distance to separate our hearts!
"Sunday Funday"
It's more enjoyable to laugh.
You're the only one you've got.
"Maybe she got it.".
Never let anyone treat you like you're ordinary.".
Become more of you, and less of them.
The best of me is yet to come.
She walks like rain like summer.
How do you pose flowers at home?
This is one of my favorites since it's way more creative than your average flower photo!
Hold them Close
Put them in Your Hair.
Lay in Bed
Your Eyes Can Be Shimmering When You Hold a Flower.
Set a flower up to the lens.
Let's Keep Them Faces Up.
Take them in your hat.
My level has just increased.
I am built upon every mistake I have ever made.
The road to success will not be easier. You just have to do something to grow.
Make yourself the best version of yourself.
We are back to happy days!
Make today so awesome that yesterday is jealous.
I am at the top of the world.
I am a better version of myself.
Showers in April bring lots of flowers.
Bloom where you're planted.
An individual's flower must grow through dirt.
Flowers are happiness
It is the inner bloom of happiness.
I would pick you if you were a flower.
A wildflower can grow in a field of roses.
Let your dreams flourish.
How do you compliment a flower picture?
A very simple word for complimenting flowers is "lovely." If you are in a hurry and want to complement flowers without too much effort, it can be helpful. If you choose "Lovely" from the start, your followers will get it. E.g. Isn't it just lovely to see these flowers?
How would you describe a beautiful flower?
| Extravagant | Eye-catching | Farm-fresh |
| --- | --- | --- |
| Flowering | Fragrant | Fresh-cut |
| Freshly picked | Garden-fresh | Glorious |
| Gorgeous | Graceful | Heartfelt |
| Heavenly | Idyllic | Jewel-toned |