The senior year is pivotal because it's the last year of high school before college. It serves as an excellent opportunity to bond with classmates, teachers, and faculty members before everyone scatters in different directions.
You will have a wonderful senior year full of unforgettable experiences. You'll worry about getting into school, doing well on examinations, and graduating on time. With family, peers, and teachers' help, you will effectively navigate your senior year and be ready for the future.
The senior year photos say everything about the person in them. At the end of senior years, people say goodbye to everything they love – their friends, teachers, and classmates.
Have you prepared yourself to show off your fresh collections? Selecting the ideal caption may seem like an impossible challenge. But, that's why we're here!
We're sharing this curated list of caption for senior pictures. You should try these cute captions on your senior year Instagram posts.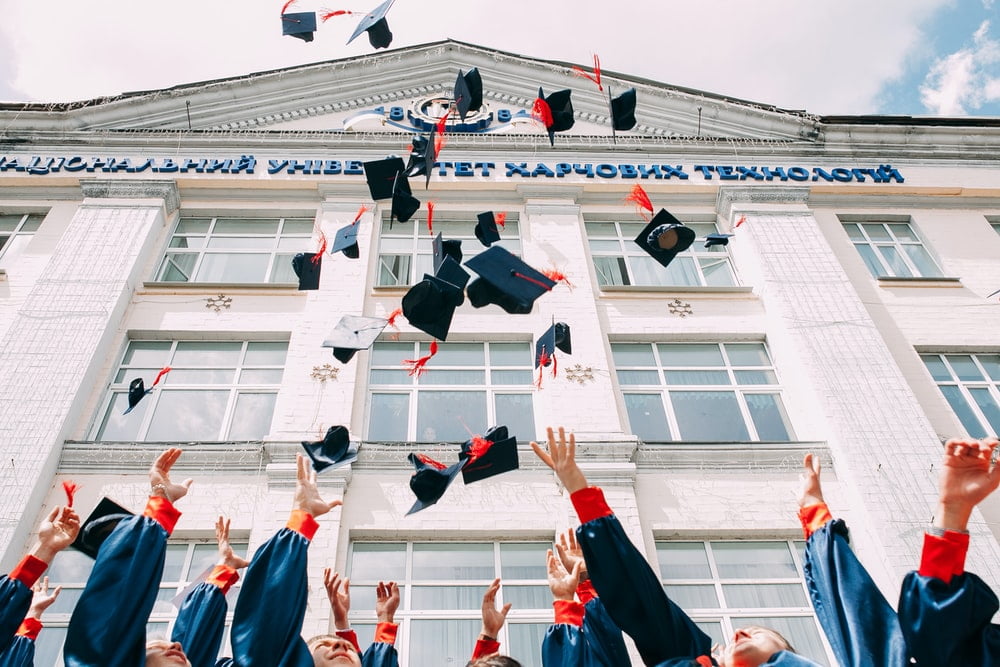 Graduation Captions for Senior Pictures
Graduation represents the end of one chapter of your life and the beginning of a new one. This day marks the completion of your high school education and the beginning of your college career.
It is a milestone that is not taken lightly and needs to be celebrated. Here are some caption ideas for pictures with your favorite classmates, friends, and family members.
Doing the graduation walk: from the bedroom to the kitchen.
Happy graduation. Always remember that you are braver than you believe, stronger than you seem, smarter than you think, and loved more than you'll ever know. Congrats we love you.
"Definitely not the graduation I imagined, but thankful to have my wonderful family by my side through it all."
Congrats on your graduation. We bet you feel like you can take on the world, and you can. But remember we'll always be here for you.
Remember that you can never cross the ocean until you have the courage to lose sight of the shore. Congratulations on your graduation sweetheart, we couldn't be more proud. Good luck with what the future holds.
Congratulatory Caption for Senior Pictures
You deserve the accolades and the pat on the back. The hard work has finally paid off, and it's time to capture the moment with loved ones! Check out these congratulatory captions.
"Even though we didn't get a typical sendoff into the real world, I wouldn't change a thing. Congrats class of xxx!"
What a proud day! We just couldn't be happier for you!
We're glad you're a grad. Congratulations.
And so the adventure begins.
Today is a good day to have a good day
Carefree Instagram Captions for Senior Pictures
Being carefree on this day is justified. Give them a caption that indicates you just want to be laid-back and savour the moment. Your family might love the caption just as much as you. Here, we go!
Peace out, I guess?
Shoutout to passion and Purell for getting me through the final stretch.
If your Wi-Fi stops working when they call your name in the virtual graduation ceremony, does that mean you still graduated?
I am ready to face any challenge that might be foolish enough to face me.
I'd like to thank coffee for allowing me to get to this point.
Heart-felt Wishes for Senior Year Picture Captions
No matter what your senior year is like, there is a whole lot to be grateful for–including the seniors ahead of you! These text captions are a great way to congratulate your fellow graduates. Whether you are graduating from high school or college, these captions are sure to bring a smile to your eyes.
Congrats grad. Shoot for the moon because even if you miss it, you will land amongst the stars.
I hope your dreams take you to the corners of your smiles. To the highest of your hopes, to the windows of your opportunities, and to the most special places your heart has ever known.
Education is not preparation for life, education is life itself.
School may be over, but life's lessons are yet to be learned. Keep an open heart and mind. Happy graduation, we love you.
You become what you believe. Believe in yourself.
We're proud of your accomplishments and the person that you've become. Congratulations.
The beautiful thing about learning is that no one can take it for you.
Interesting Caption for Senior Pictures
Interesting captions get people to resonate with you. They make people connect with the words you share because your caption mirrors someone else's personal sentiments. These captions should interest you and your audience.
Did everyone see that? Because I will not be doing it again.
"What she tackles, she conquers." – Gilmore Girls
I think our life is a journey, and we make mistakes. It's how we learn from those mistakes and rebound from those mistakes that set us on the path that we're meant to be on.
"She laughs without fear of the future." – Proverbs 31:25
There's just no telling how far I'll go
Ain't about what's waiting on the other side, it's the climb.
The Smell of opportunities.
To Wrap Up
Be sure to select a timely nice caption for your senior pictures, like one from this list! Hard work always pays off, so go out with a bang and graduate in style.
Interested in more customized creative captions? Use INK's image caption generator to create your own.
Frequently asked questions
What is senior Sunday pictures?
Senior Photos are more than just one yearbook photo. How proud you feel when you talk about your achievements or how nervous you may feel about going to college and this time in your life. You are something that all these things combine to make this incredible human we are – and I want to do something about it.
What word rhymes with graduation?
| Word | Rhyme rating | Categories |
| --- | --- | --- |
| hesitation | 100 | Noun |
| maturation | 100 | Noun |
| affiliation | 100 | Noun |
| assassination | 100 | Noun |
What is senioritis in high school?
Senioritis is a common cause of students who have reached the end of their studies without feeling motivated. A university academic advisor at Southern New Hampshire University (SNHU), Abby Tincher, said senioritis is a real thing that people experience.
What is the best senior quote?
Don't live someone's dream, find your own.
You make your future only better by the work you do.
Once you take that first step, life is not impossible.
Futures don't make themselves. You have to create them.
Do not assume the answer is no before asking the question.
What should I post on my graduation day?
The three of us grow in different directions, but our roots remain one.".
Today is yours
I am waiting on everything in store for me.".
"Con-grad-ulations"
We want to thank everyone who contributed to this effort.
I should pursue my own success.
"One step closer"
"Keep shining. "The world needs your light.".
What do I write under my graduation picture?
Next up is my next adventure.
Showing up is the first step.
Enjoy the journey
You can achieve the beauty of the future if you believe you can.
Take the risk, make it a mistake.
Without fear of the future, I laugh.
Good things must come to an end, but this is only the beginning.
How do you describe senioritis?
Senioritis is an absence, tardiness, and lower grades that manifest motivation and effort as symptoms.
What is senior Sunday Instagram?
In contrast, American graduates have taken to posting their senior pictures – often professionally photographed – on social media rather than attending official graduation ceremonies. On Sundays, it seems, particularly so. The hashtag for senior sunday has almost a million posts on Instagram.
What should I Caption my senior picture?
I will start anything you want here.
Finally, it's time to countdown.
No days to count. Take the days off.
Sunday was never a better senior day.
Let your cap fly as high as your dreams.
The musical was not that great..
Senioritis is real
How long will it take me to get to graduation?
Enjoy the journey
Your first step is showing up.
Without fear of the future, I laugh.
Make the risk and make the mistake.
All good things must end, but this is just the beginning.
I'm ready for my next adventure.
If you believe in yourself, you can discover the beauty of the future.
What to say to graduating seniors?
Congratulations on your success.
Congratulations on your graduation.
Congratulations on your graduation and best wishes for your next adventure!
"So happy to be a part of your graduation day and really proud of you!".
"We always love and pride you today and always," says her.
What should I Caption my cap and gown pictures?
We are all the same here.
I'll stand out until you notice me.".
May your hats fly as high as your dreams.
"How embarrassing, we all wore the same thing.".
It was worth the hassle to replace the tassel.
What should I write on my graduation slide?
Celebrate your accomplishments! You did it!
Do you want to conquer the world?
Let's let's do it!
All of that hard work paid off.
Let your hunger guide you as you learn.
Your best is yet to come – congratulations!
Think big and go for it.
Congratulations!
How do you post a graduation post on Facebook?
Tap in the top right corner of Facebook, then tap your name.
Next to What's on your mind? Tap Life Events.
Select a category
Add details like photos and a location and then tap Post.