In both American and most other cultures worldwide, wearing a suit is a sign that you have made it. The uniform of success is a suit. People notice the suit you're wearing, and it makes them think something about you.
Suit Instagram captions may be challenging because you want them to be entertaining, inventive, and engaging, but not too much so.
Nothing is more frustrating than sharing a picture only to learn that the caption isn't adding anything to the post. It's one thing that makes us cringe every time we see it.
It's essential to have a lively and exciting tone while writing captions for your suits. After all, who wants to waste time reading hundreds of tedious captions?
One of these caption examples could spark an idea if you're at a loss for words or captions. Let's find a befitting caption for a suit pic!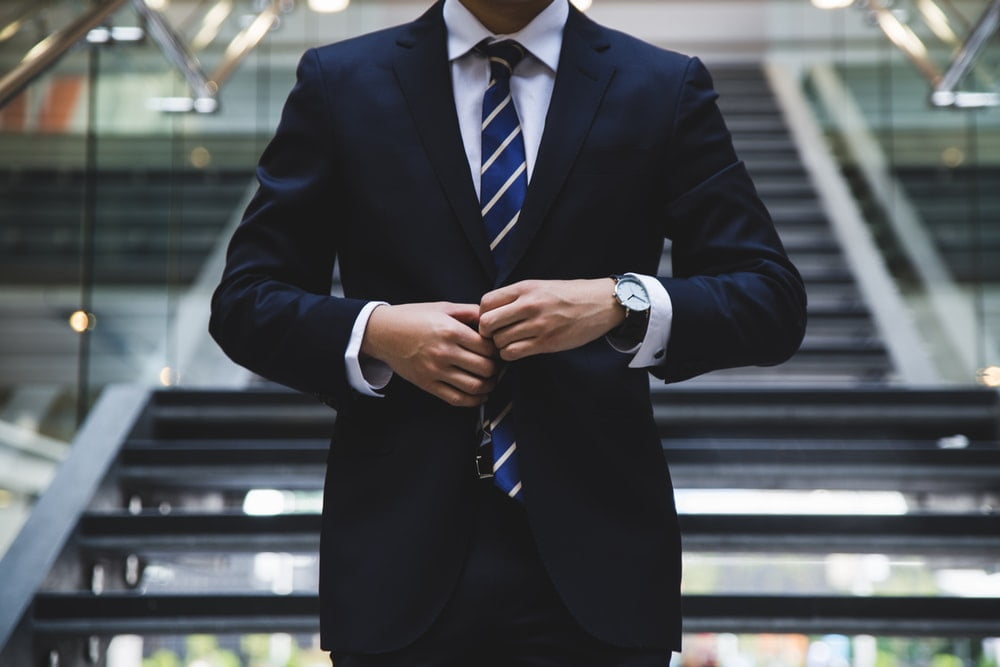 Confident Suit Captions for Instagram Pics
You shouldn't believe in getting dressed because your day is going to be easy or because you have to impress anyone. When you put a suit on, you should feel like you're ready to lose as many battles as it takes to win the war.
Wear a suit, work hard and conquer the world
Dark color suits give mature and serious vibes
What you are wearing, tells a lot about you
Always wear a suit, people believe those wearing suits
Always wear a suit, you never know where your life takes you
People stare, you got to make sure you don't waste their time
Money can't buy happiness, but it can surely buy you bunch of suits
Cute Caption for Suit Pic
What is the most confident cute suit picture you have? Caption it with these suit captions to help others envision you as the person they want on their arm.
When in doubt, wear suit
You don't rock the suit, the suit rocks you
Keep calm and wear suit
All I want is a bunch of suits in my wardrobe
Make people jealous just by wearing a suit
Suit makes a person look important
Women always like the guys wearing a suit
Not everyone can carry suits, it's the real men job
Fashion Caption for Suit Pic
This is our favorite caption guide on how to make your Instagram outfit looks so good your followers will be speechless.
You don't find a style; you create a style
Let people crave to have a style like you
Always dress well but keep it simple
Only great minds can afford a simple style
A style is primarily a matter of instinct
Some call it arrogant; I call it confident
Classy Instagram Captions for Suit Pics
Classy means a blend of formal and elegant. It has a bearing of respect and is also indicative of refinement. The art of being classy is to be yourself, be confident, and be intelligent. When you start wearing suits, these qualities come together in perfect harmony to make you more than just an ordinary guy. Try these classy captions!
Quality never goes out of style
Fashion fade, style is eternal
The joy of dressing is an art
Fashion reflects who you are
I got my heels higher than your standards
Fashion is a trend; style lives within a person
In a world full of fashion trends, I want to remain classic
Life is too short to wear boring clothes
Just let me shop, and no one gets hurt
Make it simple but significant
Sometimes, it's fine to add a cute caption to your outfit to show that it's not a suit you would normally wear. Other times, a classy caption for your suit is just the way to go.
You either know fashion, or you don't
Fashion is an instant language
Fashions fade, style is eternal
To be irreplaceable one must always be different
People will stare. Make it worth their while.
You can never be overdressed or over educated
You have to get dressed in the morning, so you might as well make it fun
Captivating Captions for Instagram Fashion and Style
Whether you're looking to celebrate a special occasion or merely looking to look your best, stylish fashion captions come in handy. That's why we put together this handy list of foolproof fashion-pic captions for you.
Style isn't about what you wear, it's about how you live
Never underestimate the power of a good outfit on a bad day
Clothes mean nothing until someone lives in them
Life's too short to wear boring clothes
You can have anything you want in life if you dress for it
Fashion is like a food, you shouldn't stick to the same menu
Cinderella is proof that a new pair of shoes, can change your life
Fashion is like a good meal, a good movie, great pieces of music
A great dress can make you remember what is beautiful about life
In order to be irreplaceable, you must always be different
Bold Suits Captions for Instagram
Make sure to include hashtags to make your caption stand out. Social media is always looking for that one post that has the perfect caption. We have the perfect captions for you!
Never think of messing with a guy wearing a suit
Suit gives a confidence that no other thing gives you
Fashion is about comfort and feeling good
Be not afraid of being called unfashionable
Being well-dressed is my kind of happiness
Call me a hot mess, but never a fashion disaster
Clothes are family Take care of them well
To Wrap Up
Wearing a suit can be exciting but not everyone knows how to captivate the Instagram audience with caption for suit pic. Our suit captions will help captivate your Instagram followers when you post a suit pic. You can always rewrite your captions with our image caption generator to make them perfect for your next photo.
Frequently asked questions
Don't listen to those behind your back; they're behind you for a reason.
Keep going until you are proud.
We sell hustles separately, and dreaming is free.
Take your chances and meet the kind of person you'd like to meet.
Life becomes limitless once a person becomes fearless.
It is a sassy day that keeps basics away.
Use the first sentence to maximize your impact.
Incorporate a call to action or ask a question.
Add value
You can write as a human (not a robot).
You can edit your Instagram captions on a separate platform.
Use storytelling
We love emojis and love them!
Consider caption length
How do you comment on fashion?
In fact, you look so confident/happy/beautiful.
"I love that so much I'll take it when you're not looking.".
Rihanna would wear that outfit.".
Isn't that what you need in a little black dress?".".
I have never seen someone so eager to own a home like this.".
Relax more and enjoy the best.
What happiness is is a way of traveling, not a destination.
In every moment, you will see magic.
Here's a sign if you're looking for one.
Be yourself, there's no one better.".
I'm awake, but I shouldn't stop dreaming.
Weed in a room of worriers.
Staying with my brothers.
A real man provides, protects, and perseveres.
An exceptional man is strong because he can be gentle.
The boys are the boys.
Haters are one of my greatest motivators.
Boys have style, men have style. But gentlemen have class.
What do you Caption an outfit picture?
Not underestimate the power of a great outfit.
The fit still doesn't appeal to me.
Pink makes everything different.
Too many shoes are never allowed.
Chic happens
Dressed to chill
When I like my outfit, I am nicer.
My Wednesday outfit is black.
We wish you a happy birthday again!
It felt good just now.
Made every mistake I ever made, and I am built from it.
The world is my oyster.
Make today so awesome that yesterday is made jealous.
Make yourself the best version of you.
It won't get easier. Just get stronger.
I have a better version.
According to her, it may have been her gift.
Life is better when you're laughing.
It's to come that the best of me is revealed.
"Sunday Funday"
She walks like a rainy summer.
You won't find anyone better than yourself.".
Never let someone treat you like you are ordinary.".
I want you to be less of them.
Do you want to be original then be prepared to be copied?
"If you want to be original, you should be ready to be copied." COCOCHANEL | Wise quotes, Inspirational quotes, Coco Chanel quotes.
There are only two colors I wear – black and noir.
A force like black cannot be stopped.
I'm black, my power.
Back in black
Colors of black and white are not synonymous. It's a lifestyle.
Black dresses will last forever!
All black everything
I enjoy wearing black.
What is this fashion?
Fashion is a way to express one's own self-expression at a particular time, place, and in a specific context, such as clothing, footwear, lifestyle, accessories, makeup, hairstyle, and body posture. Fashion industry defines trends as those that trend.
Typical me
We are all involved.
Confidence level: Selfie without filters.
Me doing me
Shine is what I was born to do.
Just me
First, let me take a selfie.
Selfie Sunday
The vision I have 20/20 is still the same.
Sit up when you walk in.
I come before you, just like the alphabet.
Do you burn your eyes with this sparkle?
I am a hot girl but never lose my cool.
Nobody is really interested in me.
I'm the catch, so why chase you?
I have no GPS in hand, but it's my turn.
What are 5 positive quotes?
Keep your face toward the sun, and shadows will fall behind you.
They are not impossible to try.".
It's important to grab the dream and never let go when you've got one.
Many twists and turns have happened in life.
The bad news is that time is flying.
"Nothing is impossible
Always looking forward to success.
I will double the favor if you treat me well.
You cannot handle this personality.
I am able to soar the highest mountains because I have the courage to fly.
No explanation needed
My life
I told them I couldn't, so I did.
If you fancy being second, follow me.