Weddings are a time to celebrate and remember all the love that has gone into making this special occasion happen. For a couple in love, love is more than just a word, it's a commitment that needs to be celebrated in many meaningful ways.
One way to celebrate weddings is by publishing images (and selfies) to Instagram or other media with funny, intelligent, or adorable comments or quotes.
We've selected the best wedding captions and marriage quotes for your Instagram photos. Enjoy!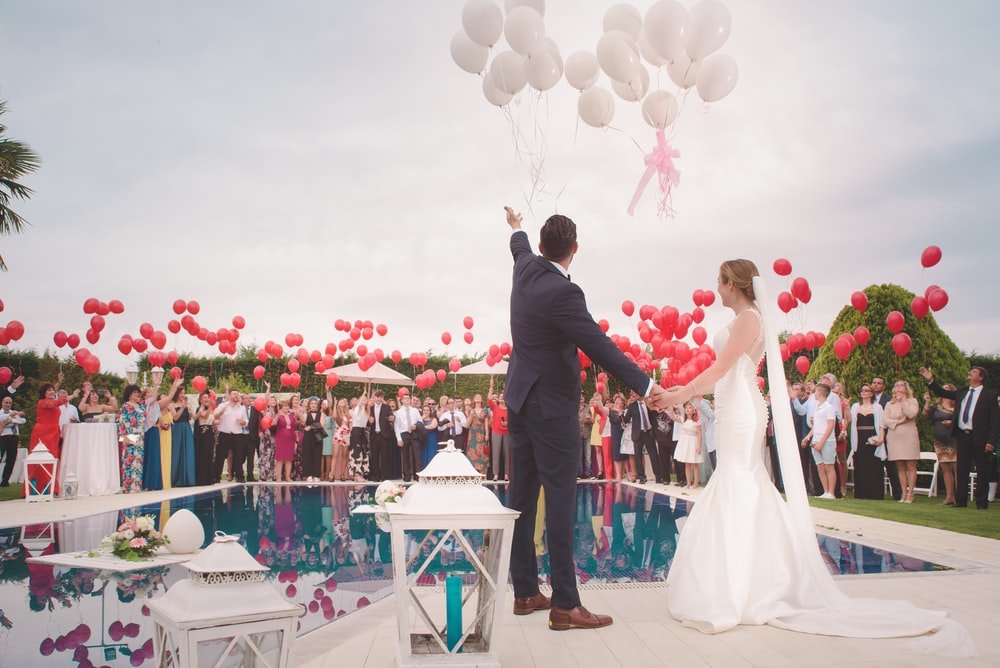 Instagram Funny Guest Caption for Wedding Photos
Funny guest captions for wedding photos can be so fun to see in order to get some laughs and have a good chuckle. These humorous wedding captions are ideal for guests who want to add a witty and amusing touch to their Instagram posts.
Did someone say champagne?
Thank you for having an open bar! Oh yeah, and for including us in your big day.
This wedding was better than any Pinterest wedding board I've ever seen.
Trust me you can dance – Vodka
Congratulations on being done with wedding planning
Guests Will Love These Adorable Wedding Instagram Captions!
Here are some of the cutest wedding Instagram captions that will make your guests laugh and make a heartwarming post about your big day.
These captions are for family and friends to add a personal touch to photos they post on Instagram or another social media site.
Forever looks good on these two.
May your wedding be full of love and happiness!
Watching these two get married makes me believe in true love.
May today be the beginning of a beautiful journey for the newlyweds.
They go together like cupcakes and frosting.
Cute Bride Caption for Wedding Photos
Brides are always looking for ways to share with their guests all the love they're feeling during this joyous time.
Here are some of our favorite captions for the bride to use on her wedding day when posting to Instagram.
I'm the bride, no filter needed.
He stole my heart so to get revenge I am going to take his last name.
Does this dress make me look like a Mrs.?
Imagine spending thousands of dollars on wedding photos only to have one of your bridesmaids forget to take the hair tie off their wrist.
Congrats on being stuck with me forever!
Ideal Bride Captions for Wedding Photos
Adding a bridal photo booth to your wedding ceremony lets couples capture romantic moments and gives guests extra fun and laughs.
These Instagram or photo captions are perfect for a bride who wants to post something sweet and romantic on the day of her wedding.
I love you more than anything and I can't wait to spend the rest of my life with you.
Having all of my loved ones by my side on my wedding day is going to be so special.
The happiest day of my life was when I said 'I do' to the man of my dreams.
With my whole heart for my whole life
I just said the best 'yes' of my life.
Couple Caption for Instagram Wedding Photos
Most couples upload their wedding images to Instagram. So, it will be great for them to look back and offer captions on their guests' photos.
Don't be shy about sharing Instagram captions for wedding photos with your friends and family! Here are a few favorite sweet captions to use:
Every love story is beautiful, but ours is the best one.
The best thing about being married is knowing that I have a friend for life.
To have and to hold, from this day forward. For better, for worse, for richer, for poorer, in sickness and in health, to love and to cherish 'till death do us part.
Cheers to love and laughter, but especially to our happily ever after.
Let's grow old together
Newly Married Couple: Witty Caption for Wedding Photos
Congrats to the marriage and lots of happiness to the couple on their milestone big day! Check out these perfect captions to use if you have just wedded.
Too late to turn back now. We're married.
Do these outfits make us look married?
Did we just become best friends? Yep! (Step Brothers)
The party don't start 'til we walk in!
We just promised to put up with each other's annoying habits forever.
Perfect Bridesmaid Caption for Wedding Photos
Bridesmaids are the best friends to have. These remarks will make your wedding guests smile and chuckle when looking at your photos. Here are perfect bridesmaid caption for wedding photos on Instagram:
The bride and groom might be the stars of the wedding day, but the bridesmaids are the life of the party!
Bridesmaids are like champagne. Sparkly, bubbly, and high class. Plus they get you drunk really fast.
Bridesmaids: because someone needs to keep the champagne flowing!
Imagine spending thousands of dollars on wedding photos only to have one of your bridesmaids forget to take the hair tie of their wrist.
Bridesmaids for a day. But best friends for life.
Romantic Movie Quotes to Use As Captions for Wedding Photos
Your guests will love these romantic movie captions for Instagram wedding photos! From the first moments of planning your wedding to the final wedding moment, update your followers with these amazing Instagram captions.
"When you want to spend the rest of your life with a person, you want the rest of your life to start now." – When Harry Met Sally
"It doesn't matter if the guy is perfect or the girl is perfect, as long as they are perfect for each other."– Good Will Hunting
"I love you very much, probably more than anybody could love another person." – 50 First Dates
"In my opinion, the best thing you can do is find someone who loves you for exactly what you are. Good mood, bad mood, ugly, pretty, handsome, what have you."– Juno
"The you who you are tonight is the same you I was in love with yesterday, the you I'll be in love with tomorrow."– If I Stay
To Wrap Up
When it comes to weddings, the perfect caption is always at our fingertips. There are numerous personalized captions you can use for wedding Instagram photos, whether the bride is posing or the pair is exchanging vows. Make your perfect choice!
Frequently asked questions
It's important to remember that happiness is more than just a way to travel around the world.
"Be yourself, because nobody is better.".
I am not saying you should stop dreaming just because you are awake.
"Be sure to look for the magic in every moment.".
If you are looking for a sign, you can find it here.
Relax less and enjoy the best.".
How do I create a hashtag for my wedding?
Alliteration, rhyming, and combining words and names help generate catchy hashtags. This hashtag will make your guests and you happy no matter what method you choose to use. Use things that are meaningful in your relationship to create a wedding hashtag.
Chin up, buttercup!
Achieving success, you're halfway there.
Don't let your happiness define you.
I am constantly taking the sun with me wherever I am.
We never forget a smile.
It takes only one smile to live a happier life to live one.
I'm not involved in high maintenance, you're just low effort.
She was jealous of the sparkle in her eyes, even the stars.
It's not that I'm gonna sugar coat the truth, I'll never be Willy Wonka.
Do whatever you feel is right for your soul.
Have less stress and experience the best.
Live a little bit.
When can you post wedding photos?
Gottsman says guests should never post pictures of newlyweds until they have received permission. If not stated otherwise (for example, there is a wedding hashtag sign encouraging guests to post Instagram photos), it's up to the couple to post the first picture, which includes the wedding venue and fellow guests.
What should I Caption my wedding picture for friends?
We are only beginning this.
For a beautiful couple, today was the most beautiful day.
A picture-perfect day
Happy holidays to the newlyweds.
They proved happily ever after exists.
I took this picture before I started crying.
One of my forever plus ones.
The two of you will be the cutest old couple.
What is a wedding quote?
As you grow older, my best is yet to come. "If you live to be 100, I want to live to live until you are 100 minus one day, so I will never live without you.".
How do you post wedding pictures?
Share a sneak peek.
Celebrate anniversaries on social media with a post.
Make your loved ones' birthdays extra special.
Use your wedding decor to show off your reuse.
Design a photo display.
What should I Caption my wedding Instagram?
Your big day was a great one with us, thank you!
Happy New Year! May you enjoy your life as you are today.
The two of them fell in love.
Wishing both you a lifetime of love and happiness!
They did!
What do you write on wedding pictures?
My last name is already stolen; he stole my heart.
Keep it ring-free
If you like it, then you should put a ring on it.
This love is a forever-lasting gift.
True love stories have endings, but they have beginnings.
She Said Yaaas!
Make yourself the best version of yourself.
I just got leveled.
This is a better way to describe me.
Each mistake I have ever made has built me up.
Hope you're having a great time again!
It won't get easier. You just need to get stronger.
I am the world's top.
Make today so awesome that yesterday is jealous.
What should wedding pictures say?
I love this memory lane.
We can ask for perfect shots of perfect moments.
That's a beautiful outfit, it looks perfect on you.
Beautiful weather captured perfectly.
Now that my friend is married, I couldn't be happier.
How do you post wedding pictures on Instagram?
Tell the story of the photo.
I want you to focus on the emotion of images.
Don't add a filter.
Show Special Details
Your wedding hashtag is a great idea.
Tag Your Vendors
What should you post after a wedding?
2) At little bits in the middle of an ordinary life, love gives us a fairy tale. # .
4) Let's love, laugh, and live happily ever after!
I have always dreamed of you every day of my life.
I am taking this seriously.. with all my heart and soul!
How do you write a marriage status?
Look at you every time and I fall in love with you.
His name is I.
My favorite love story was love stories.
Thank you for completeness, and gratitude for having you in my life.
It's said that people fall in love; I said we grew in love.