Monochrome photography refers to photographs with only the colors black and white. The style originated from Joseph Nicéphore Niepce, a French developer.
The main appeal of black and white photography is that it removes any form of distraction from color. This helps viewers focus on other aspects of the photo.
Monochrome pictures are quite trendy on social media platforms like Instagram and Pinterest. Try these captions for black and white pictures if you want to join the monochrome craze!
What's so Special With Black and White Pictures?
Black and white photos are special because they force you to focus on the composition's subject, textures, shapes, and patterns. Moreover, black and white colors are not to be underestimated; they add a good dose of creativity to pictures.
Black is considered the ultimate choice when you want to represent something serious or sensual. At the same time, white is the best color when you want to show something bright, lively, and happy.
Black also leaves an impression of strength, while white symbolizes clarity and purity.
How Do Captions Affect Your Photo?
First and foremost, image captions are words used to express something about your post. It can be used to share your thoughts, emotions, and vital information related to your picture.
Given that these pictures are simple, your captions can help contrast the lack of visual stimulation. In addition, you can provide beautifully-crafted captions in your monochrome photos to elevate their creativity.
Captions also allow users to provide helpful information to followers. This is particularly useful for business IG accounts that promote products and services.
Lastly, captions help attract audience members who share your views and beliefs. Modern prospects care about the story of a business. They want to reflect their values in how they spend their money and support causes.
They are much more likely to support a page or business that shares their values rather than one that promotes false and self-serving narratives.
55 Captions for Black and White Pictures
Black and white photos draw focus on the particularities of a picture. Most monochrome pictures evoke a sense of deep thought, sentimentality, and mystery. Be sure to reflect these themes in your captions. Check out these examples if you need an idea for a caption.
Life is better in black and white.
There's no time to be bored in beautiful world like this.
Live life on your terms.
Black and white is a timeless classic.
The eye must learn to listen before it looks.
Photography is life's love affair.
Photography is less about what the eyes see and more about what the soul feels.
We're all just trying to find color in this black and white world.
There's so much hidden beauty in a monochrome dreamscape.
Nothing as perfect as black and white.
Take a moment to remember my friends who bring color to my world.
No person is completely bad, just as no one is completely good. We are all gray.
No caption is needed. #moodygram
Seeing in color satisfies the eye, but seeing in black and white delights the soul.
Life is like a blank canvass. What will you create?
Black and white photos contained more colors to me.
Most people are black and white to me. You're the only one with bright colors.
Black and white pictures aren't sad. They are poetic.
Black is the queen of all colors.
Life is a joy to photograph, but it's more realistic in black and white.
Black is the most aristocratic of all colors.
It was all black and white in the beginning.
Sometimes the end justifies the means.
The despair of black and the hope of white.
I've discovered that black and white has something strange and powerful.
I'm decisive, just like black and white.
The colorful scenes don't click with me as much as black and white imagery.
Black and white just transform a scene into something beautiful.
You brought me color when the world was black and white.
Black and white remove time from the equation.
A simple black and white picture creates a collection of untold stories.
Shoot what it feels like, not what it looks like.
We take pictures of moments that are otherwise gone. Pictures are our return ticket to old and beautiful memories.
Black and white allow us to see the world in a strange dreamscape that color cannot hope to replicate.
You don't need to find some color in your world. All you need is black and white, and you be always modern.
Color is everything; black and white are more.
Black is the most difficult color to produce – except gray.
She's classic, just like black and white.
The more colors I learn, the more I'm enamored with black and white.
Black will always be elegant, and white will always be magical.
Color never tells stories the way black and white do.
I'll stop wearing black when they come up with a darker color.
Black demands attention. White creates something magical.
I wish things were quite so simple and black and white.
Those who know fashion understand that black and white will always be modern.
The most colorful thing in the world is black and white. They contain all the colors and exclude them.
You can pick any color as long as it's black and white.
Black is the new black.
Everybody looks awesome in black. Skip to the right color.
I'm not sad. I just really like black and white.
There's a reason black and white is timeless.
White always has a way of elevating an appearance.
I've been living forty years in this world, and nothing quite delights me the way black and white pictures do.
It's always a black and white picture that lets my emotions come through.
I see in black and white, think in grey, and love in color.
You can read colors if you look beyond what your eye sees.
Everything was perfect, even for a heartbeat.
I work in three shades of black.
Black is not weird or wicked. It's whatever you shape it to be.
Black is forever my favorite color.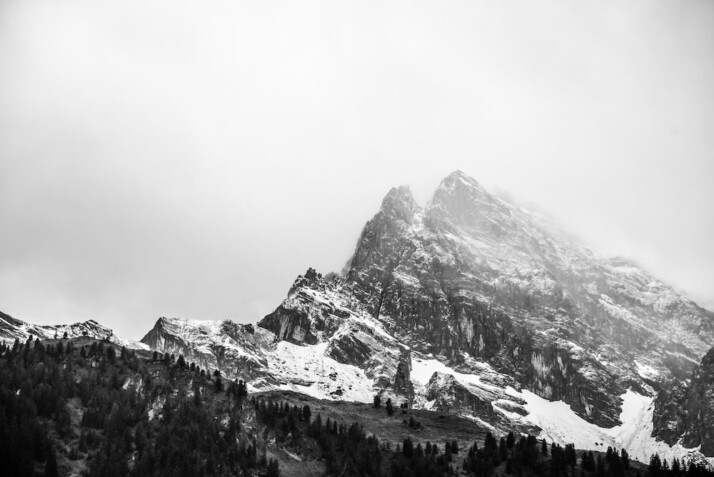 The Bottom Line
Black and white photos appeal to many people because they do away with the distraction of colors. They are a great way to express deep thought, emotion, and mystery.
Be sure to match your monochrome palette with your words.
Explore All
Image Caption Generator Articles