If you're looking for the best cute and sassy captions for Instagram for girls, you're in luck. We've categorized these captions into subcategories: cute, hilarious, sexy, sophisticated, happy, self-love, and many more.
Like any other social platform on the internet, web users have different reasons for using Instagram.
While some users are looking to share personal content on the social app, others want online popularity or even making a living. Unfortunately, none of these can work without great captions.
That's because captions are indispensable to get enough engagement for your posts. Boost your social interaction with these cute Instagram captions for girls. Just copy and paste!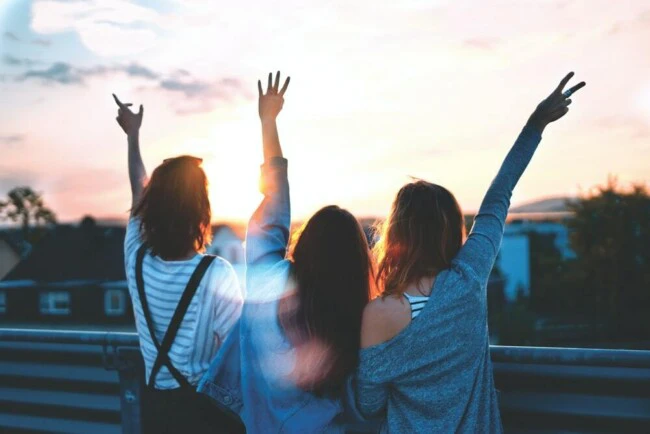 Happy Instagram Captions for Girls
Love the app, but find yourself struggling for captions for your photos? Let's fix that! Here are 6 Instagram captions for girls to make your photos sparkle!
If it makes you happy, do it a thousand and one times.
Remember that there is never a shortage of beautiful reasons to be happy.
You decide your own happiness, so be happy as you want to.
Studies suggest that the happier someone is, the more attractive they become.
Smiles attract happiness like a magnet.
Long Caption for Instagram for Girls
These captions are appropriate for girls and all aspects of an Instagram user's life that require a caption.
Look beyond all the imperfections, and you'll get a glimpse of happiness.
It's magical how happy you become once you make someone else happy.
For every minute of unhappiness, you lose sixty seconds of happiness.
Think of happiness as your default state, and you'll be happier than ever.
People often don't realize that happiness doesn't live in any one address. Happiness is actually everywhere!
Hot & Sexy Instagram Captions for Girls
Incorporate some sensual and sizz, and Instagram captions into your posts. Looking for a little inspiration? Here are some of the best sexy girl photo quotes!
A girl should be two things: CLASSY and SASSY.
I'm not trying to be sexy…it just comes naturally.
50% Sassy. 50% Sweetness.
Sexy doesn't have to come with a price tag of being dumb.
Classy Instagram Captions for Girls
The points below includes the most popular captions that should be used for classy Instagram pictures.
My Self Worth Isn't Determined By Others.
I Am The Mixture Of A Cutie With A Mission And Hottie With An Ambition.
Be who you want to be and not what others want to see.
Don't Be Queen Waiting For A King. Be A Queen Busy With Her Kingdom Until Her King Arrives.
The few times I rule the world, they have to make everyone know.
Captions for Instagram for Strong Girls
Strong captions stand out on Instagram. Make sure your followers understand your captions. Here are the greatest of all time.
Imperfection is beauty, madness is genius, and it's better to be absolutely ridiculous than absolutely boring.
Strong women don't have attitudes. They have standards.
I give my heart to whomever I want, that is why it is mine.
I feel like my attitude has an attitude of itself.
Yeah, I'm single. And you'll have to be amazing to change that.
I always laugh when people try to hurt my feelings. As if I have any.
Inspirational Instagram Captions for Girls
You can say something inspirational that can bring some laughter and an uplifting feeling to those who are feeling down. How about these Inspirational Instagram captions.
A smiling girl is the CEO of her own world.
The world has a red carpet for any girl who is determined.
Like flowers, every girl has her season to blossom.
Boys are like purses, cute, full of crap, and can always be replaced.
There is a star high up for every girl, waiting for you to lift up your head.
Unique Captions for Instagram for Girls
Instagram captions for girls can be one of the most rewarding parts of using the app, so we've come to your rescue. Light up your feed with photos carrying unique captions to add grandeur to your feed.
Don't be ashamed of how someone else sees you. Be proud of who you are and what you are.
I literally have to remind myself all the time that being afraid of things going wrong isn't the way to make things go right.
Happiness is having a bunch of freaking awesome and crazy friends.
Why don't scientists trust atoms? Because they make up everything.
Don't walk behind me; I may not lead. Don't walk in front of me; I may not follow. Just walk beside me and be my friend.
The Greatest Captions for Instagram for Girls
There captions are quite specific, meaningful and resonates with every female. Here they are!
You have to be ODD, to be number ONE.
Your crowd should be clapping loudest when you win. If they don't, look for a new crowd.
There's a fire in every woman. Love her and she'll make your home warm. Hurt her, and she'll burn it to ashes.
May your day be as good as taking a perfect selfie on the first try.
Tell me not to do something and I will do it twice and take pictures.
Self-Love Instagram Captions for Girls
Self-love captions communicate your feelings and thoughts. Here are some to live by.
Behind every successful women is herself.
Confidence is the ability to feel Beautiful, without needing someone to tell you.
A wise girl knows her limits, a smart girl knows that she has none.
You may see me struggle, but you'll never see me quit.
Be yourself there is no one better.
Confident Captions for Instagram for Girls
These captions are perfect for the girl who is trying to be a power house through her confidence and strength. Your caption will give her lots of confidence to be what she wants to be.
Some call it arrogant, I call it confident.
What others think of me is none of my business.
When I feel a little down, I put on my favorite high heels and dance.
Love your haters, they're your biggest fans.
Be yourself because an original is worth more than a copy.
Cute Instagram Captions for Girls
How about some cute Instagram caption? Here are some to make your day.
A girl should be like a butterfly. Pretty to see, hard to catch.
Sometimes you gotta be a beauty and a beast!
Money can't buy happiness. But it can buy Makeup!
Sometimes I pretend to be normal. But it gets boring. So I go back to being.
I love it when I catch you looking at me.
Stylish Instagram Captions for Girls
In most photos the caption is written in the language the picture was taken in. Make them stylish by using any of the captions below.
Be Who You Want To Be And Not What Others Want To See.
No matter how you're feeling: Go get up, Dress up, Show up and Never you dare to give up.
I have fallen in love with the confidence that makeup brings in me.
Be a diamond esteemed and rare, not a stone found everywhere.
Beauty Begins The Moment You Decided To Be Yourself.
Beautiful Captions for Instagram for Girls
Beautiful captions are a girl's right! You will find the perfect caption for your Instagram posts by using some of the ones below.
So Many Nail Polishes, Not Enough Fingers.
It's Better To Arrive Late Than To Arrive Ugly.
The beauty of a woman must be seen in her eyes because that is the doorway to her heart, the place where love resides.
I Run On Coffee, Sarcasm, And Lipstick.
With A Good Makeup Brush, Every Woman Can Be An Artist.
Selfie Instagram Captions for Girls
A good selfie isn't a decent selfie if the caption isn't fantastic. Let's take a look at some of the best Instagram selfie quotes:
Confidence Level: Selfie with no Filter.
Dream without fear, love without limits.
I did NOT wake up like this.
The sky above me, earth below me & fire within me.
Live for the moments you can't put into words.
Sassy Instagram Captions for Girls
Here are a few sassy Instagram captions for girls that you should consider.
I'm really feeling myself today.
Doing my best and hoping for the best.
Living my best life!
Sometimes you just need to step back and enjoy the view.
Sometimes you need to take a break from your hectic life and relax.
The world is a beautiful place, take time to enjoy it.
Final Words
Instagram captions for girls are short posts that typically accompany a photograph. These short notes can help communicate experiences or feeling in a single post.
As a woman, Instagram captions are a powerful way to make the world rethink how they view you. If you want more of these from where they came, visit our image caption generator.
Explore All
Image Caption Generator Articles