Brothers are among the first friends we gain in life. They can relate to us because they are part of our family. Brothers teach us some of life's most vital lessons. Through them, we learn to play, fight, protect and laugh with others. If you're struggling to find the right captions for pictures with your brother, feel free to browse through our examples.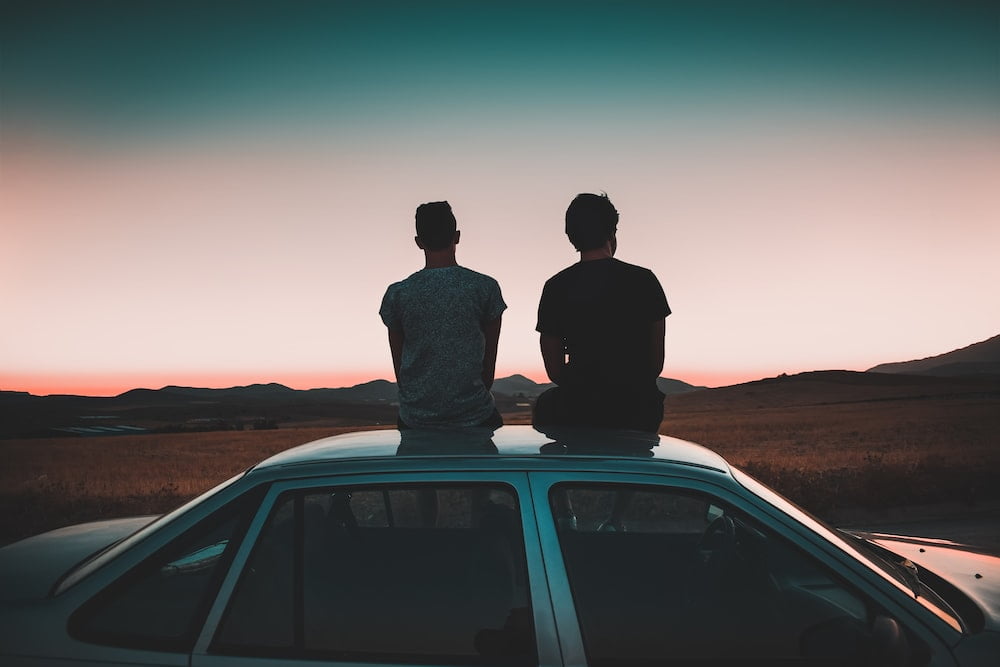 The Importance of a Catchy Caption.
Captions are a vital part of any social media post because they give an image context and tell a story behind the picture. They have the ability to relate to the reader, especially in the social media world, where it is hard to identify emotion without words.
Moreover, photo captions are good at inviting the viewers to interact with your photo. Captions that resonate with the audience are very likely to elicit likes, shares, and comments.
22 Funny Captions for Pictures With Brother
I can't do anything with my brother without laughing.
What strange creatures brothers are!
Wrestling with my brothers is just an excuse to hug each other.
I walked, so my younger brother could fly.
Happiness means having a younger brother who's taller than you.
Of all the things I can play with, I'd choose my brother any day.
The surest way to get a puppy is to ask for a baby brother. They always settle for a puppy.
If you've got a brother, you're bound to fight.
The only enemy I can't live without!
Admit it. Life would be boring without me.
My brother has the coolest sister!
Same blood, but I'm obviously more handsome.
Being related to me is the one gift you need.
I always look to my brother when in pain because he usually causes it.
Because of you, I'll always be mom and dad's favorite child.
Best mates. Sometimes.
My brother is my best friend until the moment he tells on me.
It was nice growing up with you – someone to lean on, someone to count on, and someone to tell on!
Congrats, little brother! Now you're a big kid!
If we had a contest to see who has the best brother, I would win.
I smile because you're my brother. I laugh because there's nothing I can do about it!
World's most okay brother.
25 Heartfelt Captions for Brothers
Brothers share childhood memories and grown-up dreams.
I am born lucky because I have a one-in-a-million sibling like you.
Brothers are playmates at the beginning and best friends for life.
Being siblings means always being there for each other.
Being a brother is better than being a superhero.
I'll always have a friend because I have a little brother.
You're the best friend I was born to have.
The best gift our parents gave us was each other.
You've got a friend in me.
I never asked for a brother. But I'm sure glad I got one.
Just the younger, funnier, female version of you.
I can't promise I'd fix all your problems, but I can promise you won't face them alone.
We don't always see eye to eye, but we're always heart to heart.
Brotherhood means I will always come for you no matter the cost.
No fortress is as strong as when brothers agree.
If I could pick the greatest brother, I would pick you!
Never underestimate the love between brothers!
My brother is my only best friend. No one can replace him.
Let's go piss off our parents together.
Sharing farts and breaking hearts.
Sending love to the brother who's had my back since day one.
A brother's love will forever protect you.
I hope being a brother is as nice as having one.
Thanks for making me so tough.
The Bottom Line
The primary purpose of captions is to attract the attention of viewers. It helps add a layer of depth and meaning to your picture. It can also be used as a way to encourage engagement from your followers.
We hope this short list of Instagram captions helps you find the right words to express your fondness for your brother.
Frequently asked questions
How do you write a brother quote?
My brother is my brother, just born to a different family.
Friends are brothers who find each other.
My friend will always be there like a true brother.
Some brothers, who are born from blood, can still be brothers in every other way.
Spirit bound brothers
How can I describe my brother?
I have a hard time explaining why I love my brother so much. Life was always a challenge to him. The gift he always gave me was always pocket money. I always want to see him happy.
The fact that we were making memories is a sign we were having fun.
My family has a wonderful shelter, which is my home.
Having grown up with my brothers and sister, I had a very normal relationship.
"Brother and sister, ready to face whatever life throws at them," she said.
My favorite hobby is annoying you.
In the sense of being siblings, one should stand up for one another.
Regaining that sibling bond.
I cannot live with them.
We are always ready to help each other!
Being best friends with your siblings is a different kind of literature.
Best mates Sometimes
Keep my memory in check.
How do you compliment your brother?
Your creativity is always great!
You're my lucky brother," he said. ".
The athleticism of you makes play fun with you.
Your smile pleases me.
Why do we love our siblings?
Your siblings are always a gift. Growing up, they taught you so many life lessons, and most importantly, they showed you how to be the best friend you can be. You'll be able to discover the qualities you seek in a true friend thanks to your siblings.
What should I post to my brother?
He is my only brother.
That's why I'm proud to have you as my brother.
It's very happy for you.
Impressive Picture
Thank you for always supporting me.
Bro, you always amaze us.
So handsome, man!
A creative genius indeed.
What is a good sibling quote?
If you want to tell your sibling how you feel, try these things: "Siblings are the people we practice on, the people who teach us about fairness, kindness, and caring – it is rarely the hard way. Your siblings will always be your siblings. That must never change." – Sally Painter.
What should I write to my brother?
Having a wonderful brother like you means having good luck and happiness in my life, dear brother.". Love you.".
What do I love about my brother?
Also, he does not overdo it.
You're in his back.
You can always count on him to offer advice.
You'll find him easy to hang out with.
He can help you with technology/diy.
Your Significant Other Can Help You.
He usually has something to laugh about.
Big pain accompanied by a big heart, that's my big brother.
I looked up to my big brother frequently, and I still do.
I have looked out for yours truly since I was born, I love you!
Big brother always has my back.
I could not imagine life without my big brother.
Will miss u brother quotes?
I cannot express how deeply I love you, dear brother. Your constant support and encouragement pushes me to accomplish great things in life. That fact makes me sad, and I can't wait to see you again. I miss you.
When siblings are together quotes?
Growing up with so many siblings was wonderful.
– "Every time you get older, you revert back to childhood," says one.
My siblings are my best friends.
"Siblings-the definition of love, strife, competition, and forever friends." –.
Who are the best brothers in the world?
William James and Henry VIII.
The Marx Brothers
The Sullivan Brothers
Booths of Edwin and John Wilkes.
James brothers Frank and Jesse.
Wright and Wilbur
Grimm and Wilhelm
Ted Kennedy, John, Robert Kennedy.
How do I express my feelings to my brother?
Just say it. You may want your brother to hear directly from you that you love him.
Let him know in a letter.
Give him a creative reply.
You demonstrate your love for him through your actions.