Sometimes, you can't get enough of the dazzling sunset, picturesque Mountain View, panoramic views of the water, or even the fragrant flowers. Nature's view can be so breathtaking that you can't resist the urge to take photos. A great way to share your photo on Instagram is to include a clever caption. With captions for scenery pictures, you can creatively expresshow the view of the vast open space or amazing sunset is truly breathtaking.
Crafting the perfect caption for your scenery pictures can be challenging. If you're having difficulty putting your thoughts into words, this article is for you. We've compiled some well-written captions to spice up your photos.
The Best Captions for Scenery Pictures
So you've captured some fantastic pictures of nature and want to share them on your Instagram page. Adding a short note can make your photo more appealing and understandable to your audience. Captions are not only important; they're highly recommended.
Here are captions you could pick from to add flair to your scenic and beautiful landscape pictures.
The view makes me want to dance in circles.
An escape from the ordinary.
Can I wake up to this view every day?
If you need me, I'll be outside.
Wander where the Wi-Fi is weak.
Feeling the magic of nature.
There's no way I can be bored in a beautiful world like this.
Nature is breathtaking.
Can never complain about a view like this.
Away from reality, living my best life.
Sometimes, you need a change in scenery.
Looking at life from another viewpoint.
The view's better on top.
Staying close to nature's heart.
Are you sea-ing what I'm sea-ing?
Can you believe this is real?
My problems look small looking in my rearview.
A bird's eye view.
Unique View Captions for Instagram
I love to go places that make me realize how tiny my problems are.
Watching more sunsets, not movies.
It's a wild world, baby.
This view is totally worth it.
There's never too many sunset pictures.
Stop and look around to see how amazing life is.
Nature is a beautiful distraction.
Sunset is my best color; the rainbow is second.
Worry less, hike more.
Riding off into the sunset.
I've got nature vibes.
Happiness comes in waves.
Not every paradise is tropical.
OK Mother Nature, I see you flexing.
I seek to sea more.
Cleansing your feed with nature.
Go where the wild things are.
Sunsetty, like a sunset.
It's always worth taking the scenic route.
Funny Captions for Scenery Pictures
Nature is my greatest teacher.
I got lost in nature but didn't want to be found.
The Earth is laughing loud in flowers.
Nature is the best place to recharge and heal.
Having an adventure of a Lifetime.
Perceive the sea, feel the sky, and Let your spirit and soul fly.
The correct use of science is to live in nature, not conquer it.
We conquer ourselves, not the mountain.
Heading for the hills.
Nature is sweet medicine.
Listen to nature's lovely sounds.
Currently sniffing flowers and hugging trees.
The Earth's music is for those who will listen.
Follow The Sun.
Exploring my boundaries.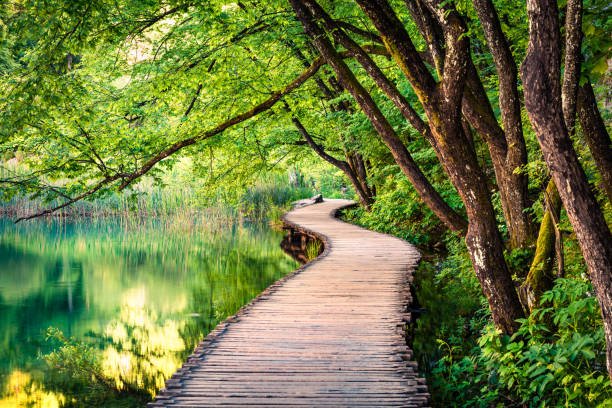 To Wrap Up
You might want to take some stunning photos of amazing landscapes you explore, whether a forested wonderland or the mountains. Captions are an easy way to share your photographic adventures and brighten the day of others. You could pick from our list of best captions for scenery pictures to fire up your next nature-inspired photo.
Explore All
Image Caption Generator Articles