Sometimes, you can't get enough of the dazzling sunset, picturesque Mountain View, panoramic views of the water, or even the fragrant flowers. Nature's view can be so breathtaking that you can't resist the urge to take photos. A great way to share your photo on Instagram is to include a clever caption. With captions for scenery pictures, you can creatively expresshow the view of the vast open space or amazing sunset is truly breathtaking.
Crafting the perfect caption for your scenery pictures can be challenging. If you're having difficulty putting your thoughts into words, this article is for you. We've compiled some well-written captions to spice up your photos.
The Best Captions for Scenery Pictures
So you've captured some fantastic pictures of nature and want to share them on your Instagram page. Adding a short note can make your photo more appealing and understandable to your audience. Captions are not only important; they're highly recommended.
Here are captions you could pick from to add flair to your scenic and beautiful landscape pictures.
The view makes me want to dance in circles.
An escape from the ordinary.
Can I wake up to this view every day?
If you need me, I'll be outside.
Wander where the Wi-Fi is weak.
Feeling the magic of nature.
There's no way I can be bored in a beautiful world like this.
Nature is breathtaking.
Can never complain about a view like this.
Away from reality, living my best life.
Sometimes, you need a change in scenery.
Looking at life from another viewpoint.
The view's better on top.
Staying close to nature's heart.
Are you sea-ing what I'm sea-ing?
Can you believe this is real?
My problems look small looking in my rearview.
A bird's eye view.
Unique View Captions for Instagram
I love to go places that make me realize how tiny my problems are.
Watching more sunsets, not movies.
It's a wild world, baby.
This view is totally worth it.
There's never too many sunset pictures.
Stop and look around to see how amazing life is.
Nature is a beautiful distraction.
Sunset is my best color; the rainbow is second.
Worry less, hike more.
Riding off into the sunset.
I've got nature vibes.
Happiness comes in waves.
Not every paradise is tropical.
OK Mother Nature, I see you flexing.
I seek to sea more.
Cleansing your feed with nature.
Go where the wild things are.
Sunsetty, like a sunset.
It's always worth taking the scenic route.
Funny Captions for Scenery Pictures
Nature is my greatest teacher.
I got lost in nature but didn't want to be found.
The Earth is laughing loud in flowers.
Nature is the best place to recharge and heal.
Having an adventure of a Lifetime.
Perceive the sea, feel the sky, and Let your spirit and soul fly.
The correct use of science is to live in nature, not conquer it.
We conquer ourselves, not the mountain.
Heading for the hills.
Nature is sweet medicine.
Listen to nature's lovely sounds.
Currently sniffing flowers and hugging trees.
The Earth's music is for those who will listen.
Follow The Sun.
Exploring my boundaries.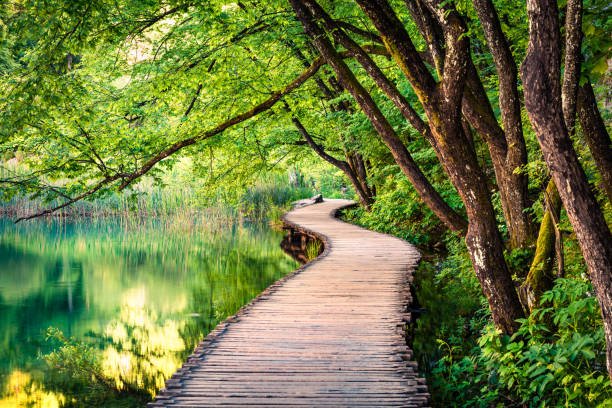 To Wrap Up
You might want to take some stunning photos of amazing landscapes you explore, whether a forested wonderland or the mountains. Captions are an easy way to share your photographic adventures and brighten the day of others. You could pick from our list of best captions for scenery pictures to fire up your next nature-inspired photo.
Frequently asked questions
What are some nature quotes?
Nothing is perfect in nature and everything is perfect.
As long as the earth delights in feeling your bare feet, the winds long to play with your hair. — .
Heaven is both under our feet and over our heads. —.
If you begin paying attention to nature, you will understand everything better. — .
Make yourself the kind of person you'd want to meet.
Let's not stop until you're proud.
A free dream is sold, while a hustle is sold separately.
The basics are usually absent during a sassy day.
Don't look at those behind your back; they're behind you for a reason.
Because you become fearless, your life becomes limitless.
Relax and enjoy your best.".
"Just because you're awake doesn't mean that you shouldn't stop dreaming.".
The only advantage to self-dominance is that no one else is better.".
Rather than a destination, happiness is an instrument of travel.
The magic is everywhere.
If you were looking for a sign, here it is.
What should I Caption a nature picture?
Wild animals call loud and clear.
There is no Wi-Fi in the forest, but I promise you'll find better connectivity.
Nature never lies
Don't let nature stop you.
There are many beauty spots everywhere if you love nature.
I am a natural healer.
You should go where you feel your best.
It's impossible to dull my sparkle*.
If you throw an apple in every day, anyone will be away.
Don't sacrifice family, love, and yourself.
Give second chances, but not for the same mistake.
A perfection in itself comes from being an original.
The biggest party you'll ever have will be attending life.
My teacher is nature.
Take a walk in nature.
Flowers laugh at the Earth.
Wild call of the wild!
Nature provides the best place to heal and recharge.
The Ultimate Lifetime Adventure.
Feel the sea and sky. Keep your soul and spirit moving.
Green vibes only
What beautiful scenery or what a beautiful scenery?
As a general rule, Scenery is a singular uncountable noun. Thus it is not appropriate to write 'a scenery'. Therefore, the correct collocation for this would be as follows: "Wow, what a beautiful piece of scenery!".
Little bit of chic and classy.
50% savage, 50% sweetheart
Escape the ordinary
Let's make a good story.
Coffee helps in life.
Those are the days we live in.
A bright future awaits.
There is still work to do.
What is a scenery quote?
Beautiful scenery and what we have here on Earth fascinate me. The scenery is fine, but human nature is finer. Take a slow ride and enjoy the scenery – get up and drive fast to enjoy the view. A change in a scenery can help everything.
The best of me is yet to come.
You're happier when you're laughing.".
"Be more of you. Don't be one of them.".
It might have been her gift.
Don't let anyone treat you like you are ordinary.".
She walks like rain and acts like a summer.
There is no better person than you.".
"Sunday Funday"
Hope your day is back!
Make you the best version of yourself.
Make today a day that makes yesterday jealous.
Every mistake I have ever made has built me.
I can be a better version of myself.
I just started leveling up.
I'm not sure life will ever get easier. You just need to get stronger.
I am at the top of the world.
What should I Caption my picture on Instagram?
Build a door if you want the chance to knock.
Small things in life matter.
Is there anyone who will believe in you if you don't believe yourself?
Although I'm not yet there, I've been closer than ever.
Getting it done seems impossible until it's done.
Thousands of colors shine through the sky.
Take the sun wherever it leads.
Here you can experience happiness, as you watch a sunset near you.
Lights should never be overlooked at sunset.
There is something between heaven and earth.
The possibilities I have are endless.
What should I Caption a mountain picture?
Hike more
The mountains call and I must go.
My heart is just that of a mountain girl.
You've woken up! It's adventure and coffee time.
Being on my way to bigger and better things.
I'm on a mountain date.
The beautiful snow lane.
There should be more mountains in life and less stress in life.
How can we praise the beauty of nature?
Plant a tree
Hug a tree
Make a garden
Go for a hike.
Watch more Sunsets
Protect nature
Reduce pollution