People love seeing some skin once in a while. People love flaunting their beach-tanned bodies more. We've gathered a short list of captions for sunkissed pictures you can use for your social media posts.
But before we get to the list, it's important to understand what we're trying to describe. This will help us know which words are apt descriptions and which aren't. Let's start.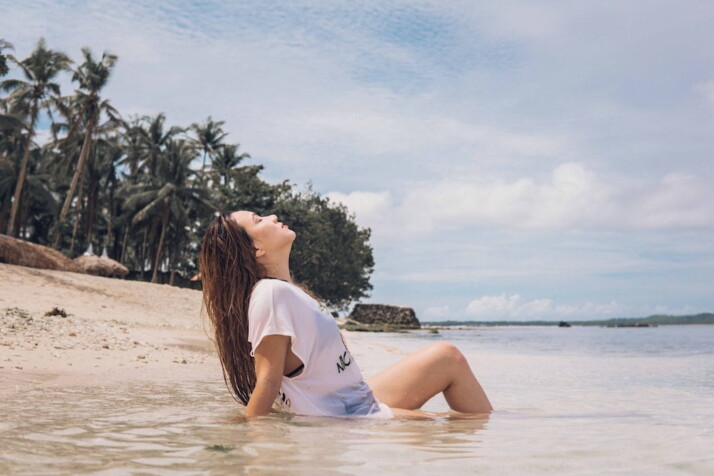 What Does "Sunkissed" Mean?
It is an adjective that describes someone or something that has an even, golden-colored complexion and a mild, warm glow. The word also refers to a place that has plenty of bright light.
The Significance of Image Captions.
An image is only as attractive as the caption that accompanies it. The caption catches followers' attention and draws attention to particular elements of a photo.
Captions are a way to make a post more meaningful by sharing an author's thoughts and feelings related to a picture. They can add a new dimension of personality to a photo, and they help you stand out from similar photos.
Most followers are likely to like, comment, reply, or share a post that makes them laugh. Captions are some of the best ways to capture an audience's attention because of their simplicity.
Image captions also help make your post more memorable. It operates like slogans by providing the audience with another stimulus to remember you by.
Sun-kissed photos are particularly prevalent during the Summer. Businesses can take advantage of surging trends to promote their products and services.
Keeping up with the times also shows your audience that your business is innovative and up-to-date.
The Best Captions for Sunkissed Pictures
Sun-kissed pictures are all about having fun in the Sun. Therefore, the best captions should be short, funny, and cute. You can also use famous quotes as your captions. If you're struggling to find a caption for Instagram photos, you can try some examples.
Sandy toes and a sun-kissed nose.
Sunshine is the best medicine.
Life is better in a bikini.
Loving the sight of a beautiful sunrise.
Nothing but sandy skin and smiles I see all day.
Feel the Sun's kiss while others notice sunburns.
Girls just wanna have Sun.
Food, friends, sunsets.
Sunshine and happiness go together like bacon and eggs!
When in doubt, a little tan gives confidence to any look.
The ocean breeze puts my stormy mind at ease.
Here comes the sunset.
You don't need a filter for these bright, sunny Winter days.
Be the Sun in someone else's sky.
Clear blue days. White beaches.
Sunshine is my favorite accessory.
No greater gift than to have sun kisses on your face.
Tan lines, salt in my hair, sand between my toes. It's paradise.
Good morning, sunshine!
The morning kiss of the Sun made my day.
A sunset is the Sun's welcome kiss to the night.
Sunny days make my year.
Here comes the Sun! It's all right to have some fun with him.
Let the warm glow of the setting sun kiss life's hurts away.
Sometimes you need to create your own sunshine.
Other Captions for Sunkissed Pictures
Tropic like it's hot!
Forever chasing the Sun.
When you catch that perfect ray of sunshine, make it count.
Live in the sunshine, swim in the sea, drink the wild air.
Salty air and sun-kissed hair are the moments I live for.
The Sun shines not on us but in us.
Sunlight is the best light.
Think of the days full of sunshine, not the dismal days of rain.
Palm trees, ocean breeze, salty air, sun-kissed hair. That endless Summer, take me there.
The moment when the first rays of the Sun wake you up.
Watching her sun-kissed made him envy the Sun.
Hey, you look down today. How about a little bit more Sun on your face?
I'm just a simple guy. A ray of sunshine melts my frown and blows my blues away.
I'll be at the grill if you need me.
What better way to start your week off than with a summer look like this?
I'm never going to let go of this Summer.
To love and be loved is to feel the Sun from both sides.
You're beautiful like the Sun.
Girls just wanna seas the day and love the night.
Love you to the beach and back.
Wavy hair and sun-kissed cheeks, Do I have to say more?
The Sun loves me. I am sun-kissed.
Summer's almost over, embrace the good times.
Life's best moments are spent in the Sun.
The best sunscreen is the one that you don't realize you are wearing.
The Bottom Line
We've always been fascinated with the Sun and how it brings light to the world. It's our main source of comfort and is a symbol of hope. Be sure to craft clever and interesting Instagram captions if you want people to skip to your content.
Crafting a caption for Instagram pictures requires a good amount of creativity and a deep understanding of storytelling. These seemingly simple quotes have the power to captivate an audience. Never underestimate the power of a catchy caption.
Explore All
Image Caption Generator Articles