Chill captions for Instagram are great when you want to share photos of your weekend fun or summer activities with the world. No matter what you do, stress is a part of our daily lives.
Sharing images that incite a sense of serenity or relaxation works wonders amidst the hectic schedule and stressful life. If you need some chill captions to post beneath your relaxing photos, we have an amazing collection for you!
Why Write Chill Captions for Instagram?
Chill captions for Instagram are geared towards taking a laid-back approach to life and being more open-minded. It encourages people to be less judgmental of others and more positive, inducing a relaxed mood.
Moreover, it's an effective way to stand out on Instagram. Not only are you sharing your beautiful and vibrant self, but you are also enticing people to click to see your profile.
Adding a chill caption to your post makes it more enjoyable for you and your followers. Although the captions may not be directly related to what you are posting, they'll provide a new perspective.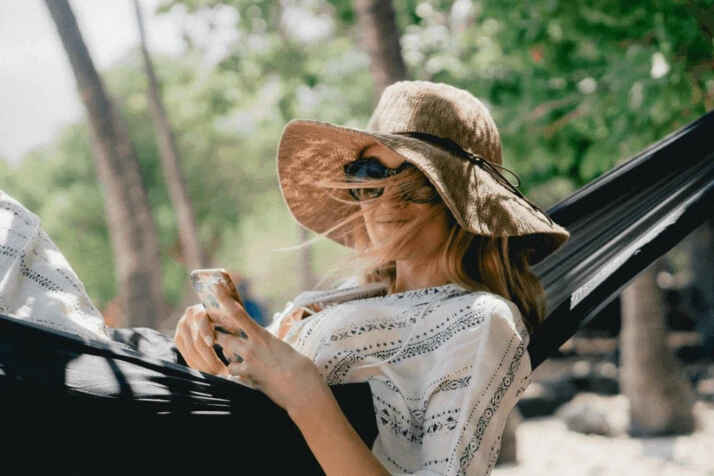 The Best Chill Quotes & Captions for Instagram
Whatever your preferred mode of relaxation, whether it be yoga, meditation, or something else, it is a necessary aspect of life. When you are chilling and relaxing amidst the chaos of life, share your experience with your followers on Instagram.
To convey your thoughts better, we have compiled a list of the best chill captions for a relaxed mood.
Chill Instagram Captions for Relaxed Mood
Let's slow down for a second and see where we go.
The only thing you should chase on a Saturday is the next episode.
When life gets messy, turn it into a mud mask.
Feeling as cool as my iced coffee.
Let your weekend be filled with love, laughing, and lots of relaxation.
This must be the art of doing nothing at all.
I'm the most chill person I know.
Chill Instagram Captions for Instagram Selfies
This pressure would have been perfect if it made diamonds!
Getting back in touch with me again!
Today is a new day, and I will put myself first.
Life is better when you're laughing.
Time to hit the waves and surf my worries away.
You gotta chill your thinking process.
Being happy is always in style.
Chill Vibe Captions for Profile Pictures
Stress doesn't really go with my outfit.
Reconnecting with myself and loving what I am finding!
No plans are the best kind of plans.
Positive mind; Positive vibes; Positive life.
Sometimes you have to just chill and vibe alone.
Dope days, chill nights, good company, and mellow vibes.
Find your happy place—the light, the air, your thoughts.
Chill & Fun Captions for Picture With Friends
Until further notice, assume I'm out of the office.
I deserve this after the stress of last year. We all deserve it!
Take time to relax because life can be a rush.
Learning how to breathe and enjoy life again!
Arrive early, stay late. A new season – a new start.
Spending time in nature is the best stress reducer!
Trying new things and letting go of fear. What a relief!
Conclusion
Life will only get busier, so it's up to you to find time for yourself and recharge. Whether you want to plan a self-care weekend, a tour with friends, or relax with your favorite book, chilling amidst the chaos is important.
Let the stress away and channel some calm vibes on your Instagram feed with relaxing photos and unique captions.
Explore All
Image Caption Generator Articles