Cute captions for couples' pictures are always adorable whether you are newly dating or have been happily together for years. Even if this is your hundredth post together, choosing the perfect photo and crafting the appropriate caption to celebrate your relationship is never easy.
Whether you want to be funny, trendy, romantic, or sentimental, take your time to choose the best photo. Let us help you with the perfect caption that will capture your emotions on your Instagram feed, drawing a ton of likes and comments.
Why Need Cute Captions for Couples' Pictures?
Instagram provides opportunities for couples to share their love with the world and loved ones. It could be a romantic moment, a cute selfie, a trip with your significant other, or just the daily life of your honey. Instagram is a great place to share everything that matters.
With couples, it's always sweet and cute. Take every opportunity to express your feelings for your partner and share your love with the people in your life.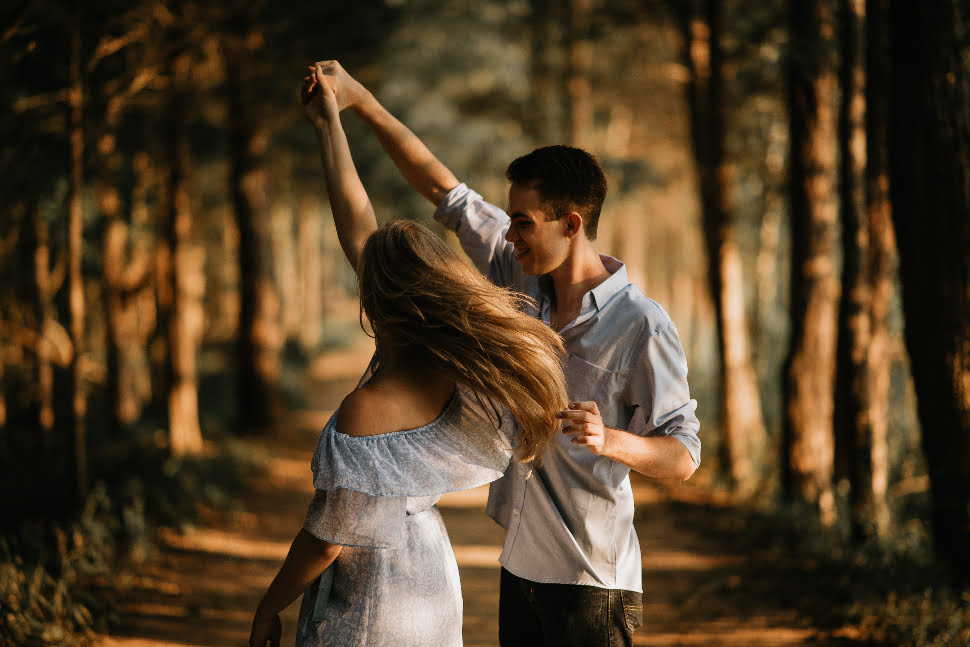 The Best Cute Captions for Couples' Pictures
To take over Instagram with your partner as the power pair couple, you can't just add a simple caption to match your perfect picture.
You need words that stand out on the feed and make your followers gush over how cute you two are. Here's a list of cute captions for couples' pictures that you can use for your next post.
Cute Instagram Captions for Couples
I'm wearing the smile you gave me.
You're my favorite distraction.
Home is wherever I'm with you.
Fairy tales do exist.
Couples that laugh together last together.
You're my favorite hello and my hardest goodbye.
You stole my heart, but I'll let you keep it.
Sweet Instagram Captions for Couples
I look at every day with you as a gift.
The best thing to hold onto in life is each other.
Together is my favorite place to be.
When we're together, the time is still.
I still get butterflies, even after all this time.
I love you today, tomorrow, and forever.
Thank you for being the best part of my world.
Funny Instagram Captions for Couples
I love you more than pizza, and that's saying a lot.
Besides chocolate, you're my favorite.
To the only person who will laugh at my jokes.
Here's our submission for the cutest couple award
I love you even when I'm hangry.
You're my favorite person to text…100 times a day.
Forget the butterflies. I feel the entire zoo when around you.
Romantic Instagram Captions for Couples
I Choose You, Every Time.
Our Hearts Speak the Same Language.
Love Isn't Something You Find. Love Is Something That Finds You.
I Can't Help Falling in Love With You.
You Are My Dream Come True.
I Know What True Love Is Because of You.
Every Love Story Is Beautiful, but Ours Is My Favorite.
Conclusion
There are many different captions for couples' photos on Instagram, ranging from romantic and sweet to cute and funny.
These Instagram captions will capture your feelings and perfectly represent your relationship with your partner. This article lists the best captions to put beneath your favorite photo and let your partner know how special they are.
Frequently asked questions
Love is all you need.
"Life is the flower for which love is honey.".
"Love will never dull a life." –.
"Love everyone, trust a few, never do wrong to none.".
Your call for madness, but I call it love.
LOVING is only possible when we love.
A true love story never ends.
What is the most romantic saying?
Your death would make me go crazy if anything happened to you.
I wouldn't change a single thing about you.
I respect you
After I found you, I became a better woman.
Then every day you push me higher.
The love of my life, my true soulmate.
I knew what love was until I met you.
Here you go, if you are looking for a sign.
Find magic in every moment.
"Remember that happiness is a way to travel, not a destination.".
You don't need to stop dreaming just because you are awake.
Enjoy life with less stress.
Everyone is better than you.".
Smiles never go out of style.
Going wherever I go, I am able to bring the sun.
Don't let your happiness be your reason for wanting to get better.
It takes just one smile to live a happier life for anyone.
Chin up, buttercup!
You're halfway there, believe you can.
Then I fell in love all over again.
Life is not perfect, but we are.
"Honestly, it was the brightest thing I ever experienced.".
"Better together"
"I'm the luckiest"
A loving heart reaches out to you every day.".
You are a great dog parent and I love your smile.
"Love you since the anniversary of the year.".
How can I express my love without saying it?
I am smiling today after just thinking about you.
"I just wanted to thank you for being me.".
"I hope you understand how much you mean to me".
You make me happy! I'm so glad you're in my life!".
Your work is truly fantastic!".
It means so much to me to have you there.
Send an adorable GIF.
Send us a romantic song.
Don't let anybody treat you like you are ordinary.
She might have it in her.
The best of me is yet to come.".
She walks like rain and acts like summer.
Be yourself, there is no better person.".
"Sunday Funday"
It's better to laugh than live a busy life.
Take more of yourself and less of others.
How can I make him feel special quotes?
You are loved for all you do.
My arms are so safe for me.
You make me smile around you. Your kindness makes me happy.
Pizza makes me crave you more than anything else.
I love your _____
You're more than your boyfriend.
You're on every day's adventure.
You'd be welcome to smile to my utterly.
Cute Couple Quotes You're my favorite hello, and my hardest goodbye. Add peanut butter to my jelly. Having a group is a great place to be. We cannot live without you, and I do not want to try.
How do you say beautiful couple?
lovely couple
handsome couple
nice couple
cute couple
great couple
good couple
sweet couple
wonderful couple
How do you express love in words?
I cherish you
In your lifetime, I'd like to have a connection.
I adore you
Please make me better.
You're important to me.
You are making me think.
You are in my thoughts and prayers.
All the good in my life comes from you.
Who is the best couple on Instagram?
They are Justin & Emily Baldoni.
Chrissy Teigen and John Legend.
Tiffany Del Real and Ashley Chan.
This is Michael Alvarado and Carissa Alvarada, or Us the Duo.
Mariano Di Vaio and Eleonora Brunacci Di Vaiso.
Venus and Maesode
Fulmer, Ned and Ariel.
I will report on Timothy DeLaGhetto and Chia Habte.
My level has just reached that level.
So awesome that yesterday becomes jealous.
I am on top of the world.
My version is better.
Welcome back to happy days!
Life will never be easier. Just keep training.
Make yourself the best.
Every mistake I have ever made has built me.
When we all are together quotes?
In tennis, teamwork and intelligence win championships.
– I believe you can succeed at the best and fastest rate by helping others succeed.
Together, we can do so much, and it's so much each and every day.".
Trust is the key to teamwork.
What is a good couple quote?
The ability to trust love once again and always once again. "When two people fall apart, they realize how much they need to fall back together." "Feeling in love with the same person often is the most important part of .