So you've taken the perfect selfie that captures a precious moment. Now it's time to share your photo on Instagram, and you're wondering what words to use alongside your photo. No need to worry! You can get the inspiration you need to craft the perfect IG caption from this article's list of cute selfie captions for Instagram.
Great captions add to your photo, making it more appealing, unique, and engaging. Captions make the difference between a post that's liked and shared and another that's ignored. Let's see some of the best selfie captions for Instagram that'll blow your audience's mind.
Why are Captions Important?
It's fun to share your favorite moments with the world – captions make them even more appealing to viewers. The best captions add context and value to the photo and help viewers understand it better. A captivating caption makes your post more diverse and exciting.
Captions are great for starting conversations, driving engagement to your page, and boosting your reach. It's best to put some effort and creativity into crafting the perfect one. The most effective captions instantly captivate the viewers' interest. Your caption should be brief but exceptionally well written. Use a few creative words to tell the story behind your photo – no need for overly lengthy captions.
Cute Selfie Captions For Instagram
Instagram is a great, convenient platform for sharing photos and creating a fantastic channel of memories to look back on. Selfies are the new norm, and the selfie trend is unstoppable. More and more people have started capturing their selfies and posting them on their Instagram accounts. You need a unique and attention-grabbing caption for your picture to stand out from a sea of others.
Some of the best selfie captions for Instagram are as follows.
What matters the most is how you speak to yourself.
You can never regret being kind, even if you regret other things.
Being happy never goes out of style.
A little contour and confidence.
Some days start better than others.
Throw sass around like confetti.
Hella heart eyes for you.
Decluttering my life like Marie Kondo.
Life is simple. It's just not easy.
I'm not high maintenance; you're just low effort.
Do whatever is good for your soul.
Smile a little more, regret a little less.
Grow through what you go through.
You can't live your life on an empty stomach.
Get out there and live a little.
I don't know where I'm going, but I'm on my way.
Short Instagram Captions For Selfies
Sometimes, less is more. A concise caption might be all you need to tell the unique story behind your photo. We've listed some short captions for selfies that'll make your Instagram post shine.
Morning gram.
Mentally at the beach.
All about the vibe.
I woke up like this.
Oh, hey there.
Sunday funday.
Let it be.
You do you.
I can show you the world.
I'll do me.
Escape the ordinary.
Less perfection, more authenticity.
Life happens; coffee helps.
Smile big, laugh often.
Crazy hair, don't care.
But first, let me take a selfie.
Start somewhere.
Be happy; it drives people crazy.
Create your sunshine.
Life is too short for bad vibes.
Don't dream of it. Train for it.
Live more, worry less.
Better an Oops than a what if.
Funny Instagram Captions For Selfies
When it comes to captions, humor can be the most effective way of garnering attention to your photos. It's always worth it to include a light-hearted caption that'll evoke laughter from your followers. Below are some of the funny Instagram captions for selfies.
If I was funny, I would have a good Instagram caption.
It's not a phase, mom; it's who I am.
When nothing goes right, go left.
Sure, I do marathons. On Netflix.
Another fine day ruined by responsibilities.
I put the 'Pro' in procrastinate.
Going to bed early. Not going to a party. Not leaving my house.
There's no 'we' in fries.
Morning coffee, because anything else is worthless.
Maybe she's born with it; maybe it's an Instagram filter.
At least my pizza still loves me.
Sweet Selfie Captions
Sweet captions are a great way to add effect to your selfie. They speak positivity and also help you express self-love. Some of the sweet selfie captions are as follows:
Why chase you when I'm the catch.
Life is like photography; we develop from negatives.
And it's all fun and games until somebody falls in love.
Things I used to trip on, I walk over now.
She is simple, like quantum physics.
People will stare. Make it worth their while.
Keep your heels, head, and standards high.
If you were looking for a sign, here it is.
Just because you're awake doesn't mean you should stop dreaming.
Be yourself; there's no one better.
Stress less and enjoy the best.
Look for the magic in every moment.
Do whatever makes you happiest.
Self-love is the best love.
Quotes For Instagram Selfies
Sometimes, your feelings and thoughts have already been expressed by others in song lyrics or quotes; all you need to do is use them! You can borrow any of such lines that best resonates with you, whether from musicians, actors, or famous speakers. Here is a list of our best quotes for Instagram selfies.
"All you need is love." – John Lennon
"Work it, make it, do it, makes us: harder, better, faster, stronger" – Daft Punk
Some call it arrogant I call it confidence." – Beyoncé
"I'd like to stay here for a while and go wild." – Maïa Vidal
"You may say I'm a dreamer, but I'm not the only one." – John Lennon
"Every little thing is gonna be alright!" – Bob Marley
"Find me where the wild things are." – Alessia Cara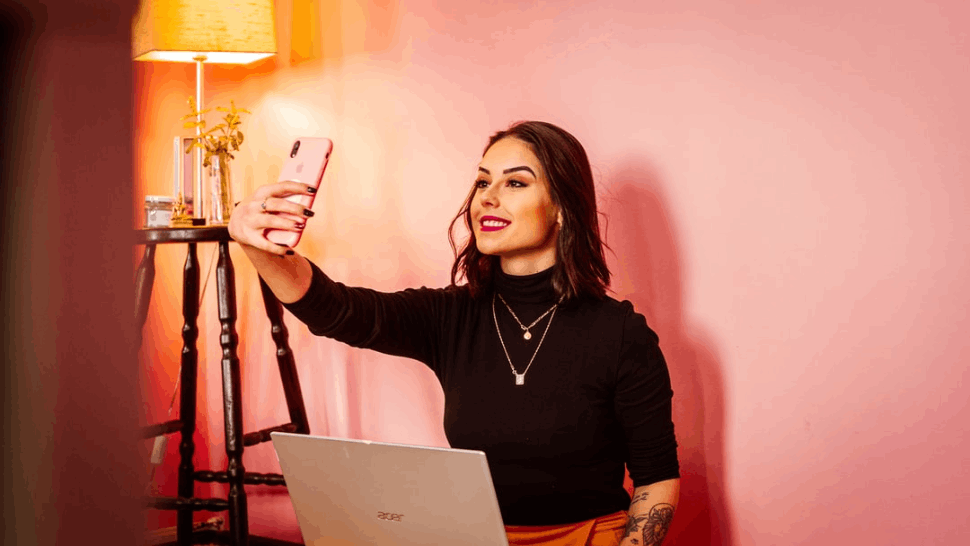 To Wrap Up
Finding the best caption for your selfie could make all the difference. A cute selfie caption can help you express your thoughts creatively while offering you a better Instagram experience. If you're struggling to find the perfect caption for your selfie, check out the list of cute selfie captions for Instagram above.
Frequently asked questions
Why do guys call me cute?
Fey to teasing, flirty compliments. If a guy calls you cute, he may be playful and joking around to lighten the mood between you and him. Cute is something you might say to your boyfriend or girlfriend, because they really know you well and want to play around and be silly with you.
Can cute be used for a man?
Having a boyfriend like you is one of the best terms for compliments or endearment. The fact is, while some might think it's too soft, that's not the case. Girls can also be cute and adorable.
What makes someone cute?
Cuteness is usually associated with some combination of infant-like physical traits, such as small size, large eyes, a small nose, dimples, and chubby limbs. Playfulness, fragility, helplessness, and affectionate behavior among infants are also considered cute.
What type of word is cute?
As described above, 'cute' is an adjective.
Can I use cute for a girl?
The phrases "cute guy" and "cute girl" are frequently used; the former does not mean a man is delicate or has any degree of femininity (good or bad), and the latter can be used to describe a woman of.
What makes a girl look cute?
You can create the essence of cuteness by wearing clothes, wearing makeup, and styling hair. Cute is a natural, friendly, and comfortable style. The letter suggests you are kind, approachable, and sweet. Here are some fun ideas to try out if you want to know how to look cute too.
How do you know if you are cute?
5) You look like men pouting.
There is a desire for happiness in your smile.
3) Men protect you
You're being uncomfortable around men.
4) People are shocked when you are unable to take compliments.
You get drawn to people.
2) You are contactable out of the blue.
How do you say cute slang?
babe
[slang],
beauty,
beauty queen,
cookie
(or cooky),
dolly bird
[British],
Is cute or hot better?
Both are slang words used to describe someone's appearance and/or personality traits. 2. People with cute personalities are wholesome and attractive, while people with hot personalities are often loose in morals.
What is the original meaning of cute?
Advertisement. The history of Cute's business calls for leniency. Initially, the word was a shortened form of acute, the adjective meaning "shrewd," "keen," or "clever." It even had its own opening apostrophe—'cute' to let you know.
Does cute mean attractive?
Cute: Acute in a pretty or charming way. Sexually attractive or exciting. Beautiful: Elegant in a delicate way without being truly beautiful or desirable.
What does being cute really mean?
You can describe something or someone that is cute as very pretty or attractive, or to appear pretty or desirable on the outside. [informal].
Is it correct to say cute?
The phrase "cuteer" is incorrectly translated as more cute. For example, "cute", "cuter" or "cuteest" should be read. When speaking informally with friends, people use it anyway.
What do guys mean by cute?
When a guy says you are cute, it means he noticed your good nature and probably thinks you are calm, composed, and charming. You'll also be able to manage issues in an orderly manner. A good-natured girl likes to be gentle, relaxed, and supportive, which makes him very attractive.
What's a better word than cute?
Here you will find 30 synonyms, antonyms, expressions, and related words for cute, like: cute, attractive, charming, dainty, precious, beautiful, pretty, cutesy, lovable,.