Get your groove on with these fun dance captions for Instagram. Whether you're a professional dancer or just doing it for fun, it's always fun to share a beautifully choreographed photo on Instagram. Use these captions to help light up your Instagram posts with creativity.
If you have the skills to dance, why hide it? Share your talent with your followers. Talents aren't meant to be hidden. They're meant to be celebrated!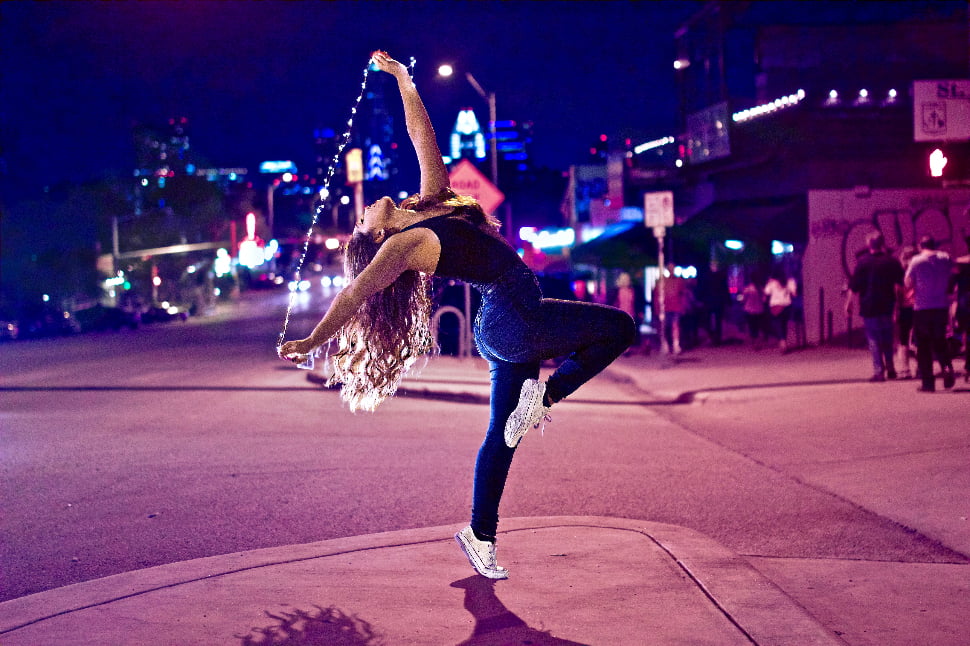 Why Your Instagram Post Needs a Caption
Captions are a unique way to share your story on Instagram. They're an opportunity to expand on your photo and share more about yourself, your personality, and why you are posting the photo. A good caption also helps you get more followers and people to like your post.
Fun Dance Captions for Instagram
Art is not always what you see but what others see.
Dance to express, not impress.
Be original.
Be so good they can't ignore you.
Dancers are the athletes of God.
Bring on the night!
Don't think just dance
It's more than just dance; it's life.
Dance is like a conversation between your body and soul.
Never miss a chance to dance.
Dancing in the rain
No one dances like you
Dancing is the poetry of the feet.
Passion makes dancers great
When you feel sad, dance.
Trust me; you can dance. Signed, Tequila.
Dance with a sparkle in your eyes.
Don't ever be afraid to be yourself.
Dance is in my heart.
Life is better when you dance.
Take more chances. Dance more dances.
Dance like you've never danced before.
Move over and let me dance.
Dance to your rhythm.
No place like the dance floor
Why walk when you can dance?
Dance. Shower. Repeat.
More Fun Dance Captions for Instagram
My superpower is dancing in heels.
Never miss a chance to dance!
Dancing will always be my first love
Dancers don't need wings to fly.
Just get up and dance.
It doesn't matter where you are. Just Dance!
All the world's a stage, so dance to it.
Dance therapy
No standing, only dancing.
Party means a dance.
Dance to the moon & reach for the stars!
Nothing lovelier than a perfectly executed choreography.
Dance as if nobody is watching.
Dress classy, dance cheesy.
Every movement in dance is a poem.
Don't be moody. Shake your booty!
Play the music and watch me dance my heart out
Dance has only one language, and anyone can understand it.
Perform as if it's your last
Dance is a timeless interpretation of life.
To Wrap Up
Dancing is an art. It can be an expression of joy, love or rage. It can convey everything from an honest to a powerful moment. It's definitely something worth sharing with your followers.
So the next time you share a dance, make sure to use these fun dance captions for Instagram. Have fun and show the world how much of an amazing dance you are!
Frequently asked questions
How do you say beautiful dance?
lovely dance n
pretty dance n
beautiful rock n
cute dance n
divine dance n
excellent dance n
artistic dancing n
beautiful dancing n
How do you write a dance bio?
Don't be too specific or confusing.
Write in the third person.
Do not turn your resume into a glorified list of achievements: that should have been helpful.
Use personal experiences where appropriate, but not too heavily on them.
How would you describe a girl dancing?
graceful. adjective. It is smooth and beautiful to move in a graceful manner.
smooth. adjective. Motions that are smooth and well controlled are easy to handle.
fluid. adjective. Beautiful, graceful, and ongoing without pause or sudden changes.
balletic adjective
dainty adjective
gentle adjective
lithe adjective
supple adjective
I'm a dancer who loves taking pictures with my heels. I will always love dancing! A dancer does not need a wings to fly. Dance. Get up and get up.
What are good dance quotes?
I love dancing, it's my first love." -.
Dance is the hidden language of the soul.
Everybody walked free
"Forget your troubles and dance!" -.
A scene on stage is truly special when you don't have time to talk.
– "See that music and hear the dance.".
"I dance, but I am not a dancer." -.
How do you praise a girl dance?
I love your splendor.
I love watching your dynamics across the floor.
You light up the studio with your smile.
You are so energetic-it makes everyone else want to get out and do it!
FAMOUS DANCE CAPTURES "You look so funny with your dance." "Never miss a chance to dance.". "Once a dancer, forever a dancing dance.".
What is dance content?
Creative people address obstacles in their lives and draw inspiration from their experiences, which defines their message. In the event of a message being conveyed through words or through music, it must inspire action.
Let's dance, Dance, Dance wherever you are.
We must dance, otherwise we are lost.
Dancers are not born, they are made.
Pose had beautiful dances.
Gott's athletes are dancers.
The moonlight is dancing in.
Dancing in the rain, like the sun in the dark.
Flying isn't necessary for dancers.
For me, the best is yet to come.
Don't let anyone treat you like you're ordinary.
There is a possibility that she has it.
"Sunday Funday"
"Be yourself, there is no better person.".
It is better for you to be less of them.
Life is better when you're laughing.
"She acts as if she were summer and walks like rain.".
Is Instagram good for dancers?
Dancers & artists can create their portfolios and increase their connections on Instagram through the use of hashtags.
How do you praise a dance?
You sang the beat like a professional.
That is so cool!
Those skills are amazing.
What I have seen in real life is a great dance.
What an inspiring experience!
Is your dancing a professional career path?
I wish I could dance like you too.
You are at the next level in your energy.
It is possible to have love at anytime, so a quick dance with your loved one is a great idea.
It was fun
Don't be afraid of failure.
Your feet will follow when you dance with your heart.
Considering every day lost on which we have not danced at least once is important.
God's athletes are dancers.
Influenced!
What should I comment on a dance video?
That makes me want to dance.
Music and your moves were designed to complement each other.
Dance is infectious as you dance.
Live; love; dance
This video is the best I have seen today.
You can feel your joy oozing from this video.
It's the best dance video we've ever seen.
Jump like a jagger.
I apologize a little less, and smile a bit more.
The saying "being happy never goes out of style.".
There is a little confidence and contour to it.
I'm on my way, but I don't know where I am going.
You can regret many things, but you won't regret being kind.".
Take time to grow.