So you've got a beautiful photo of your home, and you want to share it on Instagram. But how do you caption it to get the most engagements? We're going to talk about all that and more in this article. If you're looking for the perfect interior design captions for Instagram, you've come to the right place!
Our houses are a reflection of our personalities. They are safe and beautiful places to retreat and reflect. And we want them to look a certain way and feel a certain vibe; this is where Interior Design comes in. Interior design is a combination of art, decorating, and architecture. And your caption for Instagram is the perfect way to explain this.
The right captions can help you tell a story of how a design came about or how you found your style. It's also an ideal space for giving design tips to your followers.
So let's dive in and look at some perfect caption inspirations!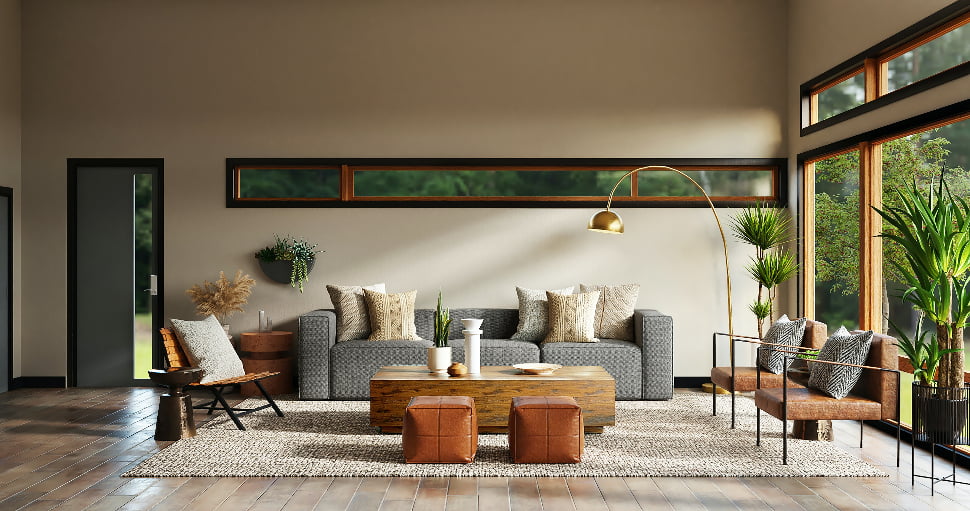 Interior Design Captions for Instagram
The art of interior design is fantastic, and I love it.
Decorating ultimate rule: Live with what you love.
To make your room look bigger, decorate it with light.
I love that my home is like a cozy, happy little retreat.
Life is a party, and your rooms should be the perfect place to throw it. Let the design begin.
The perfect color combo for a stylish living room.
There's no place like home. We make spaces feel like home.
Make your space a canvas
Design your spaces to be cohesive, unique, and represent you.
The bedroom is a space that's all about you.
Interior designers are people who make a room look like magic!
My favorite place to be is home.
There's a very thin line between classy home decor and trying too hard.
The things that you place in your house add to your inner peace.
It's more than just having walls and a roof. It's about making your house a home.
A huge house is useless if you do not know how to organize and use the space well.
We choose our circle, and we design our surroundings.
Choose moody colors that fit your life and personality.
My best ideas come to me when I'm in bed. My bed is a temple.
I always let my inner creative genius shine from every corner of my house.
Even someone who isn't a design genius can see the simple beauty of a wooden desk.
No matter what, make sure your home decor presents your lifestyle perfectly.
A room should be so comfortable that you feel as though you are wearing it.
Be organized. Be inspiring.
The simpler the decor, the better the vibes.
What Makes a Good Caption
A good caption should help pique the interest of your audience. Here are some of the things that separate an excellent caption from a bad one.
Concise and not overly long (ideally less than 125 characters)
Relevant to the photo or post
Engages your audience and can start a conversation
To Wrap Up
Interior design captions should show your personality and spark conversation. You can use these creative interior design captions for Instagram to put the finishing touch on your next post. They'll be sure to help you get higher engagement rates!
Frequently asked questions
Who should interior designers follow on Instagram?
Justina Blakeney. justinablakeney. 541K followers.
Young Huh younghuh
Ariel Ashe & Reinaldo Leandro. ashe_leandro.
Orlando Soria mrorlandosoria
Ken Fulk kenfulk
Emily Henderson. em_henderson.
Corey Damen Jenkins. coreydamenjenkins.
Malene Barnett. malene.barnett.
What should I post as an interior designer?
Projects you're working on.
Share Some Tutorials
Guide for shopping
Images before and after.
Share Some Inspiration. What is interior design without some good old-fashioned inspiration?
Create Comparisons
Run a Giveaway
The Behind the Scenes.
It doesn't mean you shouldn't stop dreaming just because you're awake.".
The journey of happiness is not a destination.
Be yourself, there is no one better.".
Rather than stressing, you should enjoy your time.
Here is a sign for you.
"You will find magic in every moment.".
The little things in life are important.
Today, I am closer than yesterday. I may not be there yet.
If you want to knock, build a door.
Is it possible for you to not believe in yourself?
This always seems impossible until it's done.
How do interior designers get noticed?
01/ Find your style –
01/ Transplant your style into your brand.
03/ Build your partnerships –
04/ Connect with words –
05/ Craft your process –
How do I create home decor content?
Share Your Knowledge
Provide gated content
Show Your Portfolio
Increase Organic Traffic
Join Professional Organizations
Use Email Nurturing
Get Social
Display Reviews
What is in interior designing?
Interior design is a multifaceted specialty that includes concept development, space planning, site inspections, programming, research, communicating with stakeholders involved in a project, construction management, and execution of the design.
Make today so great that yesterday becomes jealous.
We have a wonderful day!
I can be a better version of myself.
It won't get any easier. You just need to get stronger.
I am on top of the world.
You can be the best version of yourself.
This time I levelled up.
Every mistake I have ever made is what I was made of.
You will never be able to let go of the biggest party that you will ever have.
This sparkle cannot be dulled.
I am an original, which is perfection in itself.
Don't sacrifice three things: family, love, and yourself.
If you throw an apple hard enough, anyone will be away.
Don't give the same mistakes second chances.
What do interior designers post on Instagram?
Seek + Find
Artwork Showcase
Walkthroughs
Voting
Videoing Daily Tasks
Ask questions
Education
A Slider Image. Cut a horizontal portfolio image into two images to share using the multiple image feature.
What should an interior design website include?
Home page
Gallery
Contact page and opt-in page for emails.
Portfolio. A creative and unique portfolio is a great way for interior designers to showcase their expertise and skills.
Blog Content
How do I advertise my decorations?
Attract customers with the right approach.
Marketing online is crucial.
Make engaging content for their needs.
Design designs that reflect your style of decorating.
Remind existing clients of yours.
Time-saving offers
How do I start an Instagram for interior design?
Provide the right kind of content. If you are looking for an ideal audience, create content related to your niche.
You need to follow the right kind of people.
Use the right hashtag.
We'd like to welcome all your new followers.
Connect with the right agency.
Helping you choose the right person.
How do I write an interior design blog?
You Need a Nice Domain Name & Domain. Not surprisingly, your blog's domain and its name are also important when setting up your blog:.
Get Hosted
Learn WordPress
Add Some Plugins
Write
How do I promote my interior design business on Instagram?
Prepare a clear strategy.
Identify your audience
Create content that your audience would enjoy.
Don't be afraid to follow the right people.
In addition, you should greet your new followers.
Use Instagram hashtags that are relevant.
Create a timeline
Partner with influencers