Tagging your dog photo with a fantastic caption can go a long way in driving engagement and traffic to your page. Choosing the proper caption for your dog photos can be challenging and time-consuming. We've hand-picked some of the best dog captions for Instagram to ease stress and help you get started. These captions will not only get you some likes and shares but will also increase your following!
This guide lists some of the best captions for your adorable dog photos. Select the one you like the most and caption your dog photos!
How to Create the Perfect Instagram Caption
1. Include a Hook in Your First Sentence
Instagram only displays a few lines of text and hides the remaining behind the "more" link. Users will only see the first sentence of your caption on their feed, so use a compelling hook.
A great first sentence will prompt your audience to see the rest of your caption, engage your post and even visit your profile.
2. Include a Call to Action
Include a call to action based on your post's intent and purpose that encourages engagement. You could ask a thought-provoking question that invites your audience to participate in a conversation.
Using a CTA increases the chances of your post appearing in other users' feeds as a "recommended account" to follow.
Cute Dog Captions for Instagram
Life would be ruff without you.
Warning: Cuteness overload.
Dogs are my favorite kind of people.
Excuse me while I be absolutely adorable.
A house isn't a home without a dog.
I'm a VIP: Very Important Puppy.
The road to my heart is marked with paw prints.
My dog is the only one who really gets me.
Funny Dog Captions for Instagram
Stop hounding me!
Cuteness overload, am I right?
The more men I meet, the more I love my dog.
I'm mutts about my dog.
Not all dogs are good boys. Some are good girls!
Dog hair is my go-to accessory.
Can't escape the pup-arazzi.
First he stole my heart, then he stole my bed.
Crazy dog lady.
I'm all about that pug life.
Dog Quotes for Captions
"Dogs' lives are too short. Their only fault, really." — Agnes Sligh Turnbull.
"My fashion philosophy is, if you're not covered in dog hair, your life is empty." — Elayne Boosler.
"No matter how little money and how few possessions you own, having a dog makes you rich." — Louis Sabin.
"Be the person your dog thinks you are." — C.J. Frick.
"Happiness is a warm puppy." — Charles M. Schulz.
"A dog is the only thing on earth that loves you more than he loves himself." — Josh Billings.
"Dogs do speak, but only to those who low how to listen." — Orhan Pamuk.
"Everything I know, I learned from dogs." — Nora Roberts.
"Dogs are great. Bad dogs, if you can really call them that, are perhaps the greatest of them all." — John Grogan.
Dog Puns for Captions
So fur-ocious!
Anything is paws-ible with a dog by your side.
Stop hounding me!
I woof spending time with you.
Looking fetching today.
I live for the ap-paws.
Thanks fur the memories.
I'm mutts about my dog.
Just can't escape the pup-arazzi.
Howl you doing?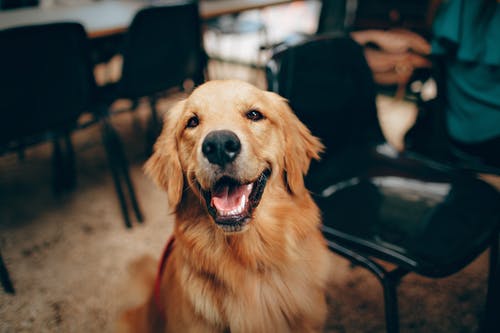 To Wrap Up
Dogs are so adorable with their floppy ears and big, innocent eyes! There are many ways to show that you love your pet including posting a photo of it on your Instagram!
You can include short snippets of text to describe the image and spice it up. If you're struggling with coming up with the perfect caption, you can get inspiration from the list in this guide!
Frequently asked questions
How do I become a dog influencer?
Choose a pet you truly want.
Pets can be kept in multiple groups.
Give your pet a good deal of care.
Make an Instagram Pet Account Bio that is inviting.
The Profile You Create Can Be Easily Customized.
Find the right social media platform.
Make sure both photos and videos are posted.
Live the way you want.
What is a dog lover called?
Dog lovers, on the other hand, are called Cynophiles or Dogophile! Which one are you?
Should I walk my dog in the morning?
Dogs who have senior citizenship should be given morning walks since they need to potty first thing in the morning to prevent accidents. Additionally, morning walks allow dogs to have their energy out early in the day, and this results in better behavior and training tolerance.
How do you complement a dog?
Pat your dog on the head, rub his belly, or scratch him behind his ears to show you approve of his behavior. Dogs might be able to reinforce their good behavior with this pleasant display of affection.
How do you compliment a dog?
Now let's go with the most memorable compliment on the internet.. "You have a great smile.". You make the cutest kibbles. You are so athletic, so driven, really good at taking naps, so good at wiggling!"".
Should I start an Instagram for my dog?
It isn't necessary to create an Instagram account for your furry friend, and it can help you connect with other animal parents, and you can document your pet's memories for a lifetime.
You can hide hashtags by creating line breaks underneath your caption. However, you should be able to create your caption using a text editor on your phone. Then use your text editor, such as Notes, and type a dot.
How do you describe a wonderful dog?
Trainable
Soft
Bombproof
Persistent
Affiliative
Biddable. Dogs who can bid are docile, agreeable, and willing to accept whatever you ask them to do.
Galoopy
What should I Caption my dog on Instagram?
Puppy love
You have a fur and a tail, my best friend.
I do not think dogs are our whole lives, but they make our lives beautiful.
Four-legged love
You are always welcome.
Thanks for sharing your memories.
Happiness cannot be purchased, but it can be saved.
I love dogs
The dog must approve all guests.
Kiss your dog goodbye every night.
Your doggo expects you to be the special kind of human you are.
The dog is obsessed with him and is blessed with.
Crazy dog human
What do you think of our self-portrait?
Thank you for standing by me every time you made me happy.
You are paw-fection me, I think.".
"My new puppy has a furry love.".
Not to brag, but at least my roommate is very cute.
There is no fewer than the cutest member of the family.
As a result, snuggles and treats begin.
What are some cute dog sayings?
"There's a saying
"No matter what you're feeling, a little dog will love you." -.
"A dog is the only thing on earth that loves you more than you love yourself." –.
Animals have come to mean so much to our lives.
You are not thinking how crazy the dog is when it looks at you.
What are the best dog quotes?
Dogs are known for overlooking the point, however amazing they can be.
Dogs' lives are too short for them to live.
Nora Roberts (author of The Search): "Everything I know I learned from dogs".
The dog has to have his day.
, but only to those who know how to listen.
Should you walk your dog when it's windy?
Dr Iain Booth, the founder of Vet UK, warns that walking on windy beaches can cause severe irritation and inflammation in the eyes of your dog. The ideal place to walk your dog is on the beach, he says.
Look at the coolest kids on the block.".
The more you have a friend by your side, the easier it is to work out.
The nickname of my dog is '5 Miles,' so I can tell others I walk '5″ every day.
You can't walk with us.".
You could walk with me forever," she said.