Tagging your dog photo with a fantastic caption can go a long way in driving engagement and traffic to your page. Choosing the proper caption for your dog photos can be challenging and time-consuming. We've hand-picked some of the best dog captions for Instagram to ease stress and help you get started. These captions will not only get you some likes and shares but will also increase your following!
This guide lists some of the best captions for your adorable dog photos. Select the one you like the most and caption your dog photos!
How to Create the Perfect Instagram Caption
1. Include a Hook in Your First Sentence
Instagram only displays a few lines of text and hides the remaining behind the "more" link. Users will only see the first sentence of your caption on their feed, so use a compelling hook.
A great first sentence will prompt your audience to see the rest of your caption, engage your post and even visit your profile.
2. Include a Call to Action
Include a call to action based on your post's intent and purpose that encourages engagement. You could ask a thought-provoking question that invites your audience to participate in a conversation.
Using a CTA increases the chances of your post appearing in other users' feeds as a "recommended account" to follow.
Cute Dog Captions for Instagram
Life would be ruff without you.
Warning: Cuteness overload.
Dogs are my favorite kind of people.
Excuse me while I be absolutely adorable.
A house isn't a home without a dog.
I'm a VIP: Very Important Puppy.
The road to my heart is marked with paw prints.
My dog is the only one who really gets me.
Funny Dog Captions for Instagram
Stop hounding me!
Cuteness overload, am I right?
The more men I meet, the more I love my dog.
I'm mutts about my dog.
Not all dogs are good boys. Some are good girls!
Dog hair is my go-to accessory.
Can't escape the pup-arazzi.
First he stole my heart, then he stole my bed.
Crazy dog lady.
I'm all about that pug life.
Dog Quotes for Captions
"Dogs' lives are too short. Their only fault, really." — Agnes Sligh Turnbull.
"My fashion philosophy is, if you're not covered in dog hair, your life is empty." — Elayne Boosler.
"No matter how little money and how few possessions you own, having a dog makes you rich." — Louis Sabin.
"Be the person your dog thinks you are." — C.J. Frick.
"Happiness is a warm puppy." — Charles M. Schulz.
"A dog is the only thing on earth that loves you more than he loves himself." — Josh Billings.
"Dogs do speak, but only to those who low how to listen." — Orhan Pamuk.
"Everything I know, I learned from dogs." — Nora Roberts.
"Dogs are great. Bad dogs, if you can really call them that, are perhaps the greatest of them all." — John Grogan.
Dog Puns for Captions
So fur-ocious!
Anything is paws-ible with a dog by your side.
Stop hounding me!
I woof spending time with you.
Looking fetching today.
I live for the ap-paws.
Thanks fur the memories.
I'm mutts about my dog.
Just can't escape the pup-arazzi.
Howl you doing?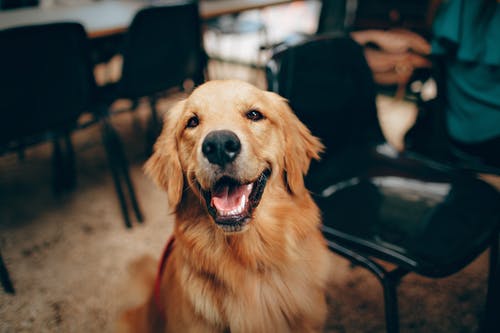 To Wrap Up
Dogs are so adorable with their floppy ears and big, innocent eyes! There are many ways to show that you love your pet including posting a photo of it on your Instagram!
You can include short snippets of text to describe the image and spice it up. If you're struggling with coming up with the perfect caption, you can get inspiration from the list in this guide!
Explore All
Image Caption Generator Articles