So many beautiful things begin on the first day of fall, including apple picking, pumpkin carving, and all your favorite fall treats! And don't forget about the gorgeous fall decorations that can completely transform your space.
When it comes to fall activities, there are endless photo opportunities that you can take advantage of. We've curated a collection of witty and amusing captions, seasonal quotes, and song lyrics to make your photos stand out.
You'll want to share these fall Instagram captions to express yourself in different ways. Have fun!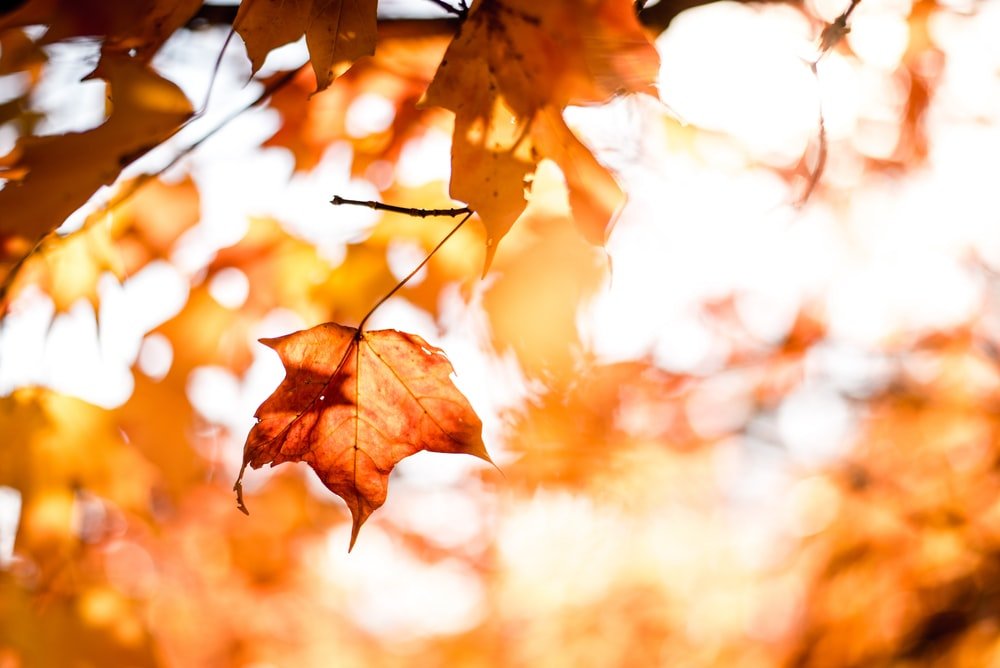 Cute Fall Instagram Captions
The colors are changing, the leaves are falling, pumpkin-spice everything is giving off a delicious aroma. We don't have to think too hard to have a cute fall Instagram caption. Just check below!
Sweater weather is better together.
My favorite color is October.
These fall leaves are just a-maiz-ing.
Painted in all the colors of fall.
Hello, pumpkin! 🎃
Short Sweet Fall Instagram Captions
Fall captions can get really cheesy or really profound, or especially idiotic. It's easy to fall into a void of fall Instagram captions when you don't know what to write. Here are some examples of short sweet captions that you can easily pick for your next post.
Cutest pumpkin in the patch.
Meet me under the falling leaves.
Fall foliage is my favorite color.
Leaves, flannel, and football are all I need.
Pumpkin kisses, harvest wishes.
Funny Fall Instagram Captions
The autumn season always delivers new colors, leaves, and inspiration for your Instagram. You'll fall in love with the funny colorful fall Instagram captions that we've curated for you below.
Sorry for what I said when I didn't have my pumpkin spice latte.
Oh my gourd I love fall.
Hate to be corny, but…
Maybe she's born with it, maybe it's maple leaves.
What's my blood type? Pumpkin spice.
Long Fall Instagram Captions
Captions can be a way to prepare for the holidays or capture your best memories. This handy list has long fall Instagram captions to help you create some amazing posts!
Falling leaves means one thing: It's football season!
Determined to step on all the crunchy leaves.
Never fear, pumpkin-flavored everything is here!
The season of pumpkin patch photos commences.
Don't even chai to say you love fall more than me.
Jokes & Riddles: Fall Instagram Captions
You might feel like a pumpkin, and you probably should not be outside unless you really want a slip, trip, and fall. That's why we're here to give you some Instagram jokes and riddle captions to lighten your day. Here are a few of them.
Slipped on a pumpkin today. It caught me off gourd.
Did you hear the joke about the tree? It'll leaf you laughing!
Why did the scarecrow win a prize? He was outstanding in his field.
What did one leaf say to the other? I'm falling for you.
What kind of vest do you wear in the fall? A har-vest!
Emoji: Fall Instagram Captions
This section has emoji's to inspire your creative and funny fall Instagram captions to share with your followers.
I 🍩 care what you say, fall is the best season!
Can you 🐝🍁 this fall weather?!
Gone 🍎picking!
The cutest 🎃 in the patch.
Falling 🍂, autumn breeze, what more do you need?
Quotes: Fall Instagram Captions
You don't want to bore the people who see your feed with all the same old fall captions, do you? No way! You want to make them to smile and resonate with your caption this fall using quotes. Here are some of them.
"I am most radiant and full of energy when the leaves are falling and there is a ghost of change in the air." —Anna Madsen
"Autumn leaves don't fall, they fly. They take their time and wander on this their only chance to soar." —Delia Owens
"In the last few days of summer, the ripeness of autumn fills the air, and time is quiet and mellow." —Rudolfo Anaya
"The leaves turn color, the grasses wither; the beasts sense the advance of a long, hungry season. And bowing to their vision, I too know a sadness." —Haruki Murakami
"And the sun took a step back, the leaves lulled themselves to sleep and autumn was awakened." —Raquel Franco
Song Lyrics With the Best Fall Instagram Captions
Eventually, no matter what, the leaves will fall and the trees will shed, it's just part of life. These song lyrics make fall worth its season!
"Autumn is the hardest season. The leaves are all falling, and they're falling like they're falling in love with the ground." —Andrea Gibson
"Do you remember the 21st night of September?" —Earth, Wind & Fire
"And the leaves that are green turn to brown, and they wither with the wind, and they crumble in your hand." —Simon & Garfunkel
"But when October comes and goes and no time at all I'll begin to feel the chill of an early fall." —George Strait
"When I feel that chill, smell that fresh cut grass I'm back in my helmet, cleats, and shoulder pads." —Kenny Chesney
To Wrap Up
There is just so much more to learn about writing the perfect fall Instagram captions. Go ahead and find inspiration here and get creative with your favorite fall colors with all your friends and followers this fall season.
You can use this intelligent image generator tool for more customized Instagram captions.
Frequently asked questions
What is good about autumn?
Autumn holidays are especially enjoyable because of the tasty food, elaborate costumes, and rich colors that accompany their celebrations. The seasons of the year are definitely seasonal, offering a variety of festivities for everyone to enjoy.
I am the richest person on earth.
It won't get any easier. It is just possible to get stronger.
Make yourself the best version of yourself.
I am a better version of myself.
We're able to have fun again!
Today should be so awesome that yesterday becomes jealous.
My level has just been raised.
Every mistake I have ever made has made me stronger.
In the meantime, it's the best.
We should live a good story.
A bright future awaits us.
Stupid and simple
We live for these days.
Coffee helps in everything.
50% savage, 50% sweetheart
Escape the ordinary
What is beautiful fall?
The way the light shines through the leaves is something special. The fall season is filled with pumpkin spice-infused delights, hayrides, and haunted houses. The changing of leaves in autumn is a sign of change, the start of a new school year, and perhaps even the beginning of new resolutions.
What should I write on my friends Instagram post?
A true friend is just one soul in two bodies.
Your tribe is drawn to your vibe.
You are my favorite other than chocolate.
They are beautiful, and friendships are better.
You may even receive the pictures I look bad in.
Friends don't let others do silly things by themselves.
They stay friends up to the end.
You're the pick of the patch.
This October, let's plan out some time for fun.
Pumpkins keep witches away from you every day.
You're gourdgeous
This weekend only my pumpkin spice candle will be lit.
I'm hollow inside
Kisses and harvest wishes for pumpkins.
What should I Caption a fall picture?
October is my favorite color.
Autumn leaves and a fall breeze.
I am eating an apple.
A pumpkin spiced up things.
Cold days are greeted with hot drinks.
Weather in winter is better than cooler.
That's all I have to do for now, but here I am in the fall.
Most of all, I love fall.
How do you chill quotes?
"Nothing is my guiltiest pleasure.".
"My mind always seems to be in a state of peace.".
"Relax
Let's relax, relax, and go for it.".
Do not chill with them if you are unable to build with them.".
"In normal life, I am just kind of chill.".
Don't take things too seriously, and just relax.
The best part of me is yet to come.
Don't allow anyone to treat you like you're ordinary.
Her walking style is like summer.
Be yourself, there is no one better.".
"Sunday Funday"
It's possible she has it.
Don't be too much of you, and less of them.".
With laughter, life is better.
I dont have a filter on confidence level.
Selfies keep the doctor away once a day.
Scratch is fluent with me.
First I drink the coffee and then I do the things.
Beast mode
I'm a big deal.
Just me
But first, selfie
Life's a beach
Beach bum
Happiness is in waves.
Take a swim at the beach.
Seas the day
Eat. Sleep. Beach. Repeat.
Let's relax, you're happy on the beach.
A good time and tan.
What are some fall sayings?
Pumpkins, apples, and hairies, my!
The Pumpkin Patch in this way.
We are enjoying autumn leaves and fall breeze.
Happy Fall Y'all
Fall is my favorite part of life.
The Best Patch Of The Year.
Kisses and harvest wishes for pumpkins.
Apples in the Orchard.
Due to my courage, I can leap to the highest heights.
Always motivated for success.
Despite saying I couldn't, I did.
You cannot handle this personality.
If you prefer to be second, follow me.
My life
This is a good treat for me, and I will double it.
No explanation needed
What is this word autumn?
October 1 : The season between summer and winter that occurs in the northern hemisphere typically in September, October, and November or as recorded astronomically from the September equinox to December solstice. — called also fall.