A bit of humor makes everything better. You need only look at Ryan Reynolds and Blake Lively to see how humor can strengthen a bond between couples. They can be witty and entertaining. If you're looking for funny couple captions for Instagram, look no further!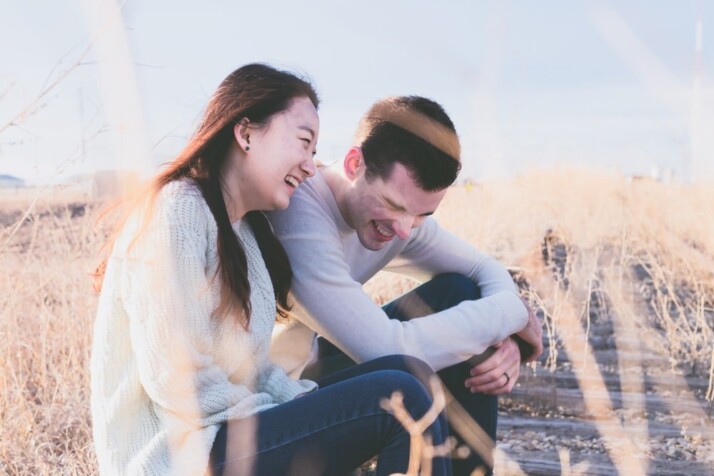 How Does Humor Affect Your Traffic?
Everyone enjoys a good bit of fun and laughter once in a while. Just think how it can completely transform your Instagram caption. Light, funny content tends to amass a large audience because people like sharing entertaining posts and media with their friends.
It's also the driving principle behind viral videos and memes. Moreover, humor is the easiest positive human emotion to elicit. This means that a significant portion of your audience is likely to share your output. Funny content doesn't even need to stand out. If it makes people laugh, it entertains them and makes them feel good.
We tend to gravitate to things that make us feel good. Moreover, laughing is an effective way to reduce stress and creates a positive environment. Humor helps us cope with the stressors we regularly experience in daily life.
The Significance of a Good Photo Caption
Captions are an important part of your visual content because they set the tone for your picture, and they give context. They let authors share the things they think and feel about the photo and experience. In this case, photo captions add another layer of humor to the mix.
Funny captions are very effective at increasing engagement because they are more likely to entertain an audience. The challenge lies in being able to elicit laughter from your audience.
You must strike a balance between humor and tact to avoid offending members of your audience. The best examples of funny captions are jokes that are clever, cheesy, witty, and punny, much like Ryan Reynolds' brand of humor.
You can also choose from a great number of famous quotes to use as long as they capture the thought you want to express.
If you're having difficulty crafting funny captions for couple pictures, try to gain inspiration from the following examples.
30 Funny Couple Captions for Instagram
Why fall in love when I can just fall asleep instead?
Every day I thank my lucky stars that he swiped right.
He has stolen my heart, so now I'm stealing his last name.
I opened my heart to you. Make sure to sew it back closed.
When you're in the room, my heart goes boom!
The best fall I've ever had in my life was falling in love with you.
I'll be annoying you for the rest of your life.
He isn't perfect, but at least he's not from my hometown.
I love you even when I want to kill you.
You're cute.
We still don't know why we're still in a relationship.
You're the only person in the world I'd share my snacks with.
With you, I'm always in a better place. Thank you for cleaning up.
We both like taking long romantic walks – to the fridge.
It all started with Netflix and Chill.
My face cramps up because you make me smile so much.
I want to spend every irritating moment with you.
Hey, by the way, I'm wearing the smile you gave me.
I only stop talking to kiss you.
This one followed me home. Can I keep them?
Our favorite hobby? Flirting with one another.
You're my favorite notification.
You're my better half. Now that I think of it, you're my only half.
I love my crazy, sometimes stupid boyfriend!
No way to keep calm when we're this crazy in love.
I'm happy to be your little spoon.
My partner in wine.
You're the person I will tease forever.
Am I staring at you too much? Sorry, I just can't help it.
Orange you glad you met me?
32 Cute Couple Captions
Fight, make out, repeat. Okay, let's just skip the fighting.
Of all the fish in the sea, I caught you. How lucky I get to be.
We both caught a virus called love. The only known cure left for us now is marriage.
You are my soulmate. I heard it in a song.
All love stories are beautiful, but ours is my favorite.
Forget the butterflies! Whenever I'm with you, I feel like a whole zoological garden.
You're the only one who makes me forget to look at my phone.
In case you forgot how cute we are.
Your hand looks heavy. Here, let me hold it for you.
Life is a journey, and you hold my key.
Love is cute when it's new, but it's most beautiful when it lasts.
New year, same us.
True love never gets old.
A true love story never ends.
You are the best thing that's ever been mine.
I love you, even when I'm hungry.
Loving you is easy.
Once I marry him, he's finished!
Don't love me too much; I may end up marrying you.
Pretty picture, isn't it?
Hey, we clean up pretty well!
Then I remember: Oh, I put up with you, so we're even.
Baby, you light my fire. Sorry about the smoke.
Like rain, I fell for you.
The time you laughed at my first jokes, I fell in love with you.
Flexing my girl/guy to the whole wide world.
You'll always be my favorite hello and my hardest goodbye.
Don't you realize how amazing you are to me?
Husband and wife. They've got a nice ring to it.
It wasn't love at first sight. It took a full five minutes.
Love is the only kind of fire that is never covered by insurance.
Together is my favorite place to be.
16 Food-Related Couple Captions
I love you more than pizza, and that's saying a whole lot.
I love you more than coffee, but please don't make me prove it.
You are my love at first bite.
You're the sweetest pumpkin in the patch.
I'll always bring out the good champagne for you.
You're better than chocolate.
You are too sweet. I don't want to die of a sugar rush.
You're the peanut butter to my jelly.
You're the cheese to my macaroni.
I wine you, and you cheese me.
Two peas in a pod.
We're nuts about each other!
You are the frosting on my cake.
We look at each other the same way we look at chocolate cake.
Like hot chocolate and mini marshmallows.
You make me melt like ice cream on the 4th of July.
The Bottom Line
Funny pairs make cute couples because they make each other laugh. Couples who understand each other's humor are more likely to stay in love and stick together. Searching for a cute Instagram caption for your social media posts can require a lot of work and time.
We took the liberty of building a list of captions for you. Feel free to read and re-read our article. We hope these examples help you find the right words to go with a funny photo.
Explore All
Image Caption Generator Articles