A bit of humor makes everything better. You need only look at Ryan Reynolds and Blake Lively to see how humor can strengthen a bond between couples. They can be witty and entertaining. If you're looking for funny couple captions for Instagram, look no further!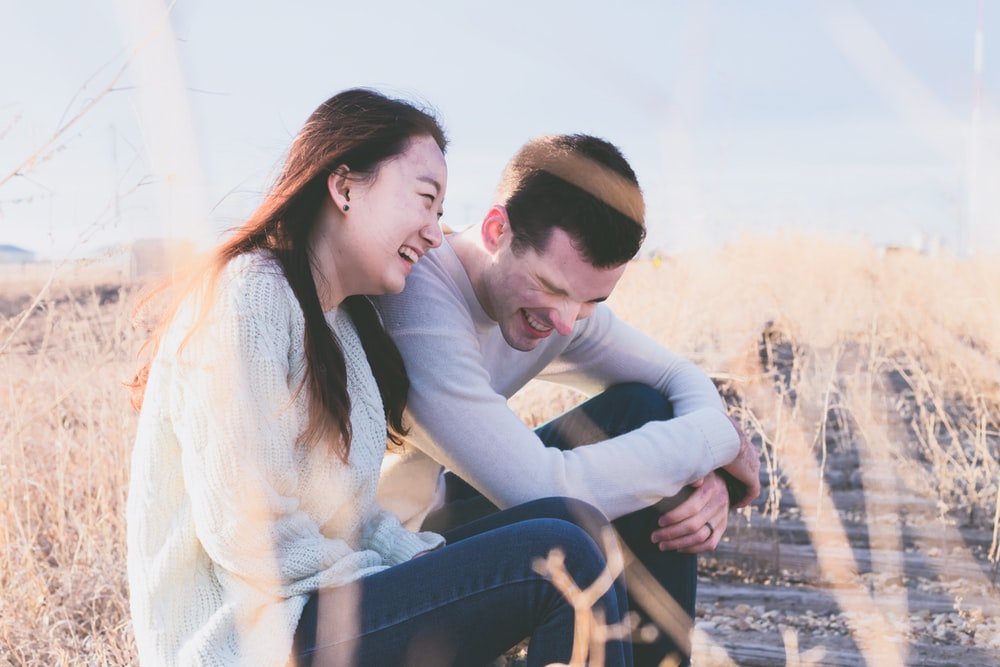 How Does Humor Affect Your Traffic?
Everyone enjoys a good bit of fun and laughter once in a while. Just think how it can completely transform your Instagram caption. Light, funny content tends to amass a large audience because people like sharing entertaining posts and media with their friends.
It's also the driving principle behind viral videos and memes. Moreover, humor is the easiest positive human emotion to elicit. This means that a significant portion of your audience is likely to share your output. Funny content doesn't even need to stand out. If it makes people laugh, it entertains them and makes them feel good.
We tend to gravitate to things that make us feel good. Moreover, laughing is an effective way to reduce stress and creates a positive environment. Humor helps us cope with the stressors we regularly experience in daily life.
The Significance of a Good Photo Caption
Captions are an important part of your visual content because they set the tone for your picture, and they give context. They let authors share the things they think and feel about the photo and experience. In this case, photo captions add another layer of humor to the mix.
Funny captions are very effective at increasing engagement because they are more likely to entertain an audience. The challenge lies in being able to elicit laughter from your audience.
You must strike a balance between humor and tact to avoid offending members of your audience. The best examples of funny captions are jokes that are clever, cheesy, witty, and punny, much like Ryan Reynolds' brand of humor.
You can also choose from a great number of famous quotes to use as long as they capture the thought you want to express.
If you're having difficulty crafting funny captions for couple pictures, try to gain inspiration from the following examples.
30 Funny Couple Captions for Instagram
Why fall in love when I can just fall asleep instead?
Every day I thank my lucky stars that he swiped right.
He has stolen my heart, so now I'm stealing his last name.
I opened my heart to you. Make sure to sew it back closed.
When you're in the room, my heart goes boom!
The best fall I've ever had in my life was falling in love with you.
I'll be annoying you for the rest of your life.
He isn't perfect, but at least he's not from my hometown.
I love you even when I want to kill you.
You're cute.
We still don't know why we're still in a relationship.
You're the only person in the world I'd share my snacks with.
With you, I'm always in a better place. Thank you for cleaning up.
We both like taking long romantic walks – to the fridge.
It all started with Netflix and Chill.
My face cramps up because you make me smile so much.
I want to spend every irritating moment with you.
Hey, by the way, I'm wearing the smile you gave me.
I only stop talking to kiss you.
This one followed me home. Can I keep them?
Our favorite hobby? Flirting with one another.
You're my favorite notification.
You're my better half. Now that I think of it, you're my only half.
I love my crazy, sometimes stupid boyfriend!
No way to keep calm when we're this crazy in love.
I'm happy to be your little spoon.
My partner in wine.
You're the person I will tease forever.
Am I staring at you too much? Sorry, I just can't help it.
Orange you glad you met me?
32 Cute Couple Captions
Fight, make out, repeat. Okay, let's just skip the fighting.
Of all the fish in the sea, I caught you. How lucky I get to be.
We both caught a virus called love. The only known cure left for us now is marriage.
You are my soulmate. I heard it in a song.
All love stories are beautiful, but ours is my favorite.
Forget the butterflies! Whenever I'm with you, I feel like a whole zoological garden.
You're the only one who makes me forget to look at my phone.
In case you forgot how cute we are.
Your hand looks heavy. Here, let me hold it for you.
Life is a journey, and you hold my key.
Love is cute when it's new, but it's most beautiful when it lasts.
New year, same us.
True love never gets old.
A true love story never ends.
You are the best thing that's ever been mine.
I love you, even when I'm hungry.
Loving you is easy.
Once I marry him, he's finished!
Don't love me too much; I may end up marrying you.
Pretty picture, isn't it?
Hey, we clean up pretty well!
Then I remember: Oh, I put up with you, so we're even.
Baby, you light my fire. Sorry about the smoke.
Like rain, I fell for you.
The time you laughed at my first jokes, I fell in love with you.
Flexing my girl/guy to the whole wide world.
You'll always be my favorite hello and my hardest goodbye.
Don't you realize how amazing you are to me?
Husband and wife. They've got a nice ring to it.
It wasn't love at first sight. It took a full five minutes.
Love is the only kind of fire that is never covered by insurance.
Together is my favorite place to be.
16 Food-Related Couple Captions
I love you more than pizza, and that's saying a whole lot.
I love you more than coffee, but please don't make me prove it.
You are my love at first bite.
You're the sweetest pumpkin in the patch.
I'll always bring out the good champagne for you.
You're better than chocolate.
You are too sweet. I don't want to die of a sugar rush.
You're the peanut butter to my jelly.
You're the cheese to my macaroni.
I wine you, and you cheese me.
Two peas in a pod.
We're nuts about each other!
You are the frosting on my cake.
We look at each other the same way we look at chocolate cake.
Like hot chocolate and mini marshmallows.
You make me melt like ice cream on the 4th of July.
The Bottom Line
Funny pairs make cute couples because they make each other laugh. Couples who understand each other's humor are more likely to stay in love and stick together. Searching for a cute Instagram caption for your social media posts can require a lot of work and time. 
We took the liberty of building a list of captions for you. Feel free to read and re-read our article. We hope these examples help you find the right words to go with a funny photo.
Frequently asked questions
How do couples post on Instagram?
Post a new post on Instagram as you normally would. Tap on "Tag people" when you reach the caption screen. Click on "Invite Collaborator", which is just next to the "Add Tag" button.
What should a couple put on Instagram bio?
Restore the bag when it is found..
Boss King. Boss Queen.
I'd be with you until the end…..
You would still dance with me if the entire world were watching. Take your favorite highways and byways..
The peanut butter…
Take me into your loving arms….
Big Spoon
It is yours
Look for the magic every moment.
The saying is, happiness is more about traveling than about achieving it.
"Stress less and enjoy the best.".
The sign here, if you were looking for it, is here.
That doesn't mean you can stop dreaming because you're awake.
Don't let anyone tell you anything else.
And then I'll take a selfie on Instagram. I tried my hairstyle last year. Despite being short, I have a great concentration. Someone will look at you like you are the best thing in the world someday. Do not be afraid to take on adventures.
Perhaps it's because she's born with it, maybe it'll be because she has it.
Under my eyes, I am wearing Gucci bags.
Did I even happen to post a picture if I didn't post it?
Felt cute
Sometimes I amaze myself.
Issues that are more important than Vogue.
99 problems, but no bad angle.
I did not wake up in this way.
Smiles never go out of style.
A sun spotting wherever I go.
There is no substitute for living a happier life than to smile at it.
You're halfway there, believe you can.
Chin up, buttercup!
Make your own reason for happiness.
You are a dog loving person. I love your smile, your eyes.
"Better together"
What has ever happened to me.
"Love you since [the anniversary year].".
Every day, I love you more.".
We are imperfect, but it is not perfect.
You're falling in love all over again.
"I'm the luckiest"
What is love Short Line?
We promise it will be just as impactful as a longer message about your love. Don Byas: "You call it madness, but I call it love.".
"Your life is a beautiful blank canvas.".
If it enlightens you, just do it & throw away logic.
We love doing what we love but you can do great things with a great team.
We have a little spark of inspiration that ignites our souls at night.
Find a purpose that gives you passion.
I feel like you are my favorite hello and my hardest goodbye. Peanut butter to my jelly. There is something wonderful about being together. You cannot live without me, and I do not want to try.
Couple Captions Romantic Couple We share a constant type of love. My understanding of true love is that of you. I have never been more in love with you. You have been my friend since the moment I saw you.
Who is the best couple on Instagram?
Jeremy and Emily Baldoni.
Chrissy Teigen and John Legend.
The Duo of Michael and Carissa Alvarado.
Di Vaio and Brunacci Di Vaiso.
A tribute to Jon Venus and Katherine Moore.
Fulmer's Ned and Ariel.
The two are Timothy DeLaGhetto and Chia Habete.
"Maybe she is born with it.".
You have to be more of you, and less of them.".
"Sunday Funday"
Don't let anyone treat you like you're ordinary.
The girl acts like summer and walks like rain.".
"I'm still waiting for the best of me.".
When you're laughing, life is better.".
You can't go wrong, there's no one better than you.".
My level is just starting.
My better version of myself.
We have some good days again!
Every mistake I have ever made is built into me.
What kind of person can you be?
I am on top of the world.
There will never be a better life. You just need to grow stronger.
Make today so great that yesterday becomes jealous.
When we all are together quotes?
The teamwork and intelligence that win championships are the traits of athletes.
"It is literally true that you can succeed best and quickest by helping others succeed." –.
"In our own way, we can do so little; together, we are able to do so much." –.
Teamwork begins with building trust.