Funny IG captions are perfect for individuals who are often cracking jokes. It can be as easy as emojis or adding a witty hook to the caption.
Funny captions are very effective on Instagram. Posting captions on Instagram that are hilarious, creative, and unique can go viral.
Captions can be a source of inspiration and make you laugh or think. Stylish macho captions can also be a source of interest to your followers, who are attracted to your wit.
We have collected funny, stylish, hot attitudes and a host of other unique groups of captions so that you never waste time with captions again! Let's dive in!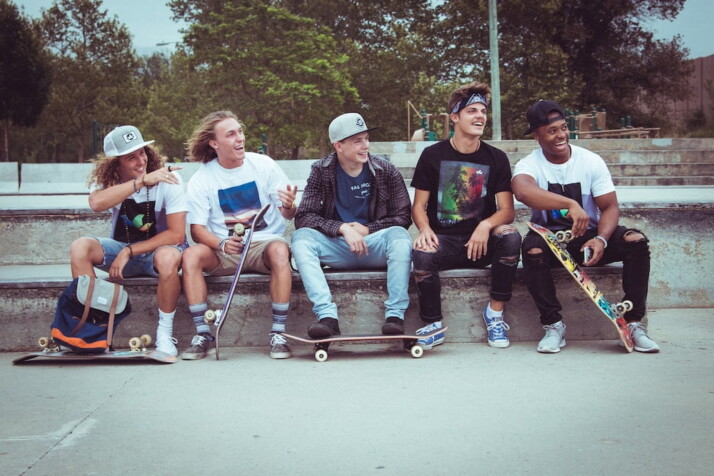 Funny IG Captions for Guys
Hearty Instagram captions make you laugh and lighten the mood on your Instagram story or personal stream. A joke, a funny animal, or a funny quote spices up your feed. Check out these funny IG captions for guys!
Laugh while you have teeth
Laughing is the best medicine to make life better.
Life Is Better When You're Laughing
There are so many beautiful reasons to be happy.
Whatever you do in life, make sure it makes you happy.
Wherever I go, and whenever I go, I want to spread sparkling happiness around.
Stylish IG Captions for Guys
Are your photos stylish but don't know the suitable captions to go with them? We have stylish captions that will stand out in your social media feed. Please have a look at some of our collections below.
100% Savage 100% Classy 1000% Stylish.
Make yourself comfortable.
Only great minds can afford a simple style.
People with status don't need status.
Wear your attitude before clothes because it decides your place.
Wise Sayings Captions for Guys on Instagram
Wise sayings IG never die. A sage quote is timeless and can always be used as social media content to create interest and draw attention to your post. Have fun with our collection below.
A broken heart is needed to be stronger.
Don't be soo easy; let people understand you.
Never depend too much on anyone.
Be silent about your move.
Don't lose yourself for the sake of temporary feelings.
Even god sees your efforts and then decides to help you.
Excellent Group Picture Captions for Boys
It would help if you had some excellent captions when posting pictures with your friends. Here are some essential captions you don't want to miss.
"A single rose can be my garden… a single friend, my world."
"My best friend and I love to make fish faces."
"If you obey all the rules, you miss all the fun."
"Just the way I carry my swag, and I'm humble with it too."
"Sometimes I can't see myself when I'm with you all."
Hot Instagram Guy Captions for Gym Pics
Popular hashtags for these photo-based social media posts will include #fitspo, #fitnessmotivation, and #gymtimelove.
The gym is a great place to have fun and meet interesting people. So, having a few funny captions for Instagram fitness pics can be a good time for you. These captions will save the day!
6ix packs in Progress.
Once you see results, it becomes an addiction
Of course, it's heavy. That's why they call it weight.
Lean and fat people both knock at the gym's door
Exercise now and make your life better
Do I have abs yet?
Attitude IG Captions for Guys
A no-nonsense attitude is defined as a good thing that helps us get things done. Bring on the attitude!
I always laugh when people try to hurt my feelings. As if I have any.
I don't compete for a spot; I am the spot.
I don't take things personally from someone who doesn't know me.
I'm an addict; I'm addicted to success. Thankfully, there's no rehab for success.
I'm like gold; I'm like goals… Baby, I'm chosen; I'm floating.
I'm not weird; I fall outside your narrow worldview.
If your life got more complicated, Congratulations! You just leveled up.
Personality IG Captions for Guys
Personality is the complex network of human traits that drives our thoughts and actions. Some captions convey the thoughts and actions of guys with deep personalities.
It's OK if you don't like me because not everyone has good taste.
You respect me; I appreciate you. Disrespect me, F*ck you.
Success is the by-product of your attitude.
You couldn't handle me even if I came with instructions
Yeah, you know that money talk? I am the ventriloquist.
You Are the Master of Your Attitude.
Your intelligence is my common sense.
Savage Instagram Captions for Boys
Want to give them a savage response? Hate captions on an Instagram pic? Heck no! We'll show you different ways to get the point across captivatingly on your IG profile. Here's how we roll!
Just like the alphabet, dude. I come before U.
Just fitting in is not my style. I was born to STAND OUT.
I want to slap you, but I don't know in which face.
Remember when you were better than me? Ya, neither I do.
So blunt, you can smoke my truth.
The trash gets picked up tomorrow. Be Ready.
You're on a different road. I'm in a Milky Way, you want me down on earth, but I'm up in space.
Wrapping Up
Funny IG captions for guys can be a great way to add some humor to your IG profile by using your favorite phrases.
We hope you find all the captions beneficial. Need more personalized captions? Use INK's image caption generator.
Explore All
Image Caption Generator Articles