Tending to your plant takes time, love, and care. And the joy is just overwhelming when everything blooms to its full potential. Show it off to the world with amazing pictures and garden captions for Instagram.
If you're a proud owner of a flourishing home garden, there's no reason not to flaunt the beauty with your friends and followers. Whether you grow flowers, veggies, or exotic herbs, we have a list of the best garden captions to wow your audience and boost engagement.
Why Write Garden Captions for Instagram?
Many people use Instagram to share their significant moments in life, whether this is a vacation or an activity. Instagram allows for creative expression. And no other social media platform is as inherently visual as Instagram. So, when you do all the hard work to grow your garden, it's only natural to want to share the results with your followers.
Moreover, sharing garden pictures with unique captions will draw in more audience and help you connect with people of similar interests. Garden captions are a great way to show your emotions behind the beautiful blooms.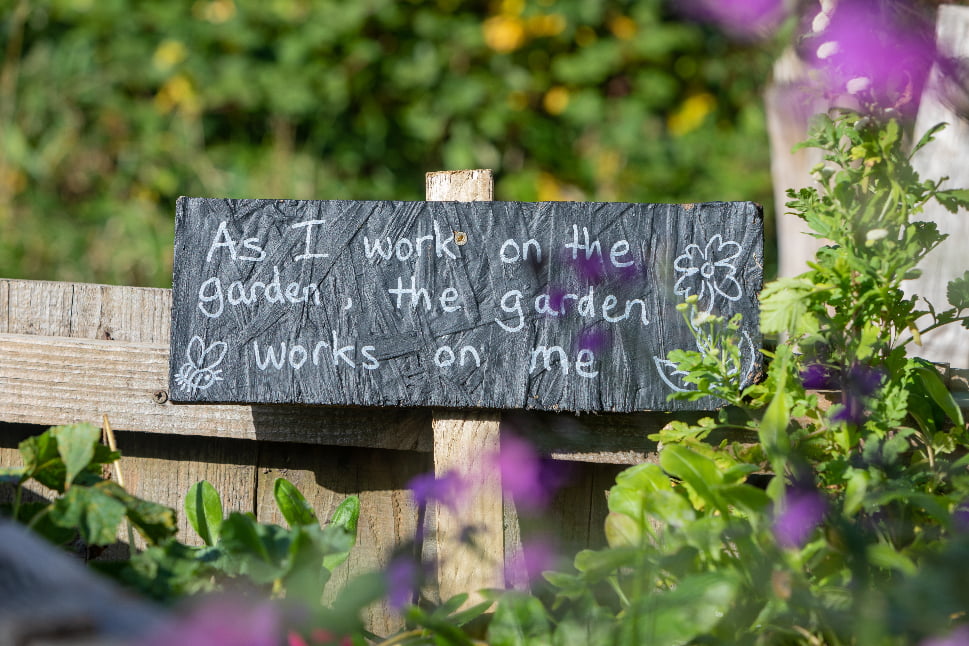 The Best Garden Captions for Instagram
Sharing captions is one of the most popular ways for people on Instagram to connect with other gardeners. It helps you share your adventures in the garden and get inspiration about gardening.
When sharing garden posts on Instagram, think of beautiful and clever captions to bring the botanical beauty to life. Here are some of the best garden captions and quotes for inspiration.
Beautiful Garden Captions for Instagram
Happiness blooms in my garden.
Welcome to my wonderland.
Always remember your roots.
Life is sweeter when you have a garden
Wish you lots of gorgeous garden goodness
In the garden, you are never lonely
A garden doesn't just grow; it blooms.
Giving that perfect finishing touch!
Gardens remind me of the occasional miracle
Welcome to our little patch of paradise
Happy Garden Captions for Instagram
I'm so in love with this time of year
Ready, Set, Plant! Happy gardening this weekend!
Ahh, nothing like the sight of a beautiful garden
Treat your eyes to this fresh, inspiring garden of delights
Having good thymes in the garden.
Never underestimate the healing power of a quiet moment in the garden.
If you look the right way, you can see that the whole world is a garden.
Happy spring! Here's to growing the gorgeous garden of your life.
Flowers & Vegetables Garden Instagram Captions
We can all use more flowers in our lives
In a field of roses, be a wildflower
My soul speaks in flowers
Where flowers bloom, so does hope.
No need to travel far to see vibrant colors
You can't buy happiness, but you can buy flowers, and that's pretty much the same thing.
The garden is a place to relax, reconnect with nature, and enjoy the fresh produce
Do not judge each day by the harvest you reap, but by the seeds you plant
Funny & Witty Garden Captions for Instagram
I think my soil-mate is my garden.
Help, I've pollen, and I can't get up.
Say aloe to my little garden.
I have so mushroom in my heart for this garden."
My garden has really taught me to be-leaf in myself.
In my garden, you can't let little things bug you.
Grow big or go home.
Whoever has time for drama is not gardening enough.
Home Gardening Captions & Quotes for Instagram
Blooming with gratitude
My garden is my best bud.
Gardening doesn't have to be hard
I can't think of a better way to warm myself up in the winter.
There are always flowers for those who want to see them.
Gardening simply does not allow one to be mentally old because too many hopes and dreams are yet to be realized.
Focusing on the beauty of nature with flowers, fruits and vegetables is always a welcome distraction
Goodbye heat, humidity, and baseball. Hello, cool breezes, crisp days, and fresh green growth.
Conclusion
Capture the beauty of your garden blooms and spread love and positivity with the world. And when it comes to writing captions for Instagram, it's important to consider not only your audience but also your own message. So, we have the perfect garden captions to show off your garden and complete the post with your family and friends.
Frequently asked questions
My medicine is nature.
Nature should be adopted.
Nature never lies
Wild animals call out loud and true.
Feel most alive wherever you are.
While there is no Wi-Fi in the forest, I promise you'll find better connections.
If you love nature, you will find beauty everywhere.
What are some nature quotes?
We have heaven under our feet as well as over our heads. —.
It's not that the earth wants to feel your bare feet or the winds want to play with your hair. — .
Nature is not perfect, but everything is perfect.
If you look deeply into nature, everything will become more understandable. — .
What are the beautiful Captions for Instagram?
"Look for magic in every moment.".
Do not forget that happiness is a way of travelling, not a destination.
Here's a sign you could see if you were looking for one.
What you want to do is relax and enjoy the best.
Make yourself yourself. There is no one better than you.".
I'll stop dreaming just because I'm awake.
How do you comment on a beautiful garden?
Great job!
I love the way you've arranged the plants in this bed.
I am so impressed with this garden you built.
We love this garden!
Your plants look healthy and happy, and I am impressed.
It is so peaceful and relaxing in your garden.
What a gift you possess is gardening.
I am taught by nature.
Nature is important to you.
Flowers are laughter on the earth.
We are the wild!
Nature is the best place to heal and revitalize.
Life is an adventure.
Smell the sea and feel the sky. Thence let your soul and spirit fly.
Green vibes only
What beautiful scenery or what a beautiful scenery?
Scenery is, by definition, a singular uncountable noun, so to speak, an uncountered noun. This means that the correct location would be as follows: "My beautiful scenery!
What is a scenery quote?
Nice scenery is fine, but human nature is finer. Beautiful scenery and what we have here on this Earth make me very curious. Take a break and enjoy the scenery. Drive fast and enjoy nature. Everything can be improved with a change of scenery.
How would you describe a garden?
A garden creates a plan that is usually outdoors, that is planned to showcase plants and other plants.
What should I Caption my garden pictures?
Some people are cat ladies.
Let's keep grapevine in the garden forever.".
6 "
I have good thymes in the garden.
I see happiness blooming in my garden.
I will be in my garden if you need me.".
"As a kid, I loved "The Secret Garden.".
"Sunday Funday"
You don't need anyone to be yourself.
Life is much better when you're laughing.".
She walks like rain and acts as if she were summer.
"Be more of you, instead of being more of them.".
Never let anyone treat you like a normal person.
It may be that she came from it.".
There is still a lot more to come.".
When you have your own garden quotes?
Gardening is wonderful: hands in the dirt, head in the sun, heart with nature. The goal of a garden is to feed both the body and soul. – Alfred Austin "Growing with the Seasons: Sharing Insights into the Creative Aspects of Organic Gardening".
There is no limit to what I can do.
A sunset shouldn't go unnoticed.
You can find happiness at sunset near you.
It is a thousand colors in the sky.
A little bit between heaven and earth.
Keep an eye on the sun wherever it leads.
Showers in April bring many flowers.
Plant your flowers where they are planted.
The dirt must grow for every flower.
Flowers are happiness
Happiness is found within.
You would be my choice if you were a flower.
The wildflower can bloom in a field of roses.
Give it a chance to blossom your dreams.
How Does Your garden Grow quote?
Mary, Mary, is quite contrary, How does your garden grow? With silver bells, and cockle shells, And pretty maids all in a row.