A graduation photo is a perfect way to showcase your happiness, spirits, and the accomplishment of a long road of hard work. You'll want to remember one of life's most crucial turning points with a few Instagram photos and, of course, the best graduation captions!
We have compiled amusing and inspirational graduation captions and quotations below. Read on!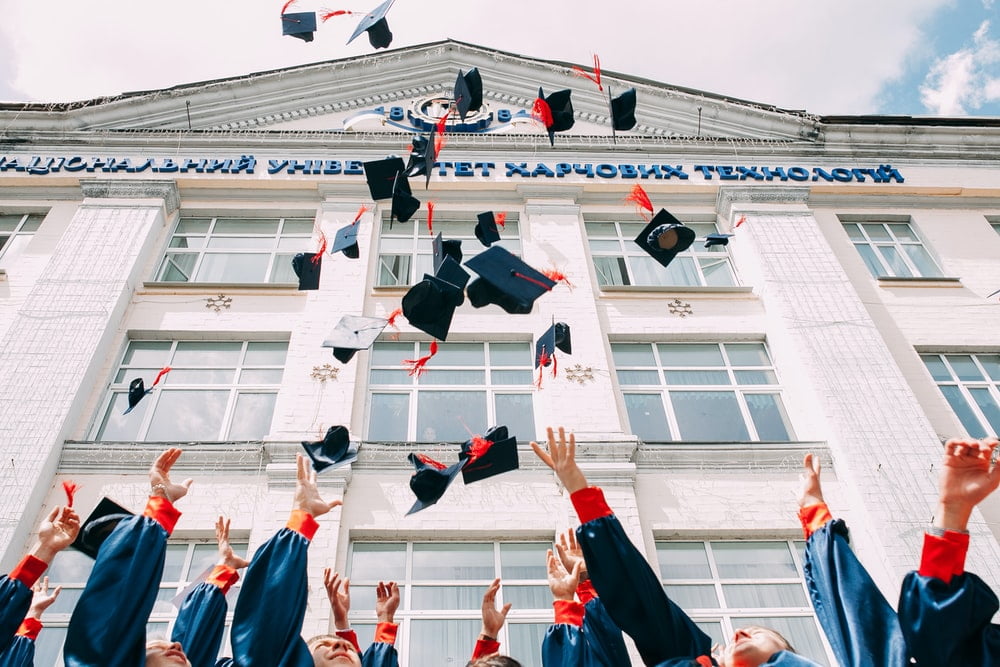 What is Graduation?
Graduation day marks the end of something. It is the beginning of something new, whether it's high school, college, a romance, or entering the real world.
Over 6 million students graduate from high school every year in the United States. What does this mean in its simplest form?
Graduation is the time to celebrate the end of a long period of being a student and the beginning of a new chapter!
Through graduation images and poems, we wish to motivate you to convey your thoughts.
Funny Graduation Captions
A picture's worth a thousand words, but these captions can add even more! Let's start with a funny graduation photo with a great caption.
Time to walk across the stage in my weird little hat and wizard robe unto the future.
This is my fancy piece of paper, so I can finally earn some green paper.
I mean, finally!
Some graduate with honors, I am just honored to graduate.
This tassel was worth the hassle.
Sweet Graduation Instagram Captions
Graduation is a difficult time for all. We are glad and relieved to be able to move on with our life. But our memories, accomplishments, and wins will be with us forever.
Behind me, all my memories. Before me, all my dreams.
Fasten your seatbelt, it's about to be a wild ride.
To accomplish great things, we must not only act but dream.
Remember, graduation is not the end. It's the beginning.
Con-grad-ulations—we did it!
Motivational Graduation Captions
Graduation is a time of celebration, but it is also a time to reflect on what you have done and plan for your future. Explore your memories and find what it was like to be in school, and use it as inspiration to create your own captions.
They say to take pride in how far we've come, but we should also enjoy the journey.
There are far better things ahead than anything we leave behind.
Failure is an inevitable step toward success. Now, I'm ready to go make some mistakes.
All paths are different, and I'm excited to see where this crazy life takes me.
Stretch out your branches like the tallest tree because you're free to choose your path.
Quotes Inspired Graduation Captions
Graduation is a time of change and growth. It's the time to celebrate and enjoy what you have accomplished, and what you have to look forward to in the future.
"And now, let us step out into the night and pursue that flighty temptress, adventure." —Dumbledore (J.K. Rowling)
"How lucky I am to have something, that makes saying goodbye so hard." —Winnie-the-Pooh
"Live! Live the wonderful life that is in you! Let nothing be lost upon you. Be always searching for new sensations. Be afraid of nothing." —Oscar Wilde
"Education is an admirable thing, but it is well to remember from time to time that nothing that is worth knowing can be taught." —Oscar Wilde
"Goodbyes make you think. They make you realize what you've had, what you've lost, and what you've taken for granted." —Ritu Ghatourey
Use Song Lyrics as Instagram Captions for Graduation
Graduation is a time when students are able to put the past behind them, and begin a new journey in life. It can be tricky, but with the right education, guidance, and perseverance, you can have an amazing life ahead of you!
"Today is where your book begins. The rest is still unwritten." —Natasha Bedingfield
"So just think of your future, think of a new life, don't get lost in the memories, keep your eyes on a new prize." —Paramore
"Ain't about how fast I get there, ain't about what's waiting on the other side. It's the climb." —Miley Cyrus
"My wish, for you, is that this life becomes all that you want it to. Your dreams stay big, your worries stay small. You never need to carry more than you can hold. And while you're out there getting where you're getting to, I hope you know somebody loves you, and wants the same things too. Yeah, this is my wish." —Rascal Flatts
"It's something unpredictable, but in the end it's right. I hope you had the time of your life." —Green
To Wrap Up
Graduation is an exciting but often confusing time. Make your own customized cute graduation captions to help you make this big day even more special.
Frequently asked questions
What are good short quotes?
Impairment is for the unwilling.
Don't tell people about your plans.
If we stick to it long enough, we can do whatever we want.
Try Again
To stay sane, you should stay foolish.
It's completely possible. Click to tweet.
Diamonds are free of pressure.
Go left when nothing goes right.
I did not wake up like this.
But no bad angle made it through my 99 problems.
There are more issues than Vogue.
I'm wearing bags from Gucci under my eyes.
What happens if I don't post a photo?
There are days I amaze myself.
Felt cute
Maybe she is born with it, perhaps it is the filter.
What are some good graduation Captions for Instagram?
Wings are strong, so we fly.
Cap. Gown. Get down!
The memories that remain behind me are all gone. The dreams I had before me.
Hair is not worthless!
To new beginnings
Fasten your seatbelt, we're about to hit the road.
I can imagine the places we will go.
Getting my day going is great.
What is a good quote for graduation?
It is my belief that life is a journey that will fulfill your purpose and potential in the years to come." "There are no regrets in life.".
How do you thank everyone for graduation?
I am reminded of all who have touched my life at graduation.
Thank you
You are a huge part of my college graduation party.
Thanks for sharing this special day with me.
Late nights and long mornings have been a long journey, but I made it!
Thank you!
How many days have you left until graduation, Siri?
All the work you want starts here.
I have never seen Senior Sunday look better than today.
This wasn't like High School Musical..
There's the final countdown.
Your cap will fly as high as your dreams.
Senioritis is real
No days. Keep the days count.
How do you post graduation status on Facebook?
Tap your name on Facebook's top right.
You may also like What's on your mind?
Select a category
Post details like photos or a location.
How do I start a graduation speech?
Introduce yourself to your audience Most introductions acknowledge the occasion, thank, and lead to the main idea. Shutterfly recommends openings like these. "Thank you" (person who introduced you). I salute the students, teachers, parents, and staff who made this four-year experience everything they were.".
What should I Caption my cap and gown pictures?
The tassel was worth the hassle.
It was embarrassing to wear the same thing on all of us.
"I'm going to stand out until you notice me.".
We are all the same here.".
I wish your hats will fly "as high as your dreams.".
What are 5 positive quotes?
It's not good that time passes.
Keep your face always toward the sun, and shadows will fall behind you.".
They who will try will find nothing impossible.
"Nothing is impossible
"When you have a dream, you must grab it. You must never let go.".
"Life has its twists and turns," ".
How do you write a graduation post on LinkedIn?
First, log into LinkedIn.
Using the "Edit" button, navigate to your profile.
Make LinkedIn your first place educational place.
Creating a Graduation Post Step 4.
Conclusion
Frequently Asked Questions
The first step is just to show up.
It's only when you believe in yourself that you can find the beauty of the future.
Good things must come to an end, but this is only the start.
Let's go on to my next adventure.
The future is ahead of me.
Enjoy the journey
Take the risk, and make the mistake.
What do you say in a graduation speech?
Introduce Yourself
Thank Everyone
I thank the previous speaker.
If you can, please share some good advice.
Reminisce about the good times.
Cite your motivation
Quote Your Motivation
What to Do
How do I post to Instagram?
You can try the + icon at the top of your screen.
Take a photo or video from your library where you can shoot it in the app.
Publish multiple photographs on Instagram.
Crop the image
Pick a filter
Edit your photo
Type your caption
Keywords can be used to optimize posts.
What should I write on my graduation slide?
Let's just go for it.
Let your hunger guide you when you learn.
Keep it to you!
It payed off all the hard work.
Congratulations!
Congratulations on the best!
Are you ready to face the world?
You did it!