It's always beautiful to be on the trail. And when it comes to Instagram, it doesn't take much planning to make an outdoor photo post-worthy. All you have to do is pick the best hiking IG captions for your hike pictures.
Captions are powerful – the best captions can get you more likes and post shares. But sometimes, putting the right words together can be challenging. Below, we've provided some hiking IG captionsto help you add an extra flair to your Instagram photos.
The Best Hiking IG Captions
Hiking is fun and challenging, and it is always part of life's adventure. It's also one of the best ways to exercise and explore the surroundings.
So it's hiking season, and you're spending lots of time outdoors and taking jaw-dropping photos. Attaching clever captions to your photos when sharing them on IG will get your followers' attention.
Below are some of the best captions to use when sharing your hiking photos on Instagram.
Hiking with my birches.
Therapy is expensive; nature is cheap.
Come hill or high water.
Peaks, or it didn't happen.
Never take hiking for granite.
I'm exploring, not lost.
Hiking is what I live for.
I could walk for hours and never see the same tree twice.
Trail mix and hill, not Netflix and chill.
I don't need views because I am the view.
Work hard. Rest hard. Hike harder.
The journey is always more beautiful than the destination.
Hike with the wind at my back, not the work.
Hiking is the best way to avoid people.
Hiking is good for my mental health.
I'm gonna need extra fried after these exercises.
Mountain air is the best.
Cute and Short Hiking Captions
Through the woods and over the river.
Life gets better when you're in hiking boots.
My favorite mood is being wild.
Following happy trails to happy places.
Always a step ahead.
Exploring never ends for me.
Nature showed off today.
A whole world to see, nothing to lose.
Taking a detour.
Life is meant for great adventures with good friends.
When you have a hiking buddy, life is fun.
Hike more, worry less.
Different altitude, different attitude.
Never too old to play outside.
When life gives you mountains, put your boots on and hike.
Embrace the detours.
You keep me safe; I'll keep you wild.
A journey well shared is a journey well enjoyed.
Wish you were here.
Move the body, still the mind.
Tree's company.
Think outside – no box required.
When life gets hard, head for the hills.
Open hearts, open minds, and open trails.
Inspirational Hiking Quotes for Instagram
Ain't no mountain high, ain't no valley low, ain't no river wide enough, baby." — Marvin Gaye and Tammi Terrell.
"Nature is not a place to visit. It is home." — Gary Snyder.
"What a wonderful world." — Louis Armstrong.
"Take me to the lakes where all the poets went to die. I don't belong, and my beloved, neither do you." — Taylor Swift.
"Running up that road, running up that hill, running up that building." — Kate Bush.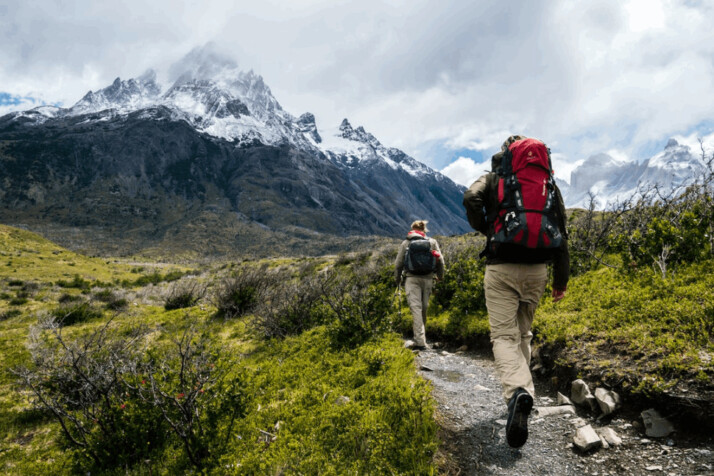 To Wrap Up
This article listed some of the best Instagram captions that you can use when sharing your hiking photos on Instagram. Whether you're just beginning or have recorded a few hiking trips, these captions are guaranteed to get your Instagram followers talking!
Explore All
Image Caption Generator Articles