Colored powder, water balloons, and Spring. These are the things that Holi is most known for. Holi marks the beginning of Spring and the spirit of new beginnings. The festive season is best captured on selfies, and they are a fun way to represent the occasion.
We've collected a list of holi selfie captions that you can use for your Instagram posts. Read on to check them out.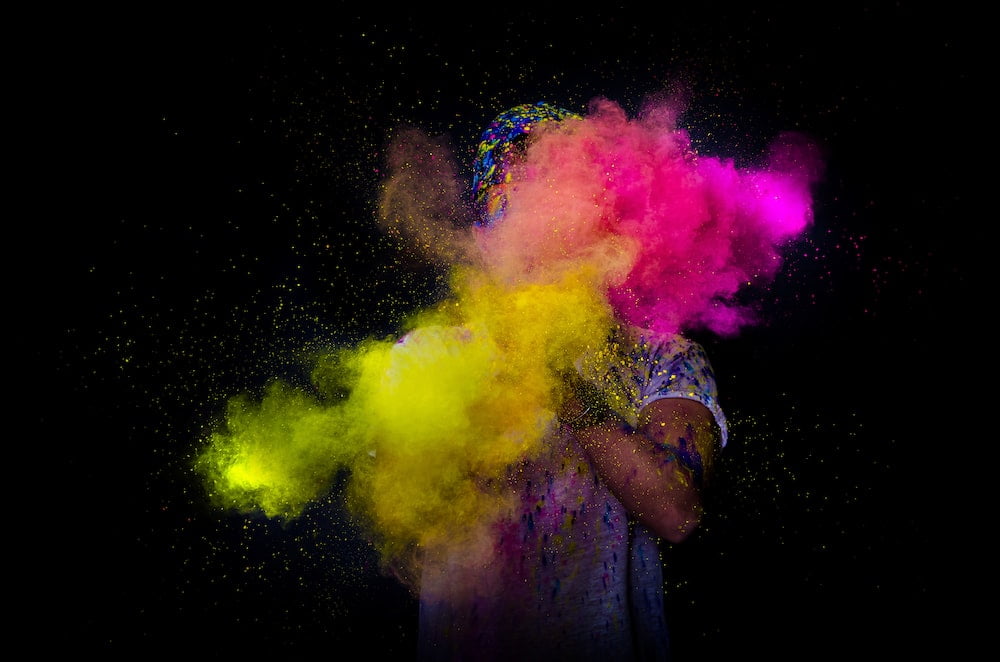 What is Holi?
Holi is an annual Hindu festival celebrated in Spring. In Holi, Participants throw colored powder, water, dyed, colored water, and perfumed water on friends and loved ones. It honors the beginning of Spring and symbolizes the triumph of good over evil.
The Story Behind Holi.
According to several works in Indian Literature, an evil king became so powerful that he forced followers to worship him as a god. But, the king's song, Prahlada, continued to be faithful to the Hindi deity, Lord Vishnu.
The king plotted with Pralhada's sister to kill him. Holika, the sister, was immune to fire. She tricked Prahlada into sitting in a pyre with her.
When the pyre was lit, Prahlada's devotion to Lord Vishnu helped him walk away unscathed while Holika burned.
On Holi, entire streets and towns turn red, green, and yellow as people throw colored powder into the aid and on others. Each color holds a special meaning.
Red – Love, fertility
Green – New beginnings and new harvest
Yellow – Health
Blue – Lord Krishna
Why Do You Need a Good Caption?
Captions are vital because authors want people to understand exactly what the picture is trying to convey. If you're feeling fuzzy on the intricacies of what Holi is, you can use these captions to help you remember. If you want your audience to appreciate your Holi selfie, publish it with a clear and concise caption.
Moreover, captions prevent misinterpretation of your pictures.
As with all holiday-related captions, Holi captions should convey festive energy. Your words need to be positive and celebratory. Don't use these captions as a tool for self-pity, as this will only draw attention to your pain and make you look undesirable.
33 Holi Selfie Captions
Enjoy the day. Make this the best Holi yet!
Have a happy and blessed Holi!
Happy Holi!
May we let this day bring more love into our lives.
Fill your life with colors of happiness.
Make a splash this Holi to spread cheer and joy all around.
Spreading happiness with colors.
Adding more color into my life every day, just like you have colored my cheeks today.
Spreading the message of peace and happiness through the colors of Holi.
Wishing everyone a wonderful Holi.
Holi is the celebration of unity because everyone seems to be of the same color.
Today's the day to express your friendship.
Embossed the hues on love.
With all the bright hues of love.
Let's make our memories a little more colorful.
Holi is the day to share the love by painting faces.
Wishing you and your family a happy Holi.
Have a very happy Holi!
Your smile splashes rays of hope.
My squad makes my life more colorful.
Colors are what make us feel alive.
Wash fears and insecurities away with colorful waters.
I'm loving these colors because they remind me of you.
Blushed my cheeks, colored my soul!
Light up the fire of unity and burn the flames of indifference! Happy Holi!
Sprinkle some colors on this dull life.
The only festival where color doesn't define you.
Paint your life's canvas with beautiful holi colors.
Holi is the perfect day to celebrate the colors of our beautiful relationship.
#health #god #celebration #occasion #bless #prosperity #wishes #auspicious #holi #good #happy holi.
Let this occasion be a celebration of reunion, togetherness, and love.
Style is what I carry. Colors are just an add-on.
Best wishes to you for a Holi filled with sweet moments and memories to cherish for a long time.
The Bottom Line
Holi is a holiday in India that is best celebrated with friends and family. Their celebrations make for some really colorful scenes. We hope this article helps you write catchy captions to match the festivities.
Frequently asked questions
How do you wish Holi in unique way?
Wishing you and your family success, happiness, and prosperity this Holi and always! Have a joyful and colourful Holi!". I wish God blessed you with all of the colours of life, colours of joy, colours and happiness, colours, friendships, colors, and love that you want to paint your life.
Why is Holi celebrated in short?
Also celebrated during Holi are the Hindu god Krishna and the legends of Holika and Prahlad. An evil king was Hiranyakashipu. In addition to his extraordinary powers, he wanted everyone in his kingdom to worship him. He became so powerful that he began to act like a god and punished or killed anyone who disobeyed him.
How do you celebrate Holi?
Festival of ColorsHoli / Observations.
How do you wish at a festival?
A symbol of power, strength, and energy! -.
We wish you a life filled with virtues and victories. Happy Mahavir Jayanti!
Your life will be full of happiness and success on Ram Navami day. # .
Wallpaper Downloads
Is it appropriate to say Happy Holi?
Happy Holiday = Happy with Love and bright ideas. Wish you had spread incredible colours of life to everyone and colour their mood in your style. You will find the colours of Joy, Love, Happiness, Prosperity, Good Health, and Success painted on the canvas of your life. Wishing you a happy holiday!
How do you comment on Holi pictures?
Colored my soul, cleared my cheeks.
Let's dissolve our egos in the fire, color our souls with empathy and love.
Let your inner child be free this Holi.
Celebrating colors, celebrating friendships.
There's more to life than a festival of colours.
How do you say Holi in India?
Holi is India's two-day Hindu spring festival. Festivals called street festivals, in which people cover each other with colored powder, are particularly popular. Holi is the same as holy.
Who Holi 2022?
| Holiday | Date | Days to Go |
| --- | --- | --- |
| Holi 2022 | Friday, March 18, 2022 | -168 |
| Holi 2023 | Tuesday, March 07, 2023 | 186 |
| Holi 2024 | Monday, March 25, 2024 | 570 |
| Holi 2025 | Friday, March 14, 2025 | 924 |
What time is Holi celebrated?
This year, Holi falls on March 18, while Holika Dahan falls on the evening of March 17. Drik Panchang states that Purnima Tithi begins at 1:29 pm on March 17 and ends at 12:47 pm on February 18. The Holika Dahan Tithi will last from 9:00 pm to 10:00 pm on March 17.
How do you wish Holi our friends?
The vivid colors you use during this happy Holi would bring to your life. Happy holidays to you. – May god bless you all the colors of life, colors of joy, colors and happiness, colors, friendships, colors love, and all other colors you want to paint in your life. Happy Holi.
How do you say Happy Holi to your crush?
God may shower his blessings upon you on the auspicious occasion of Holi. Homi brings you luck and prosperity in life. The best wishes and thoughts I can have for you on this happy occasion are with you, though I am far away from you.
How do you wish Holi quotes?
Wishing you the best of luck in the year to come.
The holiday is a day to make amends and honor friendships.
Your love and compassion fill my life. Happy Holi!
I hope you have as many blessings this year as the lights of Holi!
Happy Holi!
Hopefully your holiday is filled with friendliness and joy.
What do you say on Holi?
Let this sunny day be bright and sunny so we can play our holidays with peace and joy. Holi! May your loved ones surround you with the colors of love and happiness you feel this Holi will bring! I wish you a very happy holiday!
What is the meaning of Happy Holi?
Radha Krishna's eternal and divine love is celebrated during this festival. It also signifies the triumph of good over evil, and it depicts Lord Vishnu's victory over Hiranyakashipu as Narasimha Narayana.
How can I protect my face from Holi colour?
Immediately before you play Holi, apply body lotion to your body. Apply Vaseline over the eye area and rub a dash of baby oil over the nails and eyelashes. Wear full-sleeved clothing to avoid direct exposure to color.