While traveling alone or with your significant other can be enjoyable, traveling with friends has a unique charm.
Nothing is better than traveling with friends, from the late-night discussions about pre-planning your trip to the shared memories of past adventures. Because of this, we made a list of the top Instagram captions for trip with friends to use when posting photos to Instagram.
If you like where this is going, keep reading!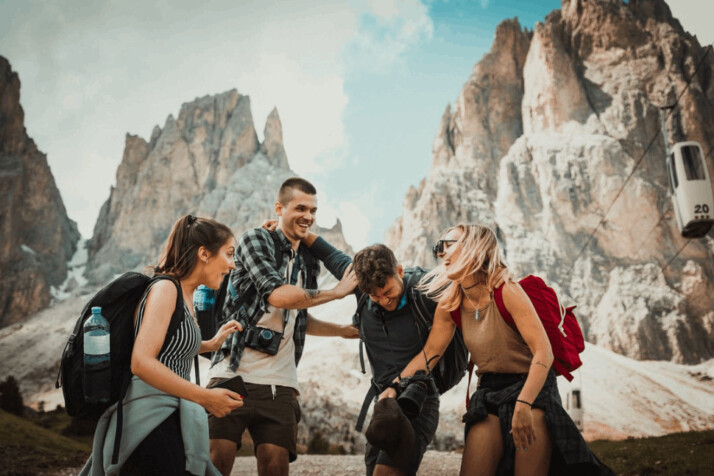 Why Travel The World With Friends
Best friends make for the best travel companions. You must schedule travel throughout your life. You have infinite opportunities to explore the world, so make the most of your time available to see everything there. Traveling with friends makes the experience more memorable.
You should bring some captions for a trip with friends if you're going on vacation with your group. You will, without a doubt, take many incredible photos to capture all the fun times you have with your best friends. The memories will last a lifetime with the help of photos documenting your experiences.
Whether you're exploring new trails, swimming in the deep blue sea, or dining on regional specialties.
You need a fantastic caption for every picture-perfect picture you have for your trip with friends. Make posting simpler by having a travel with friends caption (or quote) prepared. This is because you might be too busy sharing stories, catching up, and enjoying the scenery.
To write the greatest captions on traveling with friends, we compiled some quotes about traveling below. Some of them are our own quotes, while some of them are quotes from other people. You can use all of these quotes without any hesitation in your Instagram captions!
Best Instagram Captions for Trip With Friends!
Everything in life is better with friends — including traveling!
We've come a long way, but I couldn't have done it without knowing my friends would have my back!
I wish I could stay in this place forever, but my friends aren't feeling the same!
I love leaving home but also coming back to it.
Follow your heart — and follow your friends!
Every journey with a good friend is instantly better!
There are no strangers out there, only friends you haven't met yet.
Whenever I feel down, I think about this moment and remember how much fun we had that day!
Do you want your travels to never end? Take a friend with you next time!
There are no bad places to visit if you have some funny friends traveling with you!
This was a terrible day, but look at how happy we are at this moment! This is the magic of traveling with close friends!
Remember, there are no random people along the way. You just haven't befriended them yet!
The best way to enjoy life is being with people we call friends!
We had so much fun that we never wanted this journey to end!
No journey is ever too long if you have a funny friend cracking jokes all the way!
"Listen, I have an idea." This short sentence is the start of every great adventure!
Let us go; we have no time to lose!
There is no right age to start your travels. You are never too old to travel either!
More Travel Quotes for Going on Trips With Friends
To travel is more than reaching your destination of beautiful beaches. It is the journey to get there, and the best journeys are with best friends!
Waiting for the best time to leave? There is no best time, go out now!
I met this good friend in a great place called Puerto Escondido. I didn't know we would become best friends and go on many adventures together!
Let's stay here a moment; I told my friend. No, she said — new adventures await us!
What does happiness mean? For me, it's enjoying life and knowing new places around the world with friends!
Road trip time — Live a little!
Life is a lot harder if you are trying to make it alone!
Who doesn't love a crazy trip with their best friends?
Inspire others to walk together with you!
Don't look at people on Instagram living their life to the best. Go out and live your own with friends!
I want to go to new places and meet new people!
The world is too big to travel alone. You need a good friend to help you along the way!
Life is best when you have more people around you!
I will walk forever on any road with these blokes!
No road takes too long with a funny friend.
The quality of people in your life means how much you are going to cherish life. So find some good people to travel the world with!
If you want a good life, choose the best people around you.
Even More Travel Quotes You Can Write on Your Instagram Captions!
There's nothing like going on a trip with your buddy. Yes, the person you love also makes a good travel friend, but buddies are the ones you get into adventures with!
I need to know the world and travel more! Would you like to accompany me?
A good life is having many best friends that come to your funeral.
You need more friends that know and love you. And I'm not talking about your friends on Instagram!
Final Thoughts
We hope you liked our compilation of the best Instagram captions for trip with friends. You can use any of these quotes for your own captions without asking for permission.
If you liked our article, feel free to share it with your travel buddies as well! Wishing you the best in your travels!
Explore All
Image Caption Generator Articles