What could be more beautiful than a mountainous setting? You've come to the correct place if you're searching for a complete collection of mountain Instagram captions.
For your convenience, we've compiled a variety of mountain captions, including short captions for mountains and inspirational quotes. Each mountain photo is unique, and each landscape picture deserves a special caption.
You will find plenty of inspiration and the ideal fit for your message. It doesn't matter if it's the Rocky Mountains, climbing in Switzerland, mountaineering, a day hike, or a breathtaking viewpoint!
So, without further ado, let's look at the best mountain captions for Instagram!
Why Write Captions for Your Mountain Photos On Instagram?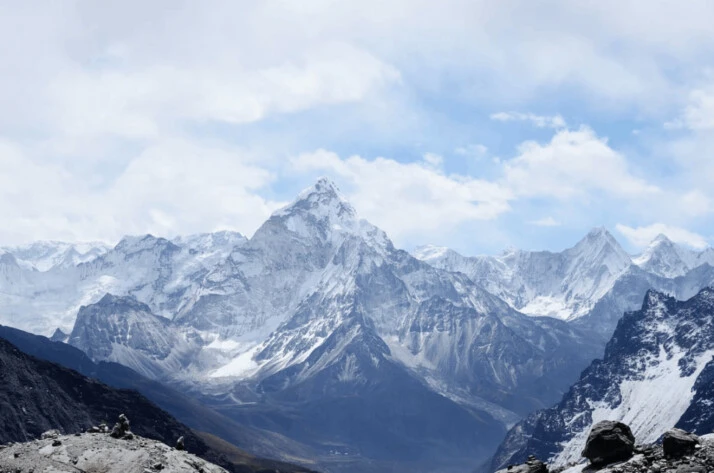 Simply "showing up" with a post won't get you the same level of engagement due to the photo factor. A robust visual component will capture your audience's attention but won't drive conversions. Because of this, a well-written caption with a special message and perhaps a CTA can significantly affect your Instagram results.
The photo's visual message can be expanded upon by using the caption.
Instagram captions should be as long as necessary, depending on how much information they need to convey. If your point can be covered in a single paragraph, keep the caption concise and avoid unnecessary detail. However, if your story requires five sections to tell, don't shave off any of them to save space.
The majority of Instagram users prefer using fewer words. They come to the platform to view the pictures and videos, not read continuous text updates. The goal should, therefore, typically be a concise paragraph.
Although most users don't use Instagram to read lengthy posts, some accounts have been able to utilize it more like a microblog. These accounts write extended captions to tell stories, share updates, and ramble on about whatever is on their mind. This kind of caption may be effective if your content justifies your content. Each Instagram post is limited to 2,200 characters.
Best Mountain Captions for Instagram!
Feeling high right now.
This moment is the peak of my life.
Open air and coffee. What more can a man want?
I climbed a mountain today. Why? Because it was there.
It's not that I'm excited about the snow or that I get to climb a mountain with snow. #snow #mountain #peak
The view from the top of a tall mountain is breathtaking. #mountains #snowy #peak #sunset #sky #skyblue
The time it took to reach the peak was 3 hours. The joy of seeing the world from this altitude: is priceless.
This is peak mountain right here.
I love hiking. Incredible to see this mountain from the top.
It was hard getting up here, but this mountain top is the best view of my life.
Conquered this mountain. Time for a new mountain!
The view from the mountains is simply incredible.
This is a picture of my friend's house. It's in the middle of a mountain and next to a river.
The perfect place to relax and unwind after a long week. #relax #mountains #river #sky #sunset.
If you want to feel life with all your being, think about climbing mountains. It's worth it.
These mountains gave us a good challenge, but we finally made it.
Big adventures start with a single step.
My heart led me to climb mountains!
This adventure made me feel alive! If you have a mid-life crisis, climb some big mountains.
Never Look Back.
Sometimes you need to climb a mountain.
Climbing mountains all the time. Ain't no Wifi here!
Change is a good thing.
Climb some mountains, and live a little.
Mountain view, campfire, and mountain breeze. My favorite three things in life.
More Mountain Captions for Instagram
What an incredible hike we've had today. Conquering this mountain was something I needed to do!
High mountain — short caption.
I need fresh air, coffee, and mountains.
The world looks fantastic from the hills!
Happiness is knowing that I will climb this mountain tomorrow.
A new journey into the wild!
It was a challenging climb but worth it just for the view.
My body feels small, but my soul feels large here.
Waiting for the sun the rise here!
Warning: This adventure includes images of high altitude!
It's time to climb the mountains!
Out of my way — I have a mountain to climb!
So happy I'm here. I just achieved another dream of mine!
Travel the Earth to climb mountains.
Go big or go home.
I like this place; I may climb it again.
Do you think it's a coincidence that like and hike rhyme? #hikelife
Change your attitude today.
What memory will you leave to inspire other people?
I missed staying near the mountains. I am looking forward to the day I leave the city to spend my days here!
I'm going to climb my way!
Great nature awaits you.
This is the view of my life.
Standing here and staring at the stars.
Care for wildlife so that we don't lose this.
This is the end.
Climbing to the top of the mountain made me realize how small we are.
Your mountainous adventure awaits.
I loved reaching the summit of this mountain.
Would you LIKE to HIKE?
Leave me by the mountains; I'll manage.
Me at Everest. This is the time I felt most alive. Courage to scale.
It's a good day to go hiking in the mountains!
Take a good look inside and follow your heart.
Our climb begins!
Even More Instagram Mountain Captions!
They say faith and love can move mountains. I'd climb them instead!
Enjoy the experience.
Are you seeking quiet? Do you look for a place that is free of stress? Come to the mountains, brother.
Good to know I have lived my life to the fullest.
Think I can climb these mountains?
Sun, nature, and mountains. What more can a man ask for?
Forget about traveling; climb the nearest cliff!
Make sure you are prepared before you begin climbing mountains. It's a beautiful world; however, be careful. This can be life or death.
I like hills. I love mountains!
I think about being in the mountains when I'm not in the mountains.
The great wild is calling you right now.
There is no quick way to climb mountains. You have to take them head-on!
No wood? No problem!
The trees look so tiny from here!
Hike more, men!
I need help to climb this mountain. Is anybody up for it?
Walk until the winds stop you.
Lead the way into the hills.
Everyone thinks of climbing a mountain, yet only a few go on this challenging trip. Be one of those few.
Final Thoughts
We hope you enjoyed our compilation of mountain captions for Instagram. You can utilize these captions for your posts freely. If you liked the article, make sure you share it with your friends as well.
Explore All
Image Caption Generator Articles