You have numerous stunning scenery photographs of mountains, forests, lakes, and beaches to post on Instagram, but you're at a loss for caption ideas?
Are you seeking nature captions for your Instagram page? You'll find them here. We recommend these captions for your nature pictures to make them pop.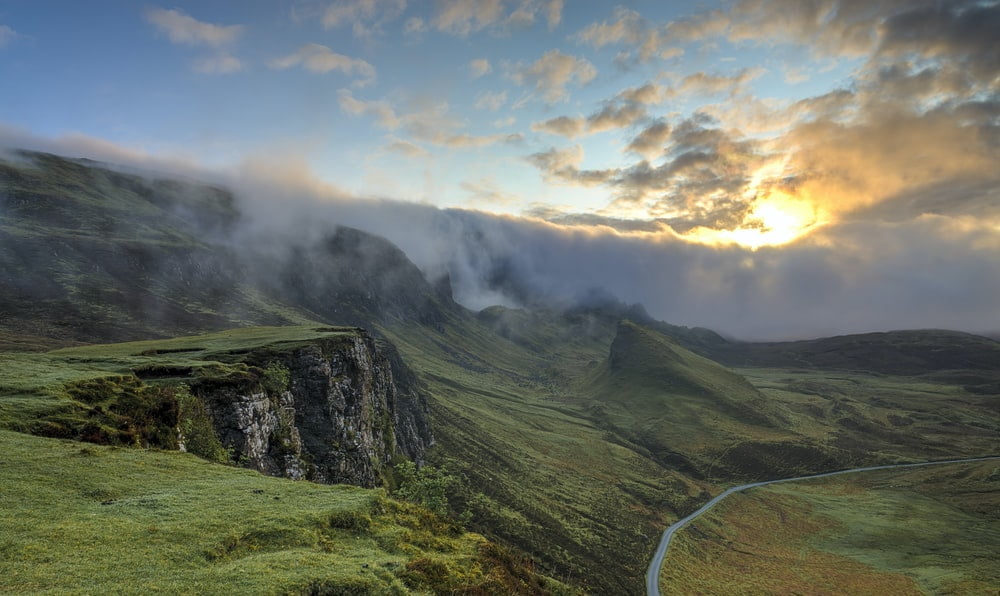 Best Nature Captions for Instagram
Think of your Instagram photos as a work of art. Captions act as your commentary. They're your interpretation of a scene captured in our natural world.
Here are some of the best Instagram captions about nature. You'll find short, thought-provoking captions for your Instagram nature photos here.
Mother Nature is putting on a show.
Difficult roads often lead to beautiful destinations.
Nature doesn't ask for your attention. It commands it.
Say yes to new adventures.
Grass between my toes. Wind in my hair. Sun on my face.
Short Nature Captions for Instagram
The most beautiful thing in the world is nature. There are so many things to see, so much to discover, so many beautiful places to visit, and so much fantastic scenery to photograph. 
Nature not only captivates our senses, but it offers us wonder and awe. To share your experience with others and capture the awe of what we see, here are short nature captions for Instagram.
Nature never goes out of style.
Always take the scenic route.
Heaven on earth.
Nature is my medicine.
This is my happy place.
Inspiring Samples of Nature Captions for Instagram
People love using Instagram to share their life with the whole world. Whether a photo of a beautiful day, their breakfast, or even their pet, Instagram has made it easy for anyone to post.
Here are some inspiring samples of nature captions for Instagram.
Get outside and shine like the sun above your head.
It's a big world out there… Explore.
It's hard to walk in nature without gaining perspective.
Don't go through life; grow through life.
Heaven could be anywhere. Why not here?
INSTAGRAM CAPTIONS ABOUT ENJOYING NATURE
Captions and the filter can do different things to the mood of your photo. Most people love being outside and enjoying nature, whether on top of a mountain or swimming in the ocean.
Here are some great Instagram captions about nature that you can use with your photos.
This is where I belong.
I wish my eyes could take photos.
Disconnect from Wi-Fi. Reconnect with nature.
Communing with nature most beautifully.
The Great Outdoors.
Instagram Captions About Outdoor Adventure
Nature captions for Instagram are a great way to get the creative juices flowing and make your pictures stand out.
If you're looking for various captions, make sure to look through these sample captions.
Even if you're not posting pictures of nature, sometimes it's nice to share a moment with the outdoors. If that's the case, these nature captions will inspire you!
If you need me, I'll be outside.
Never too busy for friends & nature.
Surround yourself with nature. You'll feel better.
Change yourself, not nature!
Go where you feel alive.
Nature Photography Captions for Instagram
Capturing nature is a popular activity on social media sites. Are you lacking captions for your nature posts? This article will help you plan out your Instagram feed.
If you haven't discovered the perfect Instagram caption for your nature photographs, here are some additional options!
To be at one with nature is to be content with life.
Stormy seas crash and bang with wild and wonderful abandon.
Breathe in the crisp mountain air. You'll feel glorious.
Swapping the concrete jungle for a jungle jungle.
Stop. Sit. Watch. Be still. Never rush through nature.
Hilarious Nature Captions for Instagram
 Captions are an opportunity to share your surroundings with the world and give other people the chance to enjoy your own experiences. Here are some hilarious nature captions for Instagram.
Mother Nature is my kind of girl.
Tree cheers for the weekend!
The view is tree-mendous!
Tree-t yo'self.
Nature called – I said "I'm omw".
Love Lines Related to Nature for Instagram
Creativity and imagination are why people use Instagram in the first place. So, here are some love-at-first-sight images that are the more creative side.
You leaf me breathless.
Here's my lumber. Call me maybe.
I'll always root for you.
I'm waterfalling for you.
I lichen you very moss.
Calm Nature Captions for Instagram
Nature is one of the most critical things in the world. Being in nature is a truly calming experience. Our thoughts might wander, but we can relax, savor the fresh air, and reflect on the day. It's uplifting to see a picture with a peaceful text!
Tranquil sounds capture my mind.
Outer peace meets inner peace.
I think I shall never see a poem as lovely as a tree.
To walk in nature is to witness a thousand miracles.
In the trees, in the breeze. Seek nature's peace and bliss.
Caption for Wild Nature
Share Instagram images of dawn over mountains, wild animals, or nature with thought-provoking captions. Be uplifted by the great captions you find here!
All good things are wild and free.
The call of the wild is loud and true.
Just because my path is different doesn't mean I'm lost.
Stepping into the wild.
It may be cold out, but my soul feels warmed by the wonders of the wild.
To Wrap Up
You don't want to ruin the experience of looking at nature, so you want to capture it in words and captions. These captions take any nature photo and make it enjoyable.
If this sounds like a hard thing to do, don't worry. These ideas will help you get better at capturing nature in Instagram captions.
Frequently asked questions
Do it where you feel most alive.
I am a medicine of nature.
The forest lacks Wi-Fi, but I promise you'll find a better connection.
Nature never lies
Wild animals call out loudly and honestly.
Nature is at its best.
I am confident you will find beauty anywhere if you love nature.
It is amazing how complete one becomes when one thinks that beauty is goodness.
In addition to all the misery, I notice the beauty that remains.
Beauty is everywhere, but not everyone sees it.
In beauty, a woman is not defined by facial expressions, but soul is reflected by her true beauty.
What are some nature quotes?
Nature is imperfect, and nothing is perfect.
It doesn't matter how much you love your feet and how much the wind wants to play with your hair. — .
Look deeper into nature, and you will understand everything better. — .
We find heaven both under our feet and over our heads. —.
Don't listen to those who speak behind your back; they're behind you for some reason.
Keep going until you are proud.
Simple things don't come into play in a busy day.
Dreams are free, but hustles are separately sold.
Make sure that you don't forget about yourself.
As soon as you become fearless, life becomes unlimited.
Remember that happiness is a way to travel – not a destination.".
You cannot be anything better than yourself.
If you're awake, you shouldn't stop dreaming.".
Relax less, enjoy the good life.".
"Look for magic in every moment.".
You can find a sign here if you are looking for one.".
It's easier to stress less and enjoy the best.
The stars were jealous of her sparkle.
Get out there and live a bit.
My truth isn't going to be sugar coated, I'm not going to lie.
Do whatever is good for your soul.
You are just low effort in my opinion.
It won't get any easier. It is just that you need to grow stronger.
Every mistake I have ever made has built me up.
Be your best self.
Make today so awesome that yesterday is jealous.
I'm a better version.
We've enjoyed the days once again!
I have just leveled up.
I'm the best in the world.
My teacher is nature.
Take a stroll through nature.
Flowers laugh on Earth.
Wild man!
Taking the time to recharge and heal is best done by nature.
The adventure of a lifetime.
Feel the ocean and sky. Let your spirit and soul fly.
Green vibes only
What is a scenery quote?
Beautiful scenery is something I am fascinated by here on earth. The scenery is fine, but the human nature is finer. Take a slow drive and enjoy the scenery – take a fast drive and join the scenery. Change of scenery can help.
I am so grateful to be sharing my world with you.
Everything I do is filled with kindness.
I have a happier life than my daydreams.
You are welcome here in the sunshine.
Life itself is more important to me than my followers.
You've given me so many smiles.
I am sure that all your dreams will come true.
I'm your queen, baby, you're the king. Love is the best when it comes to self-love. No matter what, I'll never let you down. My better half.
Dr. Reuben keeps the doctor away with a selfie a day.
Confidence level: no filter.
I'm kind of into it.
Beast mode
But first, selfie
I drink coffee first, and then I do the things.
Just me
Skarism is my native language.
What are 5 positive quotes?
Every life has its twists and turns.
"Nothing is impossible
They are welcome to try, but there is nothing impossible to them.".
"Time is flying," says the bad news.
Keep your face always toward the sunshine, and shadows will fall behind you.".
When you have a dream, you must grab it and never let go.
What I want is something I do.
Always classy, doesn't make a mistake, and a little bit sassy.
Simpler things stay out of the way during a busy day.
It's only possible to please one person a day.
It is true that I only wanted pizza, so that's the difference between a pizza and your opinion.
If you listen closely, you will hear me without caring.