A picture says a thousand words but conveys even more with a story context. A compelling caption can make your image more appealing, engaging, and perfect. As a photographer, photography captions for Instagram are a great way to fire up your killer photos, driving more traffic to your page.
Clever captions can attract the right audience, increasing bio visits and click-throughs. This guide lists some of the best photography captions you could use for your subsequent IG post.
Why You Need Great Instagram Captions
Captions provide more context and add personality and style to your photos. They express your thought and tell the story behind the image, making it easier for viewers to understand the message you're trying to convey.
Visuals are great, but captions can do what they can't. A picture with a powerful caption can record more success in terms of engagement and traffic than one without a caption.
As a photographer, posting jaw-dropping pictures isn't enough. A perfect caption "completes" your post, making it more appealing and engaging to the right audience. Great captions can increase the number of shares, likes, comments, and follows to your page.
The Best Photography Captions for Instagram
Whether you're a seasoned social media star or just starting, captions can be the missing ingredient your photo needs to stand out. Here are some of the best photography captions for Instagram.
Adjust your focus when life gets blurry.
With a camera in my hand, my fears are gone.
Photography is a story I can't put into words.
When I'm asked what equipment I use, I respond – my eyes.
The photographer and viewer are the two people in every photo.
I wouldn't need a camera if I could tell the story in words.
Somedays, I am the flower. Somedays, I am the rain.
You don't take a photograph. You ask quietly to borrow it.
Only going places that spark joy.
Great Photography Captions for Instagram
My passport is my camera.
Dear camera, I promise never to forget to use you.
If friends were flowers, I'd pick you.
Nature is the art of God.
I like to photograph others before they know what their best angles are.
Take memories, leave footprints.
Lightning is incredible.
What powers the bird is its life and motivation.
A forest wilderness is the clearest route to the universe.
A picture never chances, even when the people in it do.
Nature Photography Instagram Captions
Spring is nature's way of saying, 'Let's party!'…
Adopt the pace of nature. Her secret is patience.
The richness I achieve comes from nature, the source of my inspiration.
The flower doesn't dream of the bee, it blooms, and the bee comes.
Feeling good-natured.
High Tides, Good Vibes.
Colors are the smiles of nature.
Choose only one master—nature.
By discovering nature, you discover yourself.
Nature is pleased with simplicity. And nature is no dummy.
When it Rains, Look for Rainbows. When It's Dark, Look for Stars.
Plants Photography Instagram Captions
I like my plants like I like my thumbs – green
Cactus makes perfect.
You prickle my fancy…
You can never have too many plants.
Always rooting for you!
Say aloe to my little friend!
Plants don't tell; they show…
My new addition is suc-CUTE-lent.
Plant lady is the new cat lady…
Growth looks good on you…
Just another succulent appreciation post…
I'm telling you once and flora…
I like big plants, and I cannot lie…
Flower Photography Captions for Instagram
Live life in full bloom…
My love for you blossoms every day…
Flowers are happiness.
Happiness blooms from within.
If all else fails, wear purple.
Life began in a garden.
Let your dreams blossom.
Life is better with flowers.
Don't worry, be purple.
Hey, bud – I didn't seed you there!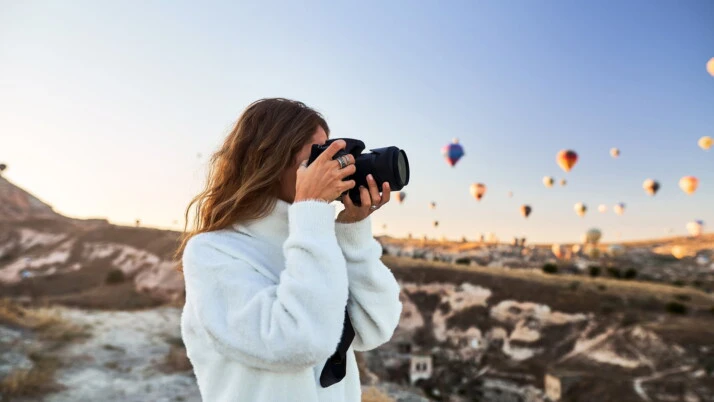 To Wrap Up
Instagram captions serve as a summary of your photo. It's an excellent opportunity to be creative and original with your pictures and convey your thoughts and feelings.
Captions are great for starting a conversation and getting people to interact with your posts. They may also include links to your website and hashtags that allows Instagram users to find your post easily.
Explore All
Image Caption Generator Articles