Videos and images can be great promotional tools for your brand. But without a compelling caption that provides context to your content, your posts can come across as generic and forgettable. With the best promotion captions for Instagram, you'll get more engagements on your posts, boost sales and increase brand awareness.
Your Instagram caption has to convey just as much information as your photos. Creative Instagram captions can make followers interested in whatever you're selling. In this guide, we've compiled some of the best promotion captions for Instagram that'll get your followers acting.
Tips for Writing Great Instagram Captions
Captions are as crucial as visuals themselves. Rather than think of them as an afterthought, put some effort into writing one. Great captions can potentially engage and delight your followers in ways visuals cannot. Here are some tips for writing better Instagram captions.
1. Provide your audience with context
Without clear context, your viewers will find it challenging to understand your image. A great caption should accompany your Instagram post. It should efficiently describe the image shared, explain its relevance, and include an action you want your followers to take.
2. Stick to your tone of voice guidelines
The tone of voice is your brand's voice in written communications. It is a unique tone peculiar to your brand.
You might be great at creating content for your target audience, but your brand will appear indistinguishable from others without a unique voice. Stick to your brand voice when you write captions for your Instagram posts.
3. Keep it short and clear
Think of your caption as a description of your photo. It should effectively tell the story behind your image with few words. A long-winded caption can be boring and challenging to read.
Ensure every sentence is significant in your caption and doesn't leave room for confusion. Short, attention-grabbing captions are more effective than overly long ones.
4. Include Emojis
Emojis are a great way to fire up your Instagram captions and make them more captivating and appealing. They're a fun and easy way of expressing things that may be too difficult to describe accurately. Ensure that the emojis you choose relates to your image. Also, use them sparingly.
A great way for Instagram users to find your content is by using hashtags. Hashtagging your captions will let other users find your post and interact with it. It's a subtle way of advertising your brand to Instagram followers. Interested users may even start following you to see more of your posts.
6. Include a strong call-to-action
Incorporating a strong CTA in your caption is essential to growing your business. Your CTA should be in line with your post's intent. Strategically use your caption to engage your audience.
If you want to start a conversation, you could ask a question. You can also use others like: "Click the link in bio, Sign-up or purchase" to elicit an action.
The Best Promotion Captions for Instagram
The key objective of an Instagram caption is to attract the eye and cause your audience to engage and interact with your post. You want them to check your profile and then perhaps follow you.
Your caption is the first line of interaction with your followers. How you craft one will determine if they'll give you their attention or not. Here are some of the best promotion captions for Instagram.
Events Instagram Caption Ideas
Join us this Saturday for [event] at [venue]. Click the link in the bio to register.
We'll be live at [city] for the biggest event ever! We'll love you to stop by.
*Limited Offer* We'll give out free items at our store this weekend. Click the link in the bio for more details.
Sign-up for our upcoming webinar! Link in our bio!
Contests Instagram Caption Ideas
The price could be yours! Join our contest. To participate, [details]
Giveaway time! Stand a chance to win [prize]. Check contest details in bio.
We're giving out some of our products to our loyal followers. You could win your favorite product. Join the contest by following these rules [details]
Sales Promotion Captions for Instagram
10% off on all our products only for today! Click the link in the bio to shop. Hurry before the sale ends.
Save 20% when you use the code [code] to shop.
We love holidays just like you do! So we're giving you a little gift. Claim your gift by clicking the link in the bio.
Have you tried our latest product yet? Shop on our website to get a 5% discount. Link in bio.
Product Launch Caption for Instagram
We're bringing something exciting your way. Watch this space.
We're cooking up something. Are you excited? Get ready for the big announcement in a bit.
You asked; we answered. We're excited to unveil our new product line with improved features. Stay tuned, so you don't miss out on the reveal.
We have the most innovative solution to your [challenge].
Our latest product is perfect for [pain point]. Get yours today.
It's finally HERE! The biggest product of all time [details].
Instagram Caption Ideas for General Promotion
It's time for [your product]!
The more [your product], the better.
You + [company] = the perfect match. [Explanation].
Introducing to you our new favorite [description].
We have a new blog post up. Click the link in the bio to see.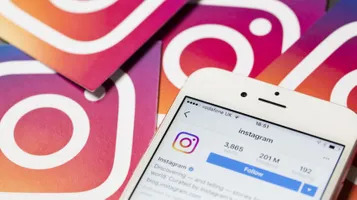 To Wrap Up
One last thing to remember when writing Instagram captions is that you are writing for an audience, so try to tailor your message accordingly. You can appeal to your audience simply and effectively using words, analogies, or humor. Consider your tone of voice and include a solid call to action. Remember to keep it short, engaging, and appealing.
Explore All
Image Caption Generator Articles