Walking is a fundamental bodily function. It gives us the freedom to move from one place to another, and it allows us to experience the best of life. It reminds us to take the slow, scenic route once in a while.
We have cars, planes, and ships. We tend to forget the natural beauty that surrounds us because we pass them in a blur. If you need help finding the words to express your thoughts, try these walking captions for Instagram.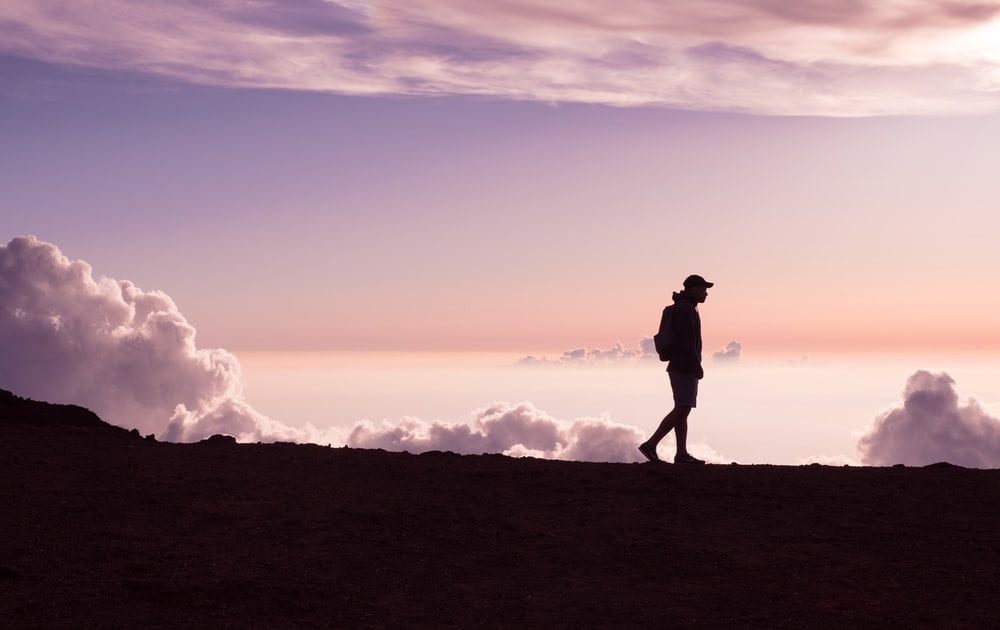 Reasons You Need a Good Instagram Caption
While most users dismiss captions as a simple wall of text, effective marketers and social media managers understand their actual value. Good Instagram captions serve as a way for businesses and individuals to share a story with their audience. 
They help users connect with their audience on a deeper level, and it encourages them to like, share, and comment on their content. They give friends and followers a view into your thoughts, feelings, and opinions. 
Captions are also a great way to allow your product or brand to stand out from the competition.
30 Walking Captions for Instagram
Walk through life with minds wide open.
Walking is the best way to get inspired.
Live life by a compass, not by a clock.
Life's best views come after the most arduous climbs.
Good friends listen to your adventures. Best friends make them with you.
It's time to walk the talk.
May your trek through nature lead you to your true self.
I'm always one step ahead.
To walk fast, walk alone. But to walk far, walk together.
Walking lets me feel closer to the world.
A walk in the woods can leave you breathless.
Life is full of ups and downs. Always walk on the right path.
A walk in the woods can replenish your soul.
When you aren't in a hurry and want to take it all in.
Walking is awesome. Thanks for being awesome.
Few things are better than a refreshing walk after a good lunch.
Walking is my hobby.
Walking is an adventure in the unexpected.
I prefer walking to running, but I'll jog if you promise cupcakes at the end.
I'm writing this from a walk.
I'm walking with the breeze in my hair.
Running is better, but I like walking.
Walking in the sunlight is like walking on the moon.
If two people walk together, they always find their way.
Some women want diamonds. I just want to walk.
Let's wander where the Wi-Fi is weak.
Off to great places. Today is my day. My mountain is waiting, and so I'm on my way.
Good company makes a long journey seem shorter.
Come at sunset. Leave before moonrise.
The Earth offers music to those who listen.
Bonus: 7 Trail Hiking Instagram Captions
They told me to take a hike, so I did.
Many of life's best memories are made in hiking shoes.
I'd instead be hiking on a rainy day than sitting at a desk on a sunny day.
Hiking is the answer. Who cares what the question is?
People can hike the same trail twice, but the experience is always different.
The trail begins where the signposts end.
Life begins at the end of our comfort zones.
5 Famous Hiking Captions
"The mountains are calling, and I must go." — John Muir.
"The journey of a thousand miles begins with a single step." —Lao Tzu.
"It's not the mountain we conquer, but ourselves." – Sir Edmund Hillary
"There are no shortcuts to any place worth going." – Beverly Sills
"A walk in nature takes the soul back home." – Mary Davis
The Bottom Line
Few things can match the beauty and simplicity of a morning walk. It helps people appreciate the small things that we tend to care little about in the rush of modern life. A short walk can help you remember the good things in life. 
We hope these simple examples give you an idea for writing a caption for your next picture.
Frequently asked questions
What are some nature quotes?
You will become better acquainted with nature when you look deeper into nature. — .
Let us not forget that the earth delights in feeling your bare feet and the winds longs to play with your hair. — .
Heaven is under our feet as well as above our heads. —.
Nature's no-one is perfect and it is all perfect.
All good things begin with wild and free.
Too much fresh air isn't good.
Wonder Wander Repeat
I am a hiker.
Take a hike and less worry.
I always think about you, mountains.
Hiking like a girl is something I try to keep up with.
Space above, earth below, peace within.
What do adventures do?
It is an exciting experience or undertaking that is typically bold, sometimes risky. Adventures are dangerous activities such as traveling, exploring, skydiving, mountain climbing, scuba diving, river rafting, or other extreme sports.
My level is now higher.
It won't get easier for you. The only thing you need is to get stronger.
Every mistake I have ever made has built me.
It's back! Happy days!
Make yourself the best version of yourself.
I am top of the world.
I am a better version of myself.
Make today so amazing that yesterday is jealous.
Simple, cute, and classy.
50% savage, 50% sweetheart
Escape the ordinary
Let's live good relationships.
There's a bright future ahead.
We live for these kinds of days.
The fact that coffee helps is a fact.
We can expect the best.
What should I Caption my Instagram?
Doctors stay away from taking selfies every day.
Frequently, I sarcasm
No filter for confidence.
Beast mode
This is kind of a big deal to me.
Just me
But first, selfie
I drink coffee and then I do the things.
Even though there is no Wi-Fi available in the forest, I promise, you will be able to connect more easily.
Embrace nature
The beauty you find anywhere is available to you if you love nature.
Place where you feel most alive.
Nature never lies
Wild life has a call that is loud and true.
My medicine is nature.
"You do you"
"Oh hey there"
"I can tell you the world.".
At the beach
"I'll do me"
"Sunday funday"
"Morning gram"
"Let it be"
What in your life is an adventure?
"Life itself is the biggest and grandest adventure of my life.". You never know what you'll find in a few minutes or seconds, so don't fear that you are going to make it.".
How do you enjoy life quotes?
Let all happen to you.
Life is about living it, taste experience to its fullest, and reach out eagerly and without fear of new and richer experiences.".
If everything is good, life is either a daring adventure or nothing at all.
"Don't exist
"Cherish your solitude
What to say about trekking?
"Everything is worth twice its usual value after a day's walking." "A walk in nature leads you back home." "Everyone wants to live on the top of the mountain, but all the happiness and growth happens while you.
My place is now my happy place.
There is anything on my bucket list.
Leave only footprints, only take pictures.
Say no to new adventures as much as possible.
The world is wide and the life is short. Let me get started.
New routine: Journey with me. Explore.
Just going to places that spark joy.
Bring a calm spirit to every situation.
The mountains are like leaving home.
Beauty is part of life. Notice it.
– Katrina Mayer
"If you love nature, you will find beauty everywhere."- Vincent Van Gogh.