That cute selfie deserves a spot on your Instagram feed. And it deserves an awesome caption to go along with it! If you're out of ideas for a good caption, we've got your back. Check out the 70+ witty Instagram captions for selfies we've listed in this article.
You're sure to pick something that will perfectly fit your photo, from cheeky captions to clever and creative quotes. This article will also cover the importance of captions and how they can impact your Instagram presence.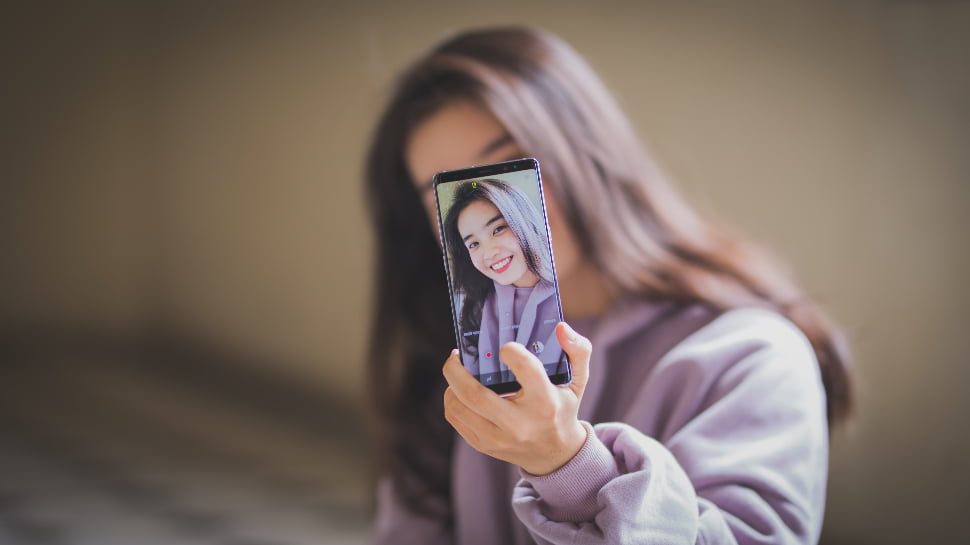 What Makes Selfies so Popular?
Everybody's doing it, from celebrities even to politicians. A lot of people LOVE taking selfies for a lot of reasons. One of which is because taking a selfie allows us to express our creativity. It's all about self-expression.
Selfies are also a great way to connect with people who you don't get a chance to see face-to-face often. You can stay connected with friends you haven't seen in a long time just by sharing selfies.
Taking selfies has never been easier, thanks to the front cameras on our phones. And this worldwide phenomenon is not going anywhere anytime soon.
Importance of Having a Good Caption
With a good caption on your post, you can make a simple photo really stand out. Not only does it give more context to your post, but it also helps you tell a story differently. It has been proven that posts with captions perform exceedingly well on social media than those without.
70+ Clever and Witty Instagram Captions for Selfies
Heart eyes just for you.
Decluttering my life from toxicity.
It's not that I'm high maintenance. You just exert zero effort.
Whatever makes you happy, do that.
Coffee is life
Loving myself a little extra today
You may regret some things, but you'll never regret being kind.
Being kind never goes out of style.
A little lipstick and a lot of confidence.
If I were funny, I would have a better Instagram caption.
This is the most magical photo you'll ever see today.
Just like it already.
I'm smiling. I swear.
Confidence level: No filter selfie
I followed my dreams, and it led me to the mall
She was born to be a star
I heard you wish I took a selfie today. Wish granted.
Be savage, never average.
Run the world as Beyoncé does
I'm not weird. I'm just a limited edition.
Life is short. Smile every day while you still have teeth.
Classy, never trashy, and a little bit sassy.
Choosing to protect my peace of mind
You'll hear me not caring if you listen closely.
A pizza and your opinion are different because I only asked for pizza.
I'm still under construction
Don't ever let anyone make you feel like you're nobody.
Be yourself. There's no one better.
Life is better when you're laughing with friends
Be more of you and less like them.
Maybe she's born with it. Maybe it's just a filter?
Working hard, partying harder
Made you stop and stare, didn't I?
Embracing the glorious mess that is me.
Feeling lucky like four leaf clovers
Too lazy to fix my hair
Life is all about little things.
Keeping my standards as high as my heels
What a good day to take a selfie
Short Captions
Oh, hey there.
Sunday is a fun day.
Let it be.
Selfie break
You do you.
I can show you the world.
Morning gram.
Mentally at the beach.
All about the vibe.
Pizza on my mind
I want it. I got it!
Escape the ordinary.
#selfie
I woke up like this.
It's sexy time
It's not a phase, Mom
Wine about it
Big hoop attitude
Smile, it confuses people
Classy AF
Pretty in pink
Life is simple.
Out here living life
Cute but psycho
Staying golden
Me and I
Just me
I choose happiness
Typical me
Hustling'
Find your wild
Feeling like a queen
To Wrap Up
With witty Instagram captions for selfies, you can charm your followers with your witty presence. Getting in the habit of crafting a caption is important because it sets the tone for your photo. Don't be afraid to get creative with your captions. Get out there and express yourself!
Frequently asked questions
Ignore those who talk behind your back. They are behind you for a reason.
It's a hectic day as it allows for simple tasks.
When you become fearless, you become unlimited in life.
It's free to dream, but hustles are sold separately.
You should not stop until you're proud.
Be the kind of person you would like to meet.
Your work should be extraordinarily well done.
No loss, no pain.
Keep your head down, work hard.
Dream without fear, love without limitations.
Laugh more, worry less.
When you're laughing, life is better.
Just do it
Be yourself, there is no one better than you.
Make yourself the best version of yourself.
I hope your days are over!
Life won't get easier. Keep getting stronger.
I am on top of the world.
I just got leveled up.
The best version of me.
Let today be so awesome that yesterday becomes jealous.
Every mistake I have ever made has built me.
Moments are memories that are large and small.
Get me up when we can travel again.
Outside, I dream of mask-free days.
At the time, we didn't know how precious this day was.
We can't lose anything if we remember it.
Hold on to your memories, but tighten your dreams.
What are some sassy quotes?
When I am happy, I do what I want.
Don't get in my way.
Don't tell me who I am. You'll know who I am.
The crowns of these people are worn here.
Make yourself look like a woman, think like ed.
It doesn't matter who is competing against you.
Classy yet traditional
Slashed around like confetti.
What should I Caption my selfie on Instagram?
"Oh hey there"
"Sunday funday"
"Let it be"
"You do you"
It's my job to show you the world.
"I'll do me"
"Morning gram"
"Mentally at the beach.".
I cannot dull your sparkle -*.
Don't give the same mistake twice.
Don't sacrifice family, love, or your own happiness.
As an original, I am perfect in itself.
The apple a day will keep anyone away if you throw it hard enough.
Having a party is the biggest experience you will ever have.
Escape the ordinary
50% savage, 50% sweetheart
Our lives are for these days.
Small, cute, and classy.
Do your best to tell a good story.
We have yet to experience the best.
A bright future lies ahead.
Coffee helps in life.
Staying with the same crew.
Reliving good times and sunlines.
"Vintage me"
The look is still pretty good.
"Little old me"
"Love your-selfie, always"
Whom is ready to recreate this one?"".
Is it time to renew this trend?"".
What are badass sayings?
People who are crazy enough to believe they can change the world are those who do.
Having an original is important in a world full of copies.
I am strong
That dream that doesn't scare you isn't a big deal.
The question isn't who will let me go, but who will stop me.
You aren't beautiful like me.
You are beautiful if you're confident.
Each successful woman is a woman herself.
There is never a failure, always a lesson.
Take the time to smile.
In the history of human beings, self-love holds the greatest mark.
Know your worth
The beauty queen I am is just me who is beautiful.
I am your queen, baby. You're the king, you're your queen. Love is the most powerful form of self-love. I won't let you down. My better half.
It's not your business to me.
My cool never wanes as a hot girl.
The alphabet precedes each other.
Can you see my sparkle?
Go out and sit up.
Why chase you when you're the big catch?
If I'm not using GPS, it's my turn.
With 20/20 vision, I still don't see any competition.
My life
Be kind to me and I'll double it.
No explanation needed
I can achieve the greatest heights through the courage to fly.
You can't handle this personality.
As a result of their refusal, I took a step.
If you prefer to be second, please follow me.
Ever looking for success.
What should I write on my old pic?
It is hard to forget how strong memories that I have with the best people are." "Life will move on, but at least these memories are there forever.".