Knowing you've disappointed a consumer because of an error is disheartening. However, writing an apology letter to customer for bad experience is a start to repairing your reputation.
The ability to acknowledge wrongdoing and apologize is valuable in professional and personal contexts. It's challenging to accept complete responsibility when protecting oneself is an innate human tendency.
A simple "I'm sorry" won't do when making amends to a consumer. You must have a firm grasp of the language to use and express sincerity and openness while maintaining professionalism. Following these guidelines can help you strike the right tone in your next apology email.
How to Apologize to Customers for a Bad Experience
Apologizing to customers is often difficult for business owners and employees. That does not mean, however, that it is not worthwhile. In the end, the damage you cause will be repaired, and you will be able to regain trust and good customer service practices.
Here are tips to follow when you find yourself in the awkward situation of having to apologize.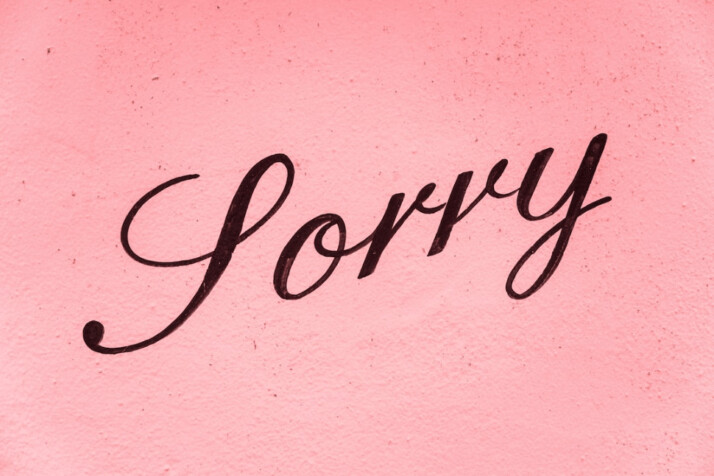 1. Apologize
Apologizing should be your first step, even if it seems silly. Directly apologizing with the words "I'm sorry" demonstrates that you are not trying to deflect the apology. Those who have received apologies that began with "I'm sorry if…" or "I'm sorry, but…" know how unsettling it is.
Say you're sorry already, and move on. A sincere apology can go a long way toward repairing damaged client relationships and restoring a positive image for your business.
2. Accept responsibility
It's an ego blow if you're in a scenario where you don't think you're at blame. Own up to your missteps, no matter how big or tiny. Accepting responsibility for your mistakes and taking ownership of your actions can demonstrate that you are a genuine human being. Customers will respect your sincerity and understand that you are human.
3. Clarify the Issue
The greatest way to quiet down an angry customer is to show that you have heard them and realized your error. Show empathy by restating the issue in their own words.
It would be helpful if you could briefly describe what went wrong. Take a levelheaded attitude instead of getting defensive. It demonstrates that you thought about what led to the error.
4. Identify the Customer's Objectives
Most of your clients understand you are human that can make mistakes. Disaster strikes include mysteriously deleted emails, offline servers, and absent workers. These hiccups are common and should be expected by any company. However, these bumps shouldn't be so severe that the customer gets a flat and has to stop their progress.
Customers are aiming for specific outcomes. Customers understand that your company will make mistakes. Because you acknowledged the gravity of the situation, your apologies will show more sincerity.
5. Propose a Solution for moving forward
Your next step should be to propose a solution for moving forward. Remember that your ultimate goal is to keep the consumer as a repeat buyer. Now is the time to demonstrate how this experience has altered your outlook on the future.
You can demonstrate caring for the consumer and a desire to strengthen relationships by coming up with steps to help fix the issue. They'll see how serious you are about making amends and moving on.
6. Don't take it personal
Avoid taking any feedback from unhappy customers personally, especially if it concerns you or an error you committed. Its human nature to make a mistake every once in a while; it says nothing about your integrity or dedication to your profession.
Make sure your email apology sounds sincere by giving it the time and attention it deserves. Once you've pushed "Send," it's time to move on. Don't dwell on your misfortune. Instead, move on with your day and utilize it as motivation to initiate positive, memorable customer discussions.
7. Let consumers rate your service
Customers dissatisfied with your service would appreciate being allowed to share their opinions. This shows customers that their feedback is taken seriously and that you care about their experience.
Also, by giving them a link, you may direct them to the area where they can leave their comments. A private feedback-gathering tool is preferable to social media because the customer's complaint will not be shared with the general public.
8. Follow Up
Following up with the customer after sending the apology email is essential. After some time has passed, contact them again to see if they need your help with anything else. Talk about how they impacted your business by bringing up any changes you did to fix the problem they brought to light. Your customers will remember that you care about them and will be grateful for your attention.
As such, we've considered these suggestions as we designed the ideal apology INK email template for you to utilize with your clients.
Apology Letter to Customer for Bad Experience
Bad experiences are inevitable, but they can be mitigated with an apology. The more sincere you are, the better your results and customer relationship. Here are different apology letter templates for you to use to make amends with your customer Using INK.
1. Personal Apology Letter to Customer
For circumstances in which you are directly answerable to the affected client, utilize a personal email apology template to communicate sincerity and compassion. For customer service representatives to resolve a problem, you can use the following INK template to apologize:
Dear [Customer Name],
I am writing to apologize for your poor experience with our company. We have been made aware of the situation and are currently investigating what went wrong. We will do everything we can to make sure that this does not happen again in the future.
Our customers and their satisfaction are our number one priority. We want to offer you a full refund for your purchase and a complimentary gift card to use on a future purchase. This will help to regain your trust in us.
If you have any further questions or concerns, please do not hesitate to contact us at [PHONE NUMBER] or [EMAIL ADDRESS].
Sincerely,
[YOUR NAME]
2. Apology to all customers
If you don't fix an outage, bug, or data breach quickly, you risk losing customers and getting bad reviews. A corporate executive should write an email to all affected customers explaining what happened and apologizing for the inconvenience.
Dear Loyal Customers,
We apologize for the recent string of bad experiences some of you may have had. We assure you that we are committed to providing the best possible service and experience for all our customers.
Currently, we are improving our operations to avoid any future inconvenience or dissatisfaction. Thank you for your continued patronage and understanding.
Sincerely,
[YOUR NAME]
To Wrap Up
An apology letter to customer for bad experience can be tricky, and understandably so. When a business screws up, many repercussions come along with it. Be empathetic and consistent when you're writing the letter. Watch out for clichés. Be sincere.
Explore All
Customer Letters Articles