A heartfelt thank you message to customers for purchase can show them that you appreciate their business and are grateful for their purchase. A thank you note is a simple way to build relationships with your customers and foster loyalty. Plus, it's just good manners!
It shows your appreciation for their business, helps to build goodwill, and reinforces their decision to buy from you. This article discusses the importance of appreciating customers and lists impactful thank you messages to make your customers feel valued for their purchase.
Why Is Appreciating Customers Important?
A company's most important asset is its customers. Without them, a business would not exist. It is essential to keep them happy and satisfied, so they continue to do business with you and recommend you to others.
Simple gratitude can enhance a customer's experience and perception of your business. Thanking your customer, and acknowledging their business, allows them to see that their faith in you is justified.
There are many ways to show your appreciation to your customers. You can offer them discounts, coupons, or freebies. You can also send thank you notes or cards to let them know how much you appreciate their business.
Whatever method you choose, make sure your customers feel valued and appreciated.
Benefits of Thanking Your Customers
After you provide customers with good service, they will always be more likely to do business with you again. This will enable you to grow your business and achieve more profits.
Benefits of showing gratitude to your customers:
Appreciating your customers shows them that you value their business.
Saying thank you is a simple but effective way to build rapport and strengthen relationships with your customers.
Showing appreciation can increase customer loyalty and decrease customer churn.
Customers who feel appreciated are more likely to continue doing business with you and to recommend your products or services to others.
Showing appreciation can also encourage customers to provide feedback or share ideas that can help improve your business.
Thanking your customers makes them feel good, which can reflect positively on your brand and reputation.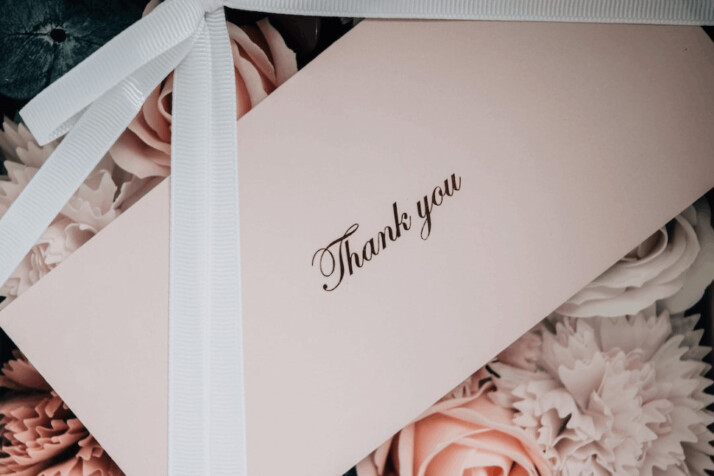 Thank You Message to Customers for Purchase
One of the best ways to keep customers returning is by showing appreciation. Customers who feel appreciated get a sense of worth and are more likely to interact with you after they make a purchase.
We have compiled a list of thank you messages to customers for different situations.
Thank You Notes to Customers for Their First Purchase
Thank you for your first purchase! We're so glad to have you as a customer, and we hope you enjoy your purchase.
Welcome to our store! Thank you for your first purchase, and we hope you'll come back soon.
Thanks for shopping with us! We appreciate your business, and we're grateful for your first purchase.
You're now officially part of our family! Thanks for making your first purchase with us. We can't wait to serve you again in the future.
It's customers like you that make our job worthwhile. We truly appreciate your first purchase from us. We genuinely thank you from the bottom of our hearts.
A big thank-you to our newest customer! We're excited to have you on board, and we hope you enjoy your purchase.
Thanks a million for your first purchase! We hope to see you again soon. Thanks for supporting our business!
You're amazing! Thank you for supporting us and making our dreams come true. We couldn't do it without YOU!
Thank You Messages to Long-Term Repeat Customers
Thank you for your continued support! We appreciate your business and are grateful to have you as a customer.
We truly thank you from the bottom of our hearts! Your loyalty and support are very much appreciated, and we feel fortunate to have such amazing customers like you.
Many thanks to our wonderful repeat customers! We value your business and appreciate your ongoing support immensely.
We really appreciate all of our dedicated and supportive customers! You are what keeps us going, and we are forever grateful.
Thank-you times a million! We're so appreciative of our lovely customers who stick with us through thick and thin – THANK YOU!
Your loyalty is greatly appreciated! Thank you for being such a supportive customer throughout the years!
To our dearest customers: thank you for your never-ending love and support. You are the wind beneath our wings!
Conclusion
Thanking your customers is important in creating a meaningful relationship and ensuring their continued satisfaction with your business. This article lists some sweet and creative thank-you messages that you can customize to write effective notes of appreciation.
Thanking customers for purchasing is crucial- take a step back, live in the moment, and say "thank you."
Explore All
Customer Letters Articles