Few things can make novice professionals panic, like a poor performance review. Nobody wants to be told they're not good enough, but even more so through inaccurate evaluations. Fortunately, it's not the end of your career as long as you know how to write a proper rebuttal letter. This short guide will give tips for writing an effective letter and a performance review rebuttal letter sample you can model.
Let's begin by understanding a few essential concepts.
What is a Performance Review?
A performance review evaluates an employee's job performance. It assesses the employee's achievements and accomplishments and areas that require improvement. Performance reviews often serve as the basis for employee retention and possible promotions.
A performance review rebuttal occurs when an employee disagrees with their assessment in the review. The employee may wish to dispute the accuracy of some aspects of their review or argue for a higher performance rating. A rebuttal allows them to explain why they believe they deserve a different rating or appraisal.
The Importance of Performance Review Rebuttals
A performance review rebuttal is crucial because it introduces a sense of fairness to the evaluation process. It ensures that supervisors and managers don't unfairly exercise their power in providing feedback or making decisions about an employee's future.
A rebuttal also allows employees to express their side of the story. It allows them to prove their worth in the workplace. Furthermore, a rebuttal helps settle any disagreements professionally and equitably.
You can think of rebuttals in the same way we think of counter-affidavits. Fairness is a prime element in any functional organization, and rebuttals help create a sense of fairness.
How Performance Review Rebuttals Affect Your Career.
By expressing a well-crafted rebuttal, you can explain your disagreement with a supervisor's feedback and demonstrate that their assessment may not be accurate.
An effective rebuttal can also help preserve relationships within the company and show that you take your job seriously. It's also a great way to show off your skills in communication and problem-solving, which can positively impact your position or career.
If you're worried about the potency of your rebuttal, check that you applied the following tips.
Tips for Writing a Performance Review Rebuttal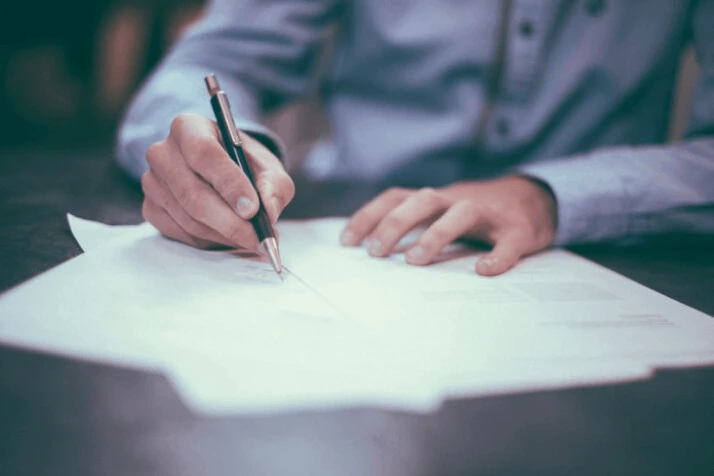 Organize Your Thoughts
It's essential to take the time to organize your thoughts. Don't write your rebuttal while your emotions are high, as this could hinder your clarity of words and thoughts.
Start by writing down a list of points you want to make in the rebuttal. Work on crafting each one to best express your experience and expertise.
Take advantage of active language, avoiding passive phrases, and using facts and examples to illustrate your point.
Maintain a Professional Tone
Maintaining a professional tone as you write your rebuttal letter is key. This means not getting emotional or attacking anyone personally.
Focus on making clear arguments based on evidence and experiences. Use factual language rather than personal anecdotes and try to be concise with what you say, so your message is clear and precise.
Be Specific
Vague statements do not carry much weight. Being specific about the details of the situation is essential for effectively rebutting performance reviews. Provide examples of cases that support your argument and use them to explain exactly why the review was inaccurate.
Give Explanations, Not Excuses
A rebuttal must provide meaningful explanations that assail the inaccurate aspects of the performance review. Focus on addressing areas where there may have been misunderstandings, miscommunications, or discrepancies between expectations and reality.
Make sure these explanations sound reasonable and offer solutions if applicable.
The main difference between an excuse and an explanation is that explanations acknowledge responsibility. An excuse stems from a denial of responsibility.
Explain the performance lapse, but make sure to own up to your mistakes. Every employer frowns upon excuses.
Keep It Factual
Facts should always be at the core of a rebuttal letter. Wherever possible, rely on documented data or other verifiable sources to support your claims. Doing this will make your rebuttal more credible and ensure it stands up to scrutiny. If you need to include some opinion pieces, use a fact or set of facts to support them.
You can also take inspiration from the following performance review rebuttal letter sample if you need help applying these tips.
Performance Review Rebuttal Letter Sample
I am respectfully requesting to have my performance review be reconsidered. My failure to meet the deadline was not due to a lack of business acumen or attention. Rather, it was because of an unexpected and extreme circumstance beyond my control.
Our office building was flooded for three days, which resulted in me being unable to receive and copy the necessary documents. I would be more than willing to provide additional proof and explain this situation if needed.
I take full responsibility for missing my deadlines.
It is important that my supervisors view this instance in its full context before making any final judgments on my work performance. Thank you for taking the time to consider my request.
In Summary
A performance review rebuttal is a response to a performance evaluation that seeks to defend your professional work. It's a medium that explains to your employer the reason for your lapse or reveals inaccuracies in your performance review.
Remember that how you state your explanation is extremely important. Make sure to follow our tips when making a rebuttal letter. They can help put you in a good position despite your situation. While you can use one of the many templates online, you'd be better off learning to write proper evaluation rebuttal letters.
Explore All
Write Performance Review Articles