Smart writers understand that they need the best AI content generator. There is a high demand for quality content on the internet today. Expecting a writer to consistently create quality articles to meet this demand is a tough ask.
In comes AI content generators to save the day. These AI-powered tools are capable of making every content writer's work easier. They generate long stretches of text in no time. If you need more information about these amazing tools and how to get started, this article is for you.
How AI Content Generators Work
Research into the creation of artificial intelligence tools that can replicate human intelligence for content creation didn't start recently. For a while, it seemed AI tools that generate human-like text would only be a dream. This pessimistic view is due to the immense flexibility of language use.
How do you get an AI to mimic Shakespeare's elegant writing style or mirror Ernest Hemingway's simplicity?
With the development of the GPT-3 language model, AI content creation has become easy. Trained with a corpus of books and various other sources, GPT-3 has 175 billion machine learning parameters. It represents a massive improvement on the previous GPT-2 model.
Benefits of AI Content Generators
The main benefit of using AI content generators is the ease they offer writers. The ease takes several forms, and we shall examine a few here.
1. Content Automation
With AI content writing tools, you can automate some specific parts of the content creation process. You can use them to create blog outlines or come up with topic ideas.
2. Time-Saving
When you use AI content writing tools, you'll finish your writing faster. The faster output is because these tools are always ready to generate text for users.
Think of anything that affects human writers, and AI content generators have the solution for it. Sometimes stress and writer's block can inhibit the output of human writers. AI text generators don't have this problem.
3. Cost Effective
Let's even assume you want to hire writers to create many articles. They come at a premium price. When you compare this cost to what you'll pay for an AI writer subscription, it almost feels like it's free.
What Is the Best AI Content Generator?
There's a big market for AI content generators. Many AI content-generating tools abound. And they all claim to be the best. Each of these tools has its specific perks. However, not many can match INK AI. This section of the article explores this tool and other quality tools.
INK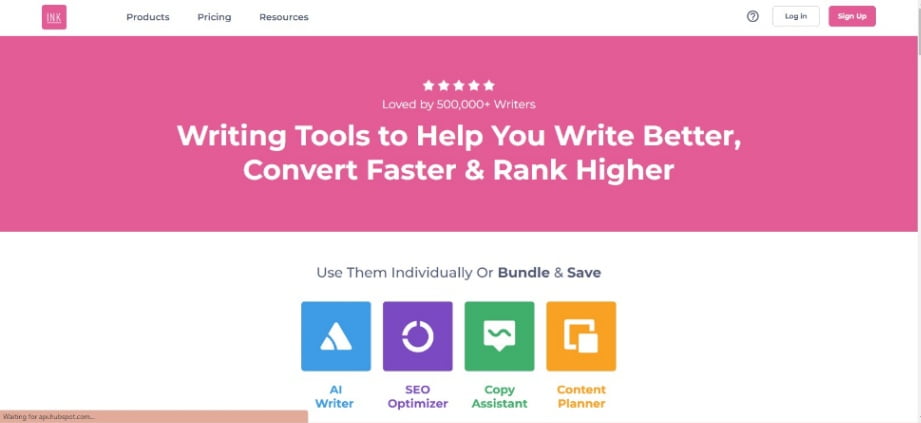 INK comes out tops as the best AI content generator because of its numerous features. These features are tailored to meet several content creation needs.
INK has downloadable software that can be used on Windows, Linux, and macOS. In addition, there's a WordPress plugin that allows users to import and export their INK files. You can also download the Chrome extension for easy access to various AI writing tools.
Bloggers and content specialists will find the SEO component of the INK software quite useful. It helps you to create articles and blog posts that will rank high on search engine result pages. The web version of the long-form writer is currently in beta mode and will soon be available to the public. Some other available AI writing tools are:
Motto generator
Hook writing
Text summarizer
Image caption generator
INK AI offers a free plan. However, you can unlock more amazing features with the paid plan.
Jasper AI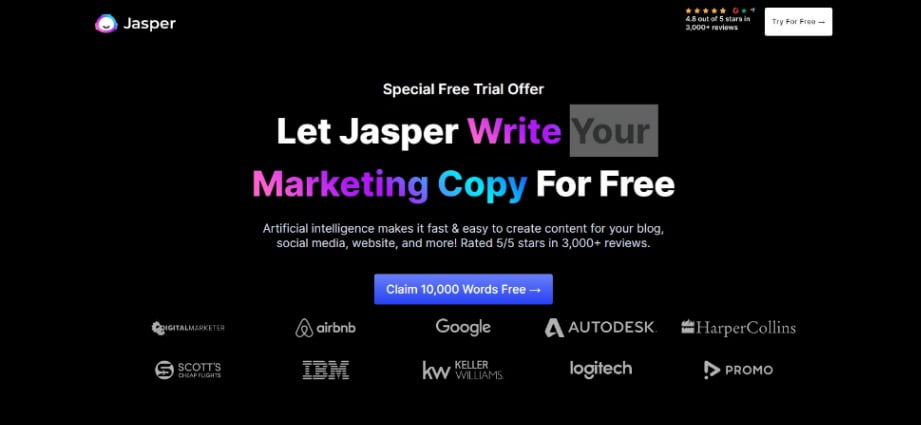 Jasper AI content generator has been around for a while. It was formerly known as Jarvis. Unlike INK AI, Jasper doesn't have a built-in SEO optimizer. However, Jasper can still help you rank articles with its Surfer SEO partnership. Another high point of Jasper is that it supports multiple languages.
This tool has a five-day free trial. It promises to help you write five times faster with the Boss Mode.
Copysmith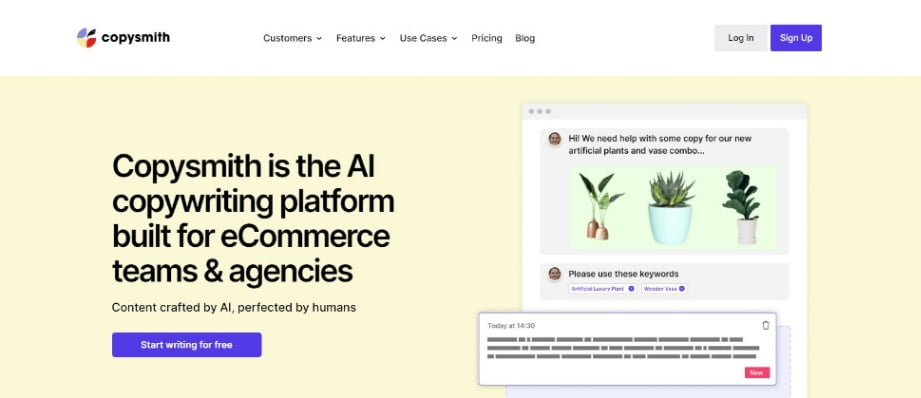 The brains behind Copysmith designed the software to help e-commerce teams and agencies. It helps users write SEO product descriptions that generate sales.
Copysmith offers bulk content generation and product description. You can also use it to create blog templates.
Conclusion
AI writing software is the future of content writing. Smart writers are already co-opting these tools to serve as writing assistants. You can use them to generate long-form articles and simple product descriptions. If you need a quality AI writer, you should opt for INK.
Frequently asked questions
How AI can help writers?
Technology powered by AI helps brands get more from content creation by generating new ideas and making the writing process much easier. It also allows you to focus on the message rather than the formatting of the content.
Can AI writing tools replace a professional essay writer?
As AI tools don't yet provide this, we can't replace professional essay writers with these tools for now.
Can an AI write a paper?
In today's modern world, AI tools can help you write persuasive university essays.
What is an AI writing tool?
You can generate content using AI software. Writing assistants powered by AI can help you write articles, novels, blogs, and so on. It's just one benefit to use AI writing tools. Add AI writing to your toolbox and you are done.
Can AI write a story?
AI can write stories. AI uses machine-learning algorithms that absorbed billions of data points from the internet, including story structure, story logic, and story writing. As a result of AI's instructions, it can produce scenes, short stories, fanfiction, screenplays, and novels.
How does AI content writer work?
Writing assistants are software tools that automatically generate content for a set of parameters. Their goal is to automate the process of creating content for specific topics or industries. In their role, they help improve content quality by providing recommendations, ideas, samples, and editing suggestions.
What AI does Jarvis use?
Jarvis has developed several artificial intelligence algorithms, including natural language processing, speech recognition, face recognition, and reinforcement learning. The algorithms are written in Python, PHP and Objective C.
In what ways can AI help someone complete their writing tasks?
Artificial Intelligence may provide automatic editing and proofreading. Grammarly can mark spelling mistakes, understand context, and understand overused and complex words with smart proofreading tools.
Is Jarvis AI free?
Use Jarvis AI's free trial for up to 10,000 words. To access Conversion AI free trial, you will need to enter your credit card info.
Which AI tools is best for writing?
Jasper. An AI writing assistant who simplifies the writing process, Jasper.
CopyAI. CopyAI is another popular all-around writing tool available in the market.
Rytr. Rytr allows you to write using AI-based techniques.
Grammarly
Ink Editor
Surfer SEO
WriteSonic
Articoolo
Can AI replace content writers?
Even though AI is unlikely to replace content writers entirely, it can offer a wide range of services to help content writers and speed up the creation process. Passionate writers who embrace their tools rather than fear them have nothing to worry about for the future.
What is the best AI writing assistant?
The best AI writing assistant for large marketing teams: Copysmith.
Grammarly Business: The AI writing assistant for proofreading.
Selling representatives: Sapling: The AI Writing Assistant.
I am using Wordtune to implement content rephrasing.
Can AI write an article?
AI Writer has a great set of features that make it easy to create content for all kinds of articles, from news to blog posts, and it's super easy to use – the app can generate articles from simple headlines or.
How is AI used in writing?
Editing can be done with AI writing. The text may be altered in a few seconds, but it may also be modified more complexly. Alternatively, it can alter the piece of text itself. AI can be used in this kind of way to improve the story and make it flow better.
What is Jarvis writing software?
The Jarvis (Jasper AI) tool is used to write long-form blog posts, social media posts, conversion-driven content, and many other types of marketing-related copies. Book publishing, blog posts, marketing campaigns, etc. can be created using it.