You may not have noticed it, but chatbots are quickly becoming ubiquitous in our daily lives. From ordering pizza to scheduling doctor appointments, chatbots offer a versatile and convenient solution to many of our most mundane tasks. But what is a chatbot, anyway? And how does it work? This article has got all the answers and more.
Through advanced artificial intelligence and natural language processing, these programs have created a new world of possibilities for businesses and consumers. Read on to find out what is a chatbot, its key benefits, and just how revolutionary this technology is.
What is a Chatbot?
In its basic form, a chatbot is a computer program that simulates human conversation (either written or spoken). This allows humans to communicate with digital devices as if they were communicating with a real person.
If this reminds you of the Interactive Voice Response system that banks use, then you would be right. This system can also be considered a primitive chatbot. Today chatbots interact with customers more conversationally. This conversation may be in text, voice or both.
A chatbot can be as simple as a rudimentary program that replies with a simple single-line response. And they can be as advanced as digital assistants that learn and evolve to deliver increased levels of personalization.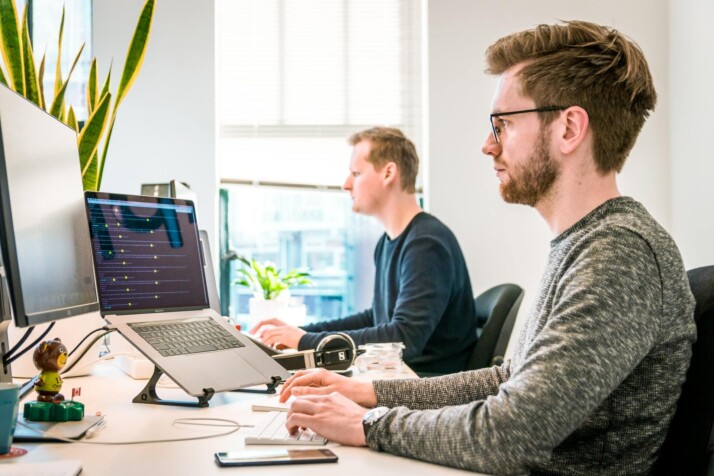 How Do Chatbots Work?
AI, natural language processing (NLP), automated rules, and machine learning (ML) all play a part in helping chatbots process data to respond to requests.
How chatbots work depends on how they have been programmed or developed. There are two types of chatbots depending on their conversation style:
Task-oriented (declarative) chatbots
These chatbots are the most commonly used ones today. They are programs that focus on performing one function. Through NLP rules and a little ML, they generate automated but conversational responses to user inquiries.
The interactions these chatbots make are targeted and structured. They are especially useful when it comes to support and service functions-think robust, interactive FAQs. These chatbots may be used to handle common questions, such as business hours or other simple transactions.
Even though they can interact with users conversationally, their capabilities are pretty basic. These are currently the most commonly used type of chatbots.
Data-driven and predictive (conversational) chatbots
This chatbot type is also called a digital or virtual assistant. This is because they are more sophisticated, interactive, and personalized than task-oriented chatbots.
These chatbots are contextually aware and can learn as they go. They use predictive intelligence and analytics to enable personalization based on user profiles and past behaviour.
A digital assistant can learn users' preferences over time, provide recommendations, and anticipate their needs. They can also monitor data and intent in addition to initiating conversations. Siri and Alexa are great examples of consumer-focused, data-driven, predictive bots.
Valuable Benefits That AI-Powered Chatbots Offer
Chatbots have become an invaluable tool in the modern business world, offering a range of benefits that are too good to ignore. From providing 24/7 customer service support and efficient automation to helping customers quickly find what they need, chatbots offer unprecedented convenience.
Here's a look at some of the many benefits that you can gain from AI-Powered chatbots:
Increased Accessibility: Chatbots are available 24/7 and provide customers instant access to services, products or information they need. This reduces waiting times and increases customer satisfaction as their queries can be addressed efficiently.
Reduced Costs: By automating specific processes, chatbots can help businesses reduce costs associated with manual labor. Furthermore, the cost of hosting a chatbot is relatively low compared to other customer service methods.
Improved Customer Experience: Chatbots can offer personalized experiences for each customer by using machine learning to understand preferences and previous interactions. This helps create more meaningful engagements that increase engagement and loyalty.
Enhanced Analytic Capabilities: Chatbots generate vast amounts of data from customer conversations. And this can then be analyzed to gain valuable insights into consumer behaviour. This allows companies to tailor services and products better to meet customer needs more effectively.
Faster Problem Solving: By leveraging AI technology, chatbots can troubleshoot and address customer issues much faster than a human agent could alone. This ensures that customer problems are resolved quickly and easily, improving customer satisfaction levels.
What is a Chatbot Used for?
AI chatbots are used for many kinds of tasks, from engaging with mobile apps to using smart thermostats and kitchen appliances. Business use is also varied. Marketers use AI chatbots to personalize customer experiences. IT teams use them to enable self-service. And customer contact centers utilize them to streamline incoming customer communications.
Chatbot AIs are also commonly used for messaging services, messaging platforms, or applications on websites. Other uses for AI chatbots include:
Giving directions to local restaurants
Answering healthcare questions and scheduling appointments
Providing general customer service for businesses
Setting reminders to do tasks based on time or location
Presenting real-time weather conditions and clothes recommendations
Are There Any Bad Sides to Using AI Chatbots?
Chatbots can be incredibly useful, but they also come with a few disadvantages. While they are great for providing automated and fast responses to customer inquiries, chatbots lack the human connection that makes conversations more engaging. This leads to an impersonal user experience, one of the main drawbacks of using chatbots. Additionally, chatbots require careful maintenance to keep up with changing customer needs. They may also need frequent updates to ensure the accuracy of their outputs.
Overall, businesses can't wholly rely on chatbots for customer service yet. They are still limited in their ability to understand complex concepts and provide relevant solutions.
To Wrap
Now you know the answer to the questions: What is a chatbot? How does it work? And what are its key benefits?
Chatbots are a powerful tool in today's digital world that has the potential to revolutionize how people interact with businesses. They offer many advantages for businesses, including improved customer service, cost savings, efficiency gains, enhanced user experience, and increased customer engagement.
Explore All
Chatbot Fails Articles